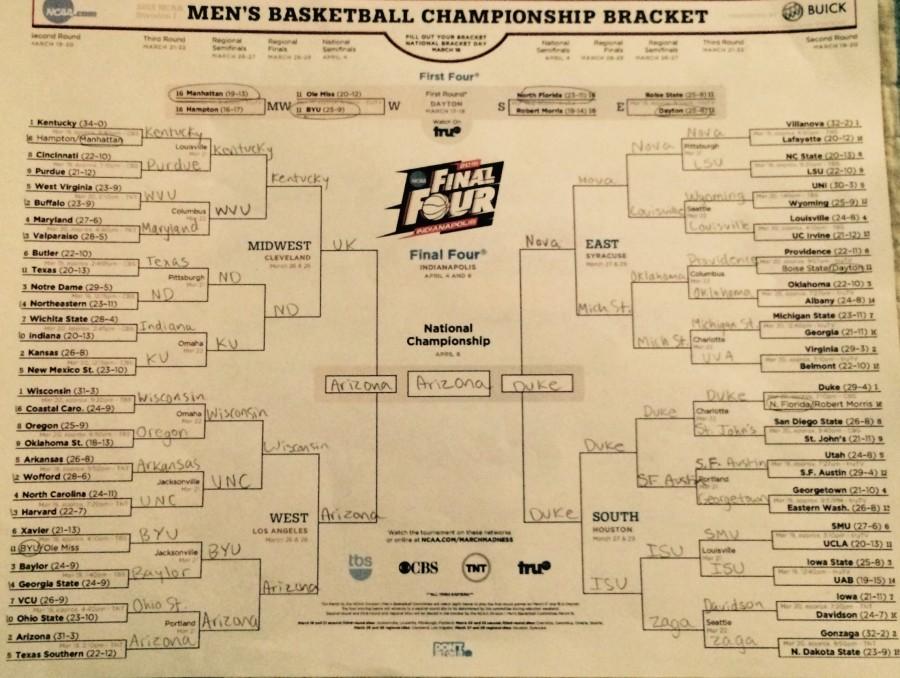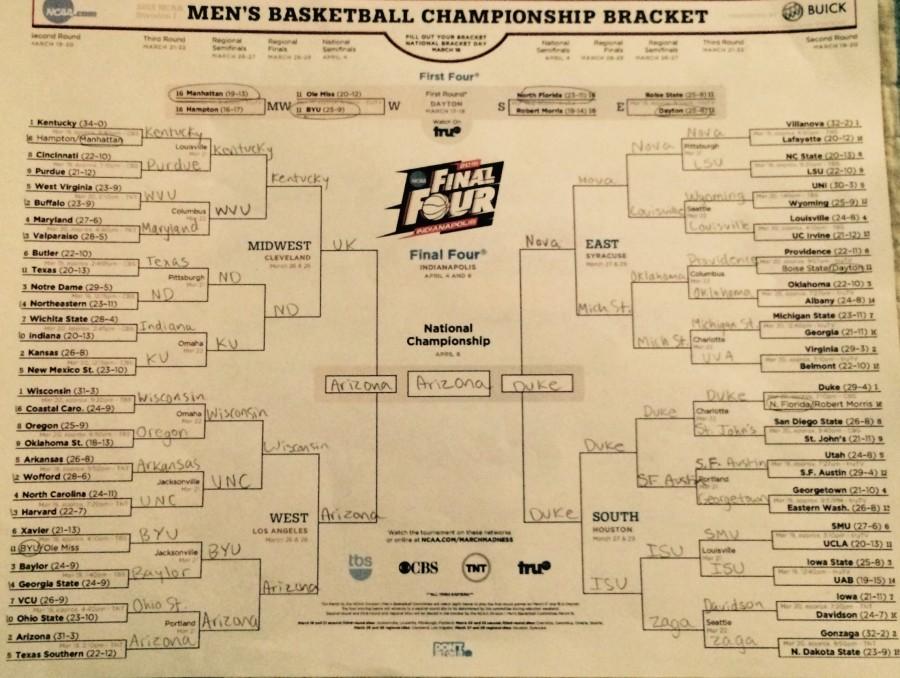 While the school bells sound and the students rush to exit the confined walls in the pursuit of warmer  weather, the NCAA Selection Committee is forming the bracket that people worldwide contemplate over,  March Madness. The hard-core "bracketers" research all 68 teams to predict the upsets before they occur,  and then realize after watching the first weekend of "The Madness" that all their time was wasted.  Although bracketology takes some knowledge, it is mostly luck. Of course we all know a perfect bracket is  an impossible feat, but a one million dollar offer from Bill Gates makes anybody believe that his or her  bracket is the perfect bracket, including myself.
After watching hours of ESPN analysts talking about this year's bracket, and trying to compile some  information, I realized I disagreed with most of them. Almost all of them picked the University Of  Kentucky to win it all, but I disagree. Being the number one seed over all, and holding a perfect record  coming into the tournament (34-0), their region of the bracket will be a bit easier than the others (in  theory). I agree that Kentucky is a Final Four team, but a championship team, not so much. Before I break down my Final Four I will name a couple of teams that could bust your bracket.
First off there is Michigan State. Historically, they would not seem as an underdog type of team, but this year they definitely qualify. As the seventh seed in the East region (23-11), the Spartans have had an up and down season, but have played well lately. They were runner-up in the Big Ten Tournament, only to lose to number one seed Wisconsin in overtime. The Spartans have experience, veteran leadership, and of course one of the best coaches in the country, especially in March, Tom Izzo. Their first game is favorable for the Spartans as they face off against Georgia. Michigan State should be able to slow down the athletes that Georgia has, and hit enough threes to outscore the bulldogs. The real test for Michigan State would be in the next round against number two seed Virginia. Here is where I contemplated for a while. In 16 of the last 18 seasons at least one number two seed has not reached the Sweet 16. After looking at the other two seeds and who they would most likely play I couldn't see any of them losing, and despite Virginia being a great team who could make a Final Four run under different circumstances, I had to pick against them. One of Virginia's star players, Justin Anderson, injured his shooting hand and has not been the same player lately. Of course a good team like Virginia isn't just a one-man show. With guards Perrantes and Brogdon and a knock down shooter in Nolte, and of course great big men, they are a force to be reckoned with. But they are not the same team without Anderson at 100%. This is a bad matchup for Virginia and couldn't have come at a worse time. After getting past Virginia this region is wide open for the Spartans to take aside from possibly Villanova.
The other two teams that could make some noise as a lower seed are BYU (11 Seed) and Stephen F. Austin (12 Seed). Both teams have had extraordinary seasons. BYU was runner up in the WCC (Western Coast Conference) Tournament and was second in the regular season standings. BYU flat out knows how to score the basketball. They have one of the best scoring guards in the NCAA in Tyler Haws, and a triple-double threat in Kyle Collinsworth. They have a favorable matchup against Xavier in the second round as long as they make it past Ole Miss in the first round (the first four). SF Austin can also score the rock, but is a more pass-oriented team whereas BYU often likes to go isolation offense with Haws. SF Austin is first in the nation in assists per game with 17.8. Last year SF Austin was able to upset VCU in the second round as a twelve seed. This year they are in the same position to do so again, against Utah. Utah was ranked in the top ten earlier in the year, and fell off towards the end; this is why I like SF Austin over Utah in the second round and possibly over Georgetown in the third round.
Now, for the Final Four picks. My Final Four is: Kentucky, Arizona, Villanova, and Duke. Kentucky will steam roll over all of their competition in the Midwest region and will make it to Indianapolis with ease. Arizona probably has the toughest road of any of the other Final Four teams I picked. They will most likely play Ohio State in the third round, either Baylor or BYU in the Sweet 16, and then UNC or Wisconsin in the Elite Eight game. Arizona, however, in my opinion can make it out of this tough region and into the Final Four against Kentucky if they play up to their potential. Stanley Johnson is one of the best freshmen in the country, Gabe York is an outstanding shooter off the bench, TJ McConnell is the floor general and dime dropper at the point guard spot, and then they have a plethora of athletic big men in Rondae Hollis-Jefferson, Kaleb Tarczewski, and Brandon Ashley. This team can be extremely dangerous if they get hot. Duke and Villanova both have relatively easy roads with the four and five seeds in both brackets being relatively weaker teams. Both teams can shoot the ball, which will help in their defensive lapses throughout their first four games and will push them into the Final Four.
You now know my bracket, now here are some tips for compiling your own. Don't pick all the higher rated teams, because there are bound to be upsets. Pick at least one 12 seed to beat a five seed, and at least one six seed to beat a eleven seed. Other than that most of it is luck, but whatever you do, do not resort to picking the teams by their mascots or uniforms.