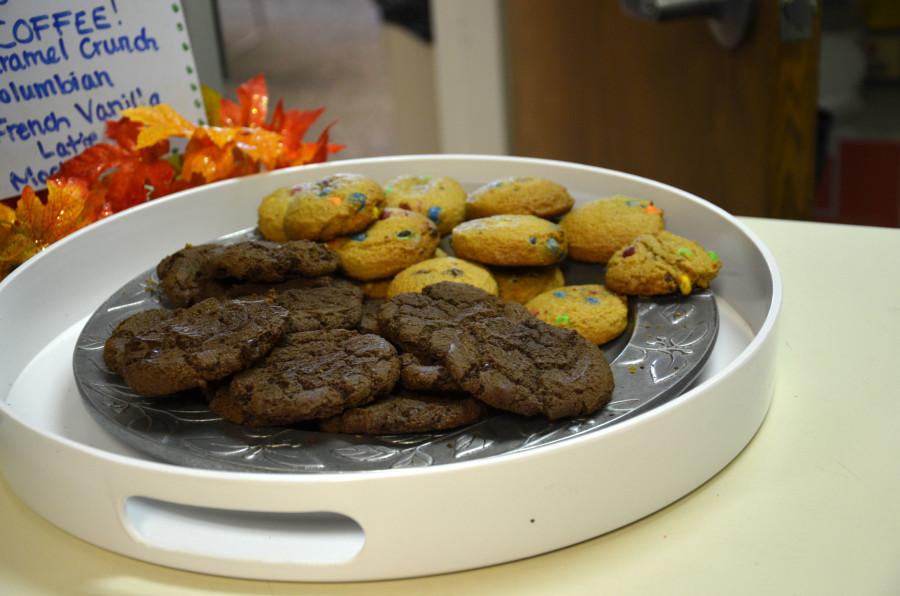 Photo by Sarah Longmire.
The 2015-16 school year kicked off with many changes. One change, in particular, is the heavy enforcement of the Healthy Kids Act.
The Healthy, Hunger-Free Kids Act was started in 2010 by First Lady Michelle Obama and signed into a law by President Barack Obama on December 13th, 2010. The act focuses on child nutrition and funds free lunch programs. The bill has also raised the expectations on  nutrition standards in schools, which were developed from Michelle Obama's Let's Move! initiative.
This is not the first year this act has been enforced. Last year, West High's coffee shop, Pump It Up!, stopped serving iced coffee after 8 a.m. due to the high amounts of sugar in the coffee drink. Shortly following that change, the coffee shop had to put an end to the selling of sugar filled items such as hot chocolate, Skinny Pop popcorn and suckers. Inspectors came in March of 2015 to check if the list of requirements were being followed.
This year, the district has made policy changes in order to comply more directly with the Healthy Kids Act, said Susie Poulton, Director of Health Services for the Iowa City Community School District.
"The district has made changes to policies regarding foods shared with students for classroom snacks and celebrations," she said. "These changes were made due to the increase in food allergies and concerns with childhood obesity.  We want to make sure that we provide a healthy and safe environment for our students,"
These changes have affected many activities at West.
"We have already made changes. Food that is served at West needs to meet certain nutritional standards in order to be served to students for breakfast and lunch.  We have also taken out vending machines with unhealthy options and also made sure our Pump It Up shop meets these standards as well," said Colby Miller, Vice Principal of West High.
While Miller believes that all teachers are supportive of the act, students might be less enthusiastic about the changes.
"I have not had any negative interactions with teachers regarding these changes; however, some feel that students should get some choice as to what food and drink they put into their body.  There are times when it's okay to eat chips, cake, candy or have a soda," Miller said.
Angela Zirbes '18 said she thinks the act is limiting students to make their own choices.
"Obesity, and having a healthy life, isn't just about what you eat. It's a lifestyle, people must make choices on there own," Zirbes said, "I think that it's so unfair. The food that they serve at school isn't going to depict how you eat anywhere else."
Some teachers focused on healthy eating before the bill was active. Jacque Green is the foods teachers at West High.
"I support that we need a change in our thinking about food and it is helpful for people to pay more attention to serving size, calories and additives in food," said Green, "This policy does not directly affect my teaching but I have always tried to be very aware of students with allergies and work to accommodate those who might have issues with some of the foods we work with in the Foods lab. We also spend time learning about how to achieve a healthy lifestyle and how to have a balanced diet."
Principal Dr. Gregg Shoultz also agrees that the Healthy Kids Act is important to have at school.
"I support the spirit of the act. This legislation is a response to the increase in childhood obesity, which is a major health problem nationwide," Shoultz said.
With so many teachers and staff on board, Green believes the act will overall be a good change in the district.
"Change can be difficult for anyone, but I think that with support, this policy will help to change the habits of many students, and to at least get them thinking about their diets," Green said.
For more information about the changes and the list of acceptable foods, go to:  http://www.iowacityschools.org/pages/ICCSD/News/Foods_for_Classroom_Snacks_and