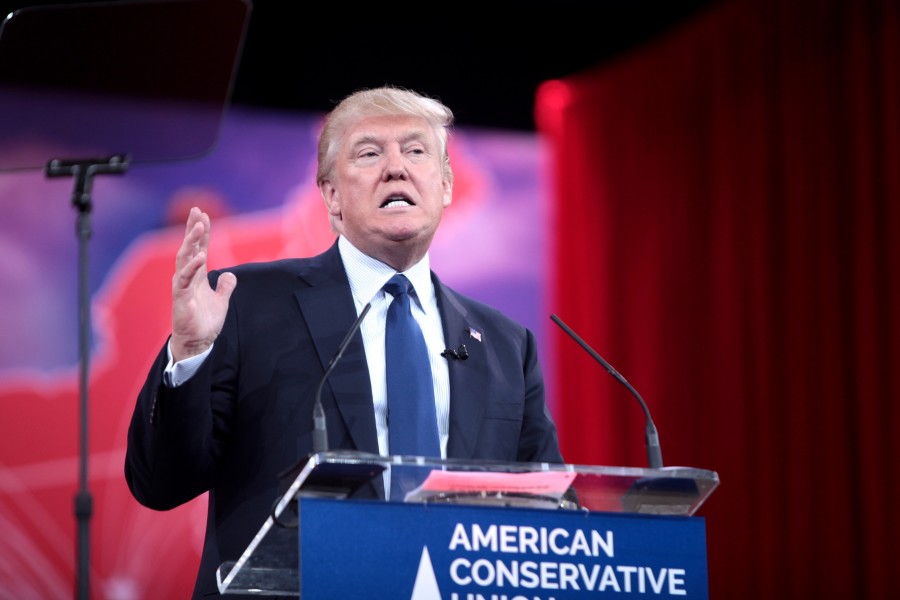 Meet the 2016 Republican presidential candidates
With a slew of Presidential Candidates for the 2016 elections, it can be hard to keep them all straight. Don't worry, WSS has you covered. Click on a name to read about a 2016 Republican candidate or simply scroll below. Stay tuned for a list of Democrat candidates as well.
Compiled by Shati Cooper, Christina Dai, Junhee Lee, Stefan Schmidt,  Maggie Terry, Shawn Thacker and  Sharon Xiang.
Photos courtesy of Creative Commons.
Donald Trump
Jeb Bush
Ben Carson
Carly Fiorina
Rick Santorum
Bobby Jindal
Rand Paul
Marco Rubio
Ted Cruz
John Kasich
Mike Huckabee
Lindsey Graham
Jim Gilmore
---
Real estate mogul Donald Trump entered the presidential primary election as the surprise candidate. Although he has switched between Democrat, Independent, and Republican several times, Donald Trump, aged 69, is currently officially registered as a Republican. Since his announcement, Trump has gone from laughingstock to persistent enigma to perplexing leader in Republican primary polls. Although polls mean little so early in the race, he holds a solid 24%, 9% above the 15% of second place holder Carly Fiorina. Experts question the source of Trump's popularity, but all agree some is due to his perception as a "straight talker," an outspoken leader amongst a bunch of pre-scripted, establishment politicians. Not unlike his party identification, Trump has flipped sides on issues in a matter of days and rarely articulates tangible policy goals. Trump's seeming lack of a legitimate agenda has led some experts to comment that his campaign "has the substance of cotton candy." However, Trump has consistently promised to force Mexico to "build a wall" on the US-Mexico border to stop illegal immigration. The big question is whether Trump's momentum is temporary. Experts are nowhere near consensus on whether Trump is a big balloon (of hot air) due to explode or rather has tapped into the prejudice and angst of many conservative voters and will ride it straight into the White House.
Aiming to be third in a line of presidents from his family and backed by staggering campaign donations, 62 year old former Florida Governor Jeb Bush perfectly embodies the image of an establishment candidate. Jeb is running a campaign geared toward the general election. He plans to garner most of his votes from center-right voters through a campaign with a moderate, joyful tone. Moreover, his support for more liberal immigration policies gives him popularity with the typically Democratic leaning Mexican-American voting block. This not only gives him a unique advantage over other Republican candidates, but also will help him "steal" Mexican-American votes from the Democratic candidate in the general election. Bush also holds the advantage of being electable – he seem likely to be able to win the general election and few voters strongly oppose him, even if he isn't their first choice. This has earned him endorsements by the Republican establishment and generous funds from key donors. Still, Jeb's major challenge will be getting to the general election in the first place; who wins the Republican primary may boil down to which is stronger: frustrated far right voters or the silent majority of moderate Republicans.
A retired neurosurgeon from Maryland, Ben Carson is using the "anti-politician" method to gain Republican votes. Carson believes that the climate change debate is "irrelevant" because the earth is always cooling or warming; the Affordable Care Act should be replaced with a health savings account; the SCOTUS ruling on same-sex marriage is the law of the land, even though he personally does not support same-sex marriage. He has been polling at the second place spot among Republican candidates at about 20% among national polls and is viewed favorably among 65% of Republicans. Carson recently sparked controversy with remarks on how he would not support a Muslim running for president. Carson's campaign slogan is "Heal. Inspire. Revive."
Best known as the first woman CEO of a top-20 Fortune 500 company (HP), Carly Fiorina is the only female candidate on the Republican side. Fiorina has never held public office, which has attracted anti-establishment Republicans. After a strong performance at the Sept. 16 CNN debate, she has risen in a recent CNN poll to take the second place spot at 15%. Fiorina believes that climate change is real and human-made,  the national government has limited power to do anything. She wants to repeal the Affordable Care Act and allow healthcare markets to become more competitive. Additionally she feels a direct path to citizenship is unfair. Fiorina's campaign slogan is "New Possibilities. Real Leadership."
Famous for sweater vests in the last presidential election of 2012, Santorum is back for another round. He dropped out of the 2012 election due to slowing momentum and the hospitalization of his daughter Bella. Santorum was a Republican senator of Pennsylvania from 1995 to 2007, when he lost re-election. After that, he became a consultant and private practice lawyer. Santorum believes that climate change is not real and climate is simply part of the earth's cycle; ending Common Core and keeping the federal government out of education; banning all abortions unless the mother's life is in danger. Santorum's campaign slogan is "Restore the American Dream for hardworking families." Santorum has struggled this election to gain traction, he is currently backed by about 1% of Republicans.
Bobby Jindal, Republican governor of Louisiana and former US Congressman, is another one of the many Republican candidates in this election cycle.  However, the 44-year-old is most known for what ended up being one of the most unfortunate Republican Response Speeches to the State of the Union. He  is having trouble rising in the polls.  He is currently polling among the lowest of all the Republican candidates, far overshadowed by this year's frontrunner, Donald Trump.  His goals for the presidency include returning America to Christian ideals and minimizing immigration into the United States.
Rand Paul, a 52-year-old Republican senator from the state of Kentucky, is another one of this year's many Republican candidates who is having a tough time standing out in the polls, likely due to his slight libertarian leaning.  Although he recently won the Michigan straw poll, Paul has struggled in most other states.  His weighty slogan, "Defeat the Washington machine.  Defend the American dream," indicates his desire to return America to its liberty-loving values, but doesn't reveal his libertarian bend regarding the NSA and government spying.
Marco Rubio, a 44-year-old Cuban senator from Florida, stands out from many of this year's pool of Republicans due to his divergence from the typical conservative demographic.  In addition to being a young man of color, he also has a large family, further appealing to the conservative agenda.  Currently at fourth place in polls, behind other demographic-breakers Carly Fiorina and Ben Carson, he is managing to stay afloat in the barrage of GOP candidates.  Some of Rubio's plans for the presidency include stricter regulations on immigration, repealing Obamacare, and ending Obama's normalization policy with Cuba.  Additionally, he believes in climate change.
Texan, Republican, anti-gay, male – maybe not the most popular candidate in democratic Iowa City. But 44 year old Cruz is holding steady in the Republican polls as the 5th place candidate with 6.5% of the votes. Known as the most conservative Republican in the presidential race, Cruz hopes to win with his political boldness and heavy opposition to Obama and his health care plan. His straightforward conservatism and political boldness are making an impression on Iowans, with Cruz holding third place in the Iowan Republican Presidential Caucus polls.
Although his two years in elected office is 13 years less than the average candidate's, Cruz has some big policies in mind, chiefly his strong objection to get rid of Obamacare. Cruz also plans to slash corporate taxes, repeal the Common Core, and get rid of the IRS. In addition to his policies, Cruz's Catholic and Republican stances on gay marriage and abortion are as refreshing to the extreme rights as they are nationally controversial. But in the end, Cruz's strong Republican beliefs may be his downfall. With more moderate candidates gathering support from more demographics, Cruz relies heavily on the right-wing voters to support him in his precarious presidential race. His views also pose a threat to his funding, with other candidates receiving more donations to promote his campaign. With his fair share of struggles and strengths, Cruz hopes to fight an uphill battle to the oval office.
At 63 years old and one of the last candidates to enter the race for the presidential race, John Kasich is an unlikely candidate for the Republican nomination. Advocating for a strong financial plan during his two terms as governor of Ohio, Kasich brings a long history of political involvement to the field, despite his failed campaign for the presidency in 1999. In a field full of hardliner Republicans, this Medicaid-backing candidate who actually agrees that global warming exists may seem a bit more viable in Democratic Iowa City. With more in-between views on many of the current party issues, such as his "time to move on" stance on same-sex marriage, Kasich hopes to capture the interest of a wider audience by keeping a relatively neutral position on most topics when possible. Despite his attempts to gain a wider variety of voters through his neutrality, Kasich doesn't seem to be attracting many voters for the 2016 election, as seen by his two percent share of the current Republican polls. Although he seems like a good option, based on his successful political career and financial planning, it seems nearly impossible for Kasich to receive the Republican nomination due to his inability to successfully create ties to the very conservative in his party.
After being the 44th governor of Arkansas for 11 years (1996-2007) and also being the only Republican elected to a statewide office since Reconstruction, 60-year-old Mike Huckabee is making his mark. According to Huckabee's official website, "He left a legacy of tax cuts, job creation, the reconstruction of his state's road system, K-16 education reform, and a nationally heralded and duplicated health initiative that focused on the less expensive approach of prevention than the costly big-government approach of intervention. His administration fought long-standing corruption in the state's political machine, resulting in numerous indictments and convictions of powerful legislators and other elected officials."
Huckabee ran in the election of 2008, and lost respectively. But, now he's back for the 2016 election with more experience on his shoulders and ready to divide and conquer.
As a member of the United States House of Representatives first elected in 1994, 60-year-old Lindsey Graham was the first Republican from the Third Congressional District of South Carolina since 1877. Before then, he served in the US Air Force as a lawyer from 1982-1988. Graham ran in the 2008 election, and lost. Now, he's making a comeback and has already got a set plan. "Graham is also a leader in cutting spending, reforming entitlements, and getting government out-of-the-way so businesses can create jobs." says his official campaign website. 
After running for president in the 2008 elections, and losing, 65-year-old Jim Gilmore is back again. Although the former Virginia governor(R) is running against many other candidates, he's not backing down.  "With so many candidates already in the race, some may ask why I am running. That's a fair question, and deserves a straight answer. I'm a candidate for president because our current Washington leadership is guiding America on a path to decline and I can reverse that decline." Said Gilmore on his  official website. Along with being the former Gov. of Virginia, he also served as a chairman in the Republican National Committee back in 2001.
Donate to West Side Story