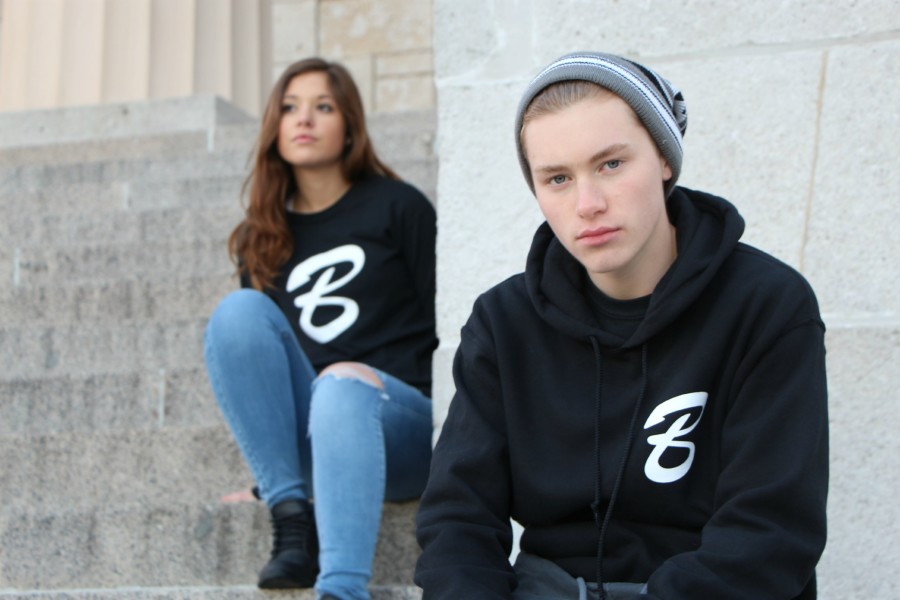 Fashion profile: Spencer Meacham '16
An in-depth look into the creation of Blanche Threads clothing line.
November 6, 2015
For Spencer Meacham '16, every passing period between classes is an opportunity to turn the halls into his own personal fashion runway not just for his outfit of the day, but for his new clothing line, Blanche Threads, as well.
Four months ago, Meacham began designing and printing the first shirts and hoodies and advertising them on social media.
"I sold a couple via Instagram and then when school started up I started talking with people face to face," Meacham said.
He developed the apparel after his own style, so the designs have a distinctive character: striking black and white with lettering or hieroglyphs.
"It's basic but bold," said Meacham's girlfriend Taylor Shelfo '18. "Spencer wants to stand out and he does a great job at that and incorporating that into his work."
One of Meacham's first customers, Kendra Law '16, agrees.
"His clothing line is simple but it makes a statement," Law said.
Meacham said to produce the merchandise he simply sent the designs to a friend at Rage Grafix. However, gaining publicity has proved more difficult.
"The toughest part so far is marketing for sure. Getting the name out, getting the brand out is kind of a challenge," Meacham said.
For now, Blanche Threads is still in the startup stage, so business is conducted informally.
"I've just been talking about it and reaching out to people and they've been picking it up," Meacham said. "Right now the shirts are actually just in my trunk."
Though his business is only emerging, Meacham has big goals and ambition to match.
"If it were to take off, it could definitely turn into a career," Meacham said. "I'd say that's one of my dreams – to have something that I can call mine that other people appreciate."
Meacham's determination is not lost on those around him.
"I don't want to say he's a hustler but he kind of is," Law said. "When he wants something he really goes for it."
"Spencer has always been super creative and persistent. He always wants what no one else has," Shelfo said.
After all, his clothing line's motto is "blood to the fantasies."
"Blood to the fantasies was the idea behind the creation of everything" Meacham said. "Blood is what makes up you as a person, so it means putting everything that you have toward your fantasies. If you want to make your dreams a reality you have to put everything you have into it."
Still, fashion means a lot to him even without the business.
"[Fashion] represents who we are in a way," Meacham said. "I try to express who or what I am as a person at the base level.
Photos by Paige Brazina