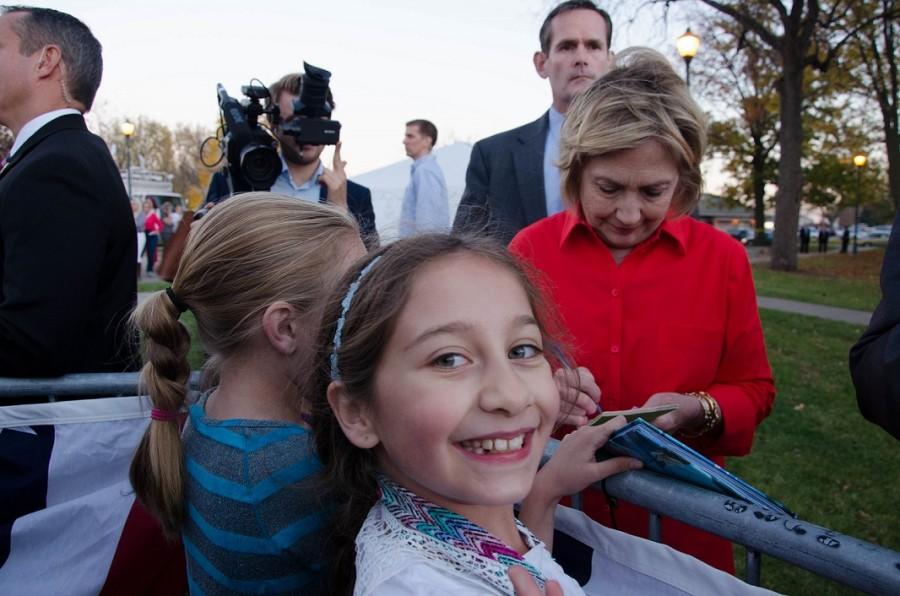 Clinton draws young voters at Coralville event
Clinton attempts to reel in younger voters at her event Tuesday in Coralville.
Hillary Clinton wants your vote. Especially if you're a young voter.
Clinton attempted to appeal to the younger generations at her event Tuesday in Coralville, where 500 people gathered to see the candidate. From texts to Twitter to talking hot-button issues with high school and college age voters, her campaign is focusing in on younger voters.
The event was first publicized via a mass text, and before the event, organizers encouraged everyone to post on Twitter or Facebook about the event with the hashtag #HillaryforAmerica.
Clinton began her event talking gun violence. "It is one of the most important issues facing us," she said. "We need to come together and pursue commonsense reforms. I will fight for comprehensive background checks."
This was the first public event Clinton attended after releasing her new 30 second advert about gun violence, airing in Iowa and New Hampshire.
According to a recent study by the Pew Research Center, 50 percent of voters aged 18-29 support gun control.
Clinton then went on to discuss student loans. She said she supports making community college free and public university tuition free for in-state students who work at least 10 hours a week.
"I don't think it's enough for the granddaughter of a president to have opportunities," she said. "The grandchild of a truck driver should have the same opportunities. Paying for college shouldn't be the hardest part about going to college."
After the event, Clinton walked down the row of supporters to pose for selfies before she headed off to Grinnell.
Jaya Blanchard '17, a volunteer for Clinton, said she was excited to see young people at the event.
"I just think it's really important that young people know what's going on in the world, and most people don't," she said. "If you have the power to do something, you should take advantage of that."
Emma Cooper '17 agrees.
"We want to show that young people support her too," she said. "High school students … are three to four years away from being able to vote, so I think we should be eager to be involved."
Fellow volunteer and West High Democrats president Ally McKeone '16 said she hopes to see more people commit to caucus for Clinton and volunteer for the campaign.
She also encouraged voters to research candidates to make the most informed decision.
"Even if you don't know much about a candidate–all you have to do is go online and get educated," she said.
Social media is heavily influencing the 2016 election, sometimes called the 'social media election'. According to a study done by the Pew Research Center, 66 percent of social media users have engaged in some type of civic or political activities with social media.
Clinton uses Twitter to try to rally young voters and promote her platform. With the internet, media outlets and social media, McKeone said there is no excuse for a voter to be uninformed.
Many students in high school right now will be able to vote in the general election next fall. Cooper said she hopes events like Clinton's spark an interest in politics and the election.
"Whether we like it or not, we are going to be able to vote, and we should want to have a say in how our country is run," Cooper said.
Blanchard urges young people to go out and utilize their rights as citizens.
"This is one of the few things America gives you as one of your rights," she said. "So take advantage of that."
Photos by Sarah Longmire

Donate to West Side Story