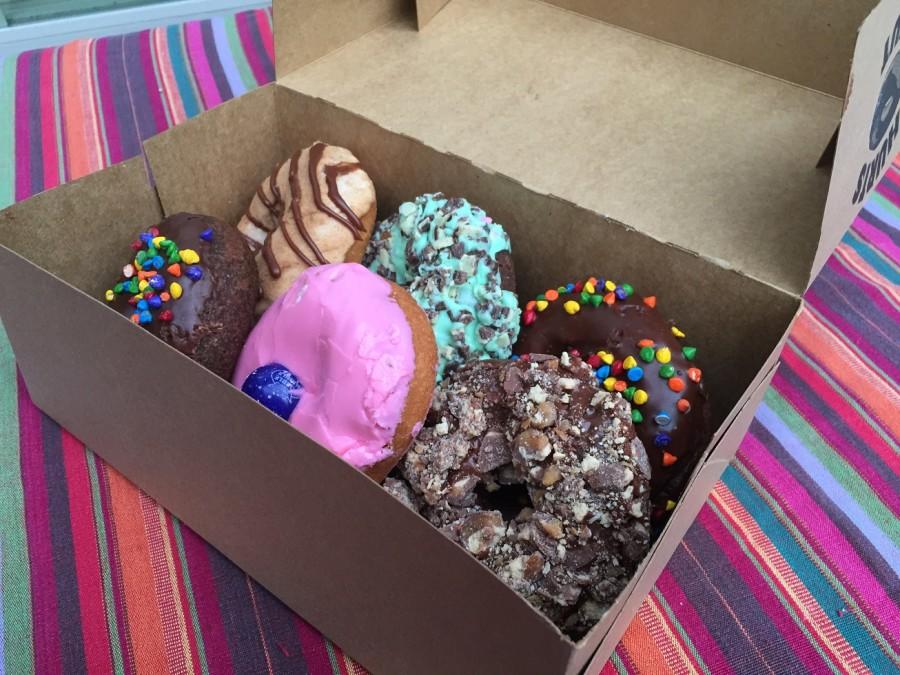 Wanna Hurts Donut review?
Hurts donuts, an eclectic new doughnut shop in Coralville, opened its doors to sweet lovers and foodies alike.
Wanna Hurts Donut? Don't worry, it's all treats and no tricks with this new doughnut shop in Coralville.
Hurts Donuts Company opened their doors to a swarm of foodies and donut lovers alike last Wednesday. Since their 5 a.m. grand opening, they haven't closed since, having lines out the doors and hour waits for the first days of business.
Hurts is an eclectic mix of hip doughnut shop and an underground performance venue, with a small stage the owners said will host live music and comedy performances.
Their cake doughnuts are offered in traditional glazed flavors, but Hurts is most iconic for its more eccentric flavors. Doughnuts sprinkled in fruity pebbles, piled high with crushed candies and topped off with toasted marshmallow; Hurts is the fever dream of a starving foodie with an affinity for all things sweet. And at $2 a specialty doughnut, they're is competitively priced for the amount of doughnut you get.
Read below for an in-depth review of the sweetest and boldest flavors Hurts has to offer.
Cosmic Brownie
Cosmic brownie will win anyone over with the rainbow chocolate chips and nostalgia of school lunch desserts. The dense chocolate cake donut is a perfect base for the shiny chocolate glaze and sprinkle of chocolate chips. The doughnut has a crispy edge with a soft inside. It i sn't overly sweet and pairs well with a strong, black coffee.
Bubblegum
The bubblegum flavor, on the other hand, has a sickeningly sweet smell with a Pepto Bismol pink frosting and a gumball haphazardly thrown on top. The sight and smell immediately turned me off, and the bite full of thick frosting did nothing to ease my apprehension. The doughnut itself was surprisingly good sans the spatter of frosting on top. A vanilla cake this time, it had a slight cinnamon undertone which I liked. Although named and decorated like a piece of bubblegum, thus doughnut is actually a plain old vanilla cake with vanilla frosting.
Andes
The minty smell of the doughnut and pile of crushed Andes mints makes this the most Instagram-worthy doughnut of the bunch. And that's all I can really say for it. The candies on top completely overpower the flavor of the doughnut itself. This avalanche of Andes monstrosity is one you can leave at the counter. If you're really in the mood for some chocolate mint, just stop by your nearest restaurant and grab a handful from the front.
Twix
The Twix doughnut had a chocolate cake and a pile of the crushed candies on top. With this one, unlike the Andes, I could actually get some of the doughnut taste, which was a pleasant surprise. It was a thick dessert that would please a sweet tooth and those that prefer a little less sugar alike.
Jesús
Back to vanilla again, the Jesús has a toasted marshmallow topping with a with a smell I can only describe as vaguely spicy. Once I bit into it, I was quickly disappointed. The Jesús, despite having a beautiful toasted top and vanilla cake doughnut, had a nondescript flavor that fell flat of my expectations. Weirdly enough, the bubblegum doughnut tasted as though it had more cinnamon than the Jesús did. Although not a bad flavor, it is one I would skip over the the stronger flavors Hurts has to offer.
I'd skip the more trendy doughnuts they offer for the classics ones. The cute looking toppings on the Andes and Jesús don't do much to amplify the flavor. I recommend the Cosmic Brownie and Twix, as it had less candy on top then the Andes, leaving room for the doughnut's flavor to come out.
Although they have over 70 flavors of doughnuts, they only make a chocolate and vanilla cake doughnut, which leads the dessert flavors to all blend together. More variety in the doughnuts would amplify the flavors.
Hurts is a niche dessert shop with a good concept. It's a hip store that fits right into the Coralville Center for Performing Arts building's vibe. The atmosphere of the store is fun and eclectic, and their "25/8" hours are hard to beat if you're in the mood for a sweet treat.