What should I do over winter break?
If you're at home right here in Iowa City and are wondering what to do to fill your two weeks of break, we've got you covered.
December 20, 2015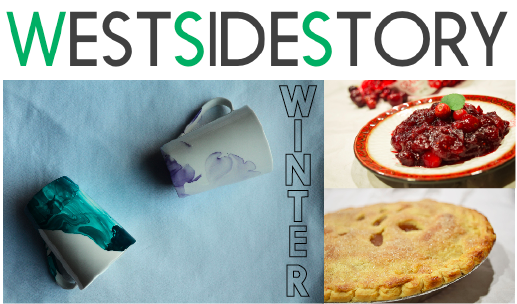 Whether your looking for some performances around town or some ideas of how to get crafty at home, there's lots to do during winter break, and the West Side Story can guide you into making your holiday break a fun one.
If you're looking to go out:
Photo editor Chanel Vidal loves going downtown–and knows all the good spots.
American Scarecrows
Saturday, Dec. 19
Tickets are $5.00-$8.00
Doors open at 8:00 p.m., concert starts at 9:00 p.m.
Dec. 18, 8:00 p.m.
Tickets are $15.00 for general admission in advance; $20.00 when bought at the show
Eufórquestra is a band whose music is a blend of funk, soul, afrobeat and reggae.
Dec. 19 8:00 p.m.
Tickets are $12.00 for general admission; $15.00 when bought at the show.
The Fez is a 15-piece band that reproduces the jazz/rock fusion masterpieces of Steely Dan. Their band consists of four-piece horn section, three backup singers, two keyboardists (including a genuine Rhodes 88), two guitarists and one rhythm sections.
Iowa City Community Band Holiday Concert 2015 
Dec. 20, 2:00 p.m.
Tickets are free.
This band consists of local musicians who perform music from Broadway musicals, old favorites and a mixture of marches.
Coralville Center for the Performing Arts
Saturday, Dec. 19 at 7:30 p.m.
Sunday, Dec. 20 at 2:00 p.m.
Tickets: Premium are  $27, adult are $22, senior (55+) are $17, student (11-College) are $17  and children (ten & Under) are $12
Joy to the World – A Special ELIM Christmas Event
Dec. 23, 7:00 p.m. - 9:00 p.m.
Tickets are $15.00 for adults, $12.00 for students, $10.00 senior and $10.00 for children.
Want to get crafty at home?
Designer and artist Leah Dusterhoft knows exactly how to vamp up that old white hot cocoa mug.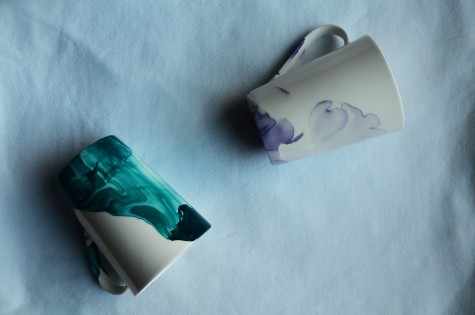 Supplies:
White mugs

Nail polish

Hot water

Toothpicks

A tub/bowl you don't mind getting dirty–it will be unusable afterwards and should be deep enough to dunk your mug into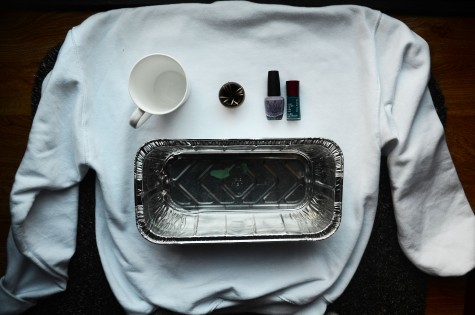 Instructions:
Fill your tub with hot water. The warmer the better so that the polish will spread so you get your desired look.

Pour the nail polish over the water, keep the polish close to the water's surface so that it will not sink to the bottom.

Quickly move a toothpick in the polish to create the swirl look.

Before the polish sets, dunk your cup straight down into the water and straight back out. Your cup should come up with the marbled look.

Dry your mug upside down on a paper towel for 3-5 hours for good measure.

Enjoy!
Tips:
Before you start dunking your cups into the polish, experiment with the toothpick swirling. Find out how long it will take for your nail polish to dry on the surface because each polish is different. When you think you are ready to dunk, swirl your polish and then quickly dunk your mug.
If you dunk and do not like the way it looks, use acetone (nail polish remover) and a cotton ball to erase the polish. Wash with soap and water before attempting again.
You must wash the finished mugs by hand after use to keep the design.
If you want to get fancy in the kitchen:
Reporter Kayla Shader has whipped up some of her favorite holiday foods, and you get in on the recipes.
Deviled eggs: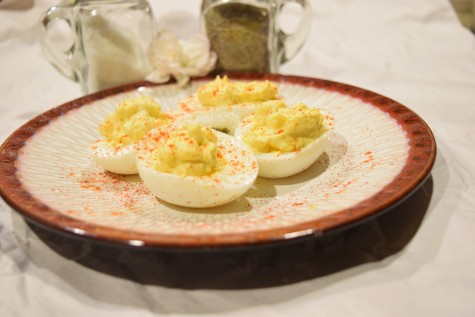 Ingredients:
3-5 eggs

1 tablespoon mustard

2 tablespoons mayonnaise

Pepper

Paprika

Salt
Optional: For spicier eggs, substitute paprika with chili pepper, or if you want it really spicy, use cayenne pepper.
Instructions:
Set stove to medium heat. Get a pot that can hold all the eggs very easily with room on the top. Fill pot with water and place on the stove on high and wait until boiling. Make sure you have room in your sink to put the pot in for later.

Put the eggs in the pot using a ladle. Then put stove on medium-high heat. Set timer for 20 minutes. When the timer goes off turn the stove off and carefully remove pot from stove and put in the sink. Dump out most of the boiling water so that the eggs stay in the pot.

Put about five handfuls of ice cubes in the pot and fill to the brim with cold water. Wait until most of the ice cubes have melted away, then remove eggs with your hands. They should be cool enough that they won't burn your hands. Dump out the water and put the eggs in bowl.

Crack eggs so that the shell can flex easily. Then start to pick the shell off. You might see a skin under the shell and if you do, be sure to take that off too. When you have taken all the shells off, rinse of your eggs to get rid of any remaining shells.

Cut eggs in half vertically

.

Carefully scoop yolks from eggs and put in a separate bowl from the egg whites.

Put the mayonnaise and mustard in the bowl of yolks. Put a pinch of salt and pepper in, too. Mix until spreadable. Add more ingredients to your liking.

Take a spoon and spread the yolk mix in the hallowed out egg whites. Put on a platter and sprinkle paprika, chili pepper, or cayenne pepper on top.

Enjoy!
Cranberry sauce: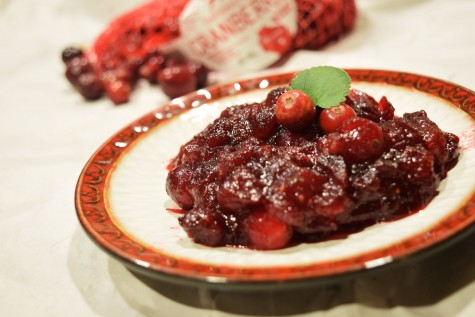 Ingredients:
1 12-ounce package of fresh cranberries

1 cup sugar

1 orange (or ½ cup orange juice)

2 tbsp water

Pinch of salt
Instructions:
Set aside a small handful of cranberries.  Put the cranberries, sugar, water and salt in a small saucepan.  

Squeeze the juice out of the orange into the mixture.  Heat on medium-low, stirring constantly, until all the sugar is dissolved.

Once dissolved, turn the heat up to medium-high and, stirring frequently, cooking until all the berries have burst, about ten minutes.  Turn heat to low and stir in the cranberries set aside earlier.  Cook until tender, about four minutes.
Apple Pie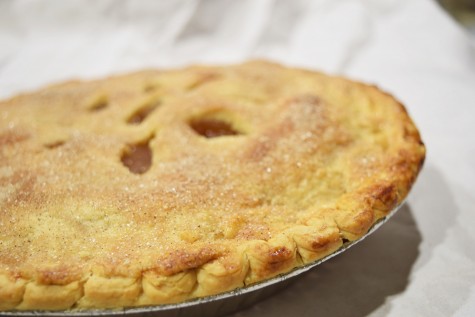 Pie crust ingredients:
1 ¼ cup all-purpose flour

½ cup (1 stick) of butter

¼ cup of water

¼ tsp salt
Pie filling ingredients.
4 cups of sliced and peeled apples (about four medium apples; a tart variety works best)

¾ cup sugar

¼ cup all-purpose flour

1 tsp cinnamon

1 tsp nutmeg

1 tbsp butter, melted
The secret to good pie crust is to keep everything very cold, and to do as little as possible to the dough.  Every unnecessary second spent working and mashing the dough will make the dough denser and tougher.
Instructions:
Working the butter: Use a little warm water to loosen the wrapper, then let the butter slide out on its own onto a small plate.  Put the butter in the freezer until it is rock-hard.  Remove the butter from the freezer and, as quickly as possible without grinding your knuckles, shred the butter with a cheese grater.  Try to make the shreds fall loosely and not clump together.  Put the shredded butter back in the freezer immediately.  The shreds should be hard and very cold before you use them.

The water: The trick is to take a bigger container, say a half cup. Fill it with ice, then pour water on the ice.  When you are ready to use the water, pour ¼ cup water directly from your ice mixture without transferring any ice.

The crust: The secret is to be quick so everything stays cold and to not overwork the dough. In a big bowl, put a layer of flour, then a layer of butter shreds, then flour, until it's all in the bowl. Sprinkle in your salt, then use your hands to loosely mix it together. Make a small pit in the top of the pile and dump in your ice-cold water. Mix with your hands again just until you can pull out very large chunks that will stay together.  The dough should be very lumpy and not smooth. Cut the dough into two chunks and put them in the freezer for about 30 minutes. They should not be hard, but firm and cold. Roll dough out with a rolling pin and put one half in the pie pan.

The filling: Put the sliced apples in a large bowl.  Boil enough water to cover the apples.  Dump the boiling water in with the apples, cover and wait ten minutes, then drain.  Mix together the sugar, flour, cinnamon and nutmeg.  Put this mixture in the bowl with the apple slices, toss/mix until all the apples are coated. Drizzle the butter over the mix, then toss again. Empty this mixture directly on top of your first layer of pie crust. Do your favorite pattern with the dough on top (lattice, punch-outs, crimping, etc). Sprinkle some sugar over the pie.

Bake at 425 degrees for about 45 minutes.  Crust should be golden brown and flaky.  About 15 minutes in, cover the edges with foil to prevent burning. Let sit until room temperature.