Clinton tells Iowa City her plans and pulls in voters
Hillary Clinton visited Iowa City on Dec. 16 and outlined her ideas for presidency, while convincing others of her potential.
As Hillary Clinton made her entrance into Old Brick Church in Iowa City on Dec. 16, hundreds of supporters and critics alike rose to applaud her. After Cassidy Shubatt, a University of Iowa freshman, introduced Clinton, she began to speak in front of the crowd of approximately 400 people. During her speech, Clinton outlined key policies and her stances on issues such as the current tax system, the refugee crisis, women's rights, climate change and how to combat the Islamic State of Iraq and the Levant, or ISIL.
Throughout her presentation, Clinton made it evident to the audience that her campaign and presidency will be based on evidence and the truth.
"I want to run a campaign that's based on facts," Clinton said. "It is a fact that our economy does better when there's a democrat in the White House."
"
It is a fact that our economy does better when there's a democrat in the White House.
— Hillary Clinton
The first issue that Clinton brought up was the current tax system. Clinton believes in a fairer tax system and has consulted with billionaire Warren Buffett, who recently announced his endorsement of Clinton's campaign, on the topic.
"Right now [the tax system] is a mess. It so favors people on top, it so favors corporations. It gives so many breaks to those who frankly don't need them," Clinton said. "And it's time that we get the wealthy to pay more, [to pay] their fair share … It's simple, millionaires will pay 30 percent of their income in taxes."
Another major topic Clinton outlined was the refugee issue. Unlike Republican presidential candidate Donald Trump's stance on not allowing any Muslim refugees into the country, Clinton believes that refugees should be accepted.
"We have to have a process to screen refugees," Clinton said. "But to reject them all is unnecessary. I think it's important that we continue to welcome [refugees]."
Clinton knows that ISIL poses a serious threat in the world today, but she believes that with the help of a coalition, America can overcome this threat.
"I have a plan I'm working on on how to take on [ISIL]," Clinton said. "I will defeat them. And I will do that without sending American combat troops to the region."
Clinton reflected that in light of the recent attacks in Paris and San Bernardino, California, many Muslim-American children have been profiled and discriminated against.
"[One Muslim-American leader] said 'now my children are afraid to go to school.' That was heartbreaking for me to hear … We have to take on this attitude that is really contrary to [American ideals]," Clinton said. "It is not only shameful and wrong to be calling people out based on their religion, to be basically accusing one and a half billion people of being terrorists, but it is dangerous."
West High junior Jaya Blanchard is a volunteer for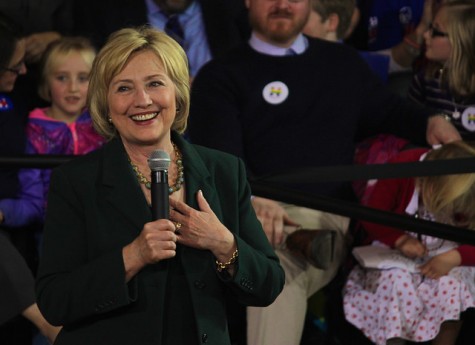 Clinton's campaign and believes that adolescents need to play a role in American politics.
"It's important for young people to get involved," Blanchard said. "If [Clinton] is going to be the next president, I want to be a part of it because [she has] the best foreign policies and [the] best experience."
Much like Blanchard, University of Iowa freshman Liana Suleiman believes that playing an active role in politics is integral to success. Although Suleiman doesn't support Clinton, she thinks that going to events like this is beneficial for voters of all ages.
"I'm fairly certain I will be voting for a different candidate," Suleiman said. "But still I feel it's really important for every American to really know who they're voting for and to see them in person to get that vibe that you don't necessarily get from watching them on TV."

Another voter who attended the Old Brick event that was not quite convinced of supporting Clinton was Blanchard's mother, Meena Khandelwal.
"I'm not committed to Hillary yet, but I find her very impressive," Khandelwal said. "I think the Republican candidates are all crazy and scary."
Clinton's speech made an impression on many of the attendees of her event. Her education and experience have convinced some that she is the most qualified presidential candidate. One is Hannah Welch, a senior at the University of Iowa.
"I think that she's extremely qualified and her being a woman is just an added bonus," Welch said. "I think she could do a lot for our country,"
In regards to Clinton's aptitude and skill, Carla Buckingham, an outspoken supporter of the Clinton campaign, has some of her own opinions.
"I think she's the only confident one out th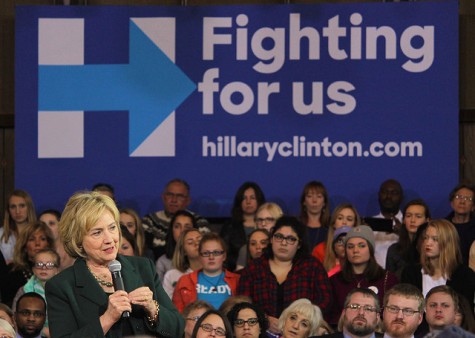 ere," Buckingham said. "[Clinton has] got so much more experience than any of those other people, I don't care who we're talking [about]. And it really helps that her husband lived in the White House."
At the end of the session of answering questions, Clinton responded to a final inquiry. This time, the questioner took a lighter tone and asked her if she would rather be the president or Beyoncé.
"Now, if I really had a choice, I'd rather be president because I can't sing. And you know, as much as I wish it were otherwise, nobody would pay to see me sing or dance … How many of you have actually seen Beyoncé in a live performance? It is amazing. Oh my gosh, you have no idea, if you see her on TV is impressive, you see her in person you're just stunned … she's just amazing," Clinton said. "I want to be as good a president as Beyoncé is a performer."
Click on the image below to see photos from the event.
Donate to West Side Story