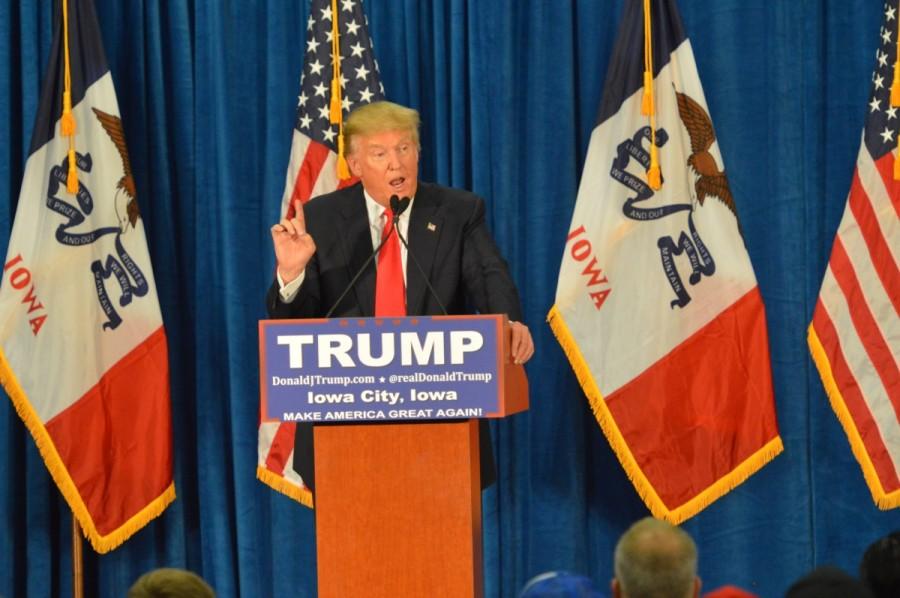 Nina Elkadi
Donald Trump made an appearance Tuesday, Jan. 26, at the University of Iowa Field House. Arriving an hour late, he emerged to a sea of signs being waved that read "Hawks for Trump."
Trump began by introducing both the Iowa football and wrestling teams, leading to cheers from the crowd. This led to controversy within the University over whether or not this was a conflict of interest, as collegiate sports teams are unable to formally endorse any political candidate.
Photos by Sarah Longmire
Trump also talked about China, his plans for building a wall and how fast he is climbing in the polls. He failed to speak continuously for more than five minutes due to the constant protesters that were present and willing to interrupt.
Many students from West were in attendance, including Jackson Nasby '16.
"I think it's refreshing to have someone who doesn't have much experience," Nasby said. "I feel like he will get stuff done."
North Central Junior High eighth grader Nick Fairfield also attended the rally and praised Trump for his lack of political correctness.
"We've kind of turned into this soft country where all we care about is safe zones and not offending someone else," Fairfield said. "[Trump] doesn't care and he's ready to make America great again."
Photos by Leah Dusterhoft
Over seven protests inside of the rally interrupted his speech, including a tomato being thrown at the stage. Those in attendance were instructed to chant "Trump! Trump! Trump!" and wave their signs when a protester made an appearance.
Protesters were also present outside of the rally chanting and presenting signs. They chanted things like "Hey hey, ho ho, Donald Trump has go to go," whilst a woman stepped around them selling "Bomb the shit out of ISIS" buttons.
More passive acts of protest were also present in the rally, such as three woman who wore t-shirts displaying ideas Trump most likely wouldn't agree with. One wore a Bernie for President shirt, another a shirt that read "26 JUNE 2015: AMERICA IS NOW FINALLY AS GAY AS IOWA", and the third woman wore a shirt that said "SUBURBAN WHITE KIDS UNITE!" with a picture of Che Guevara in the background.
[<a href="//storify.com/westsidestory/trump-in-iowa-city" target="_blank">View the story "Trump in Iowa City" on Storify</a>]
This rally attracted supporters, protesters and just curious citizens alike. Luckily no one was hurt in this environment that turned extremely hostile to the wide range of differing ideals. As of April 7, 2016, Donald Trump now holds the most delegates against the other candidates in the GOP with 743. The nominee needs 1,237 to snag the nomination.