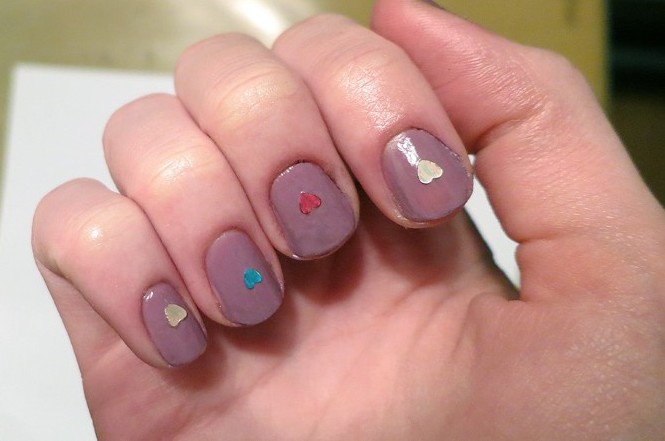 Holographic hearts
Polishes with big glitter shapes always look like a good idea, until you actually use them and spend an hour fishing out the pieces only to have them end up crooked and disorganized on your nails. Here's a solution to that.
Start with a base of any color you want. This is Wet 'n' Wild "Bite the Bullet." Let it dry as much as your patience will bear.
Pick a polish that has big shapes in it. These can be hard to find, but lower-end brands like Sinful Colors and Kleancolor offer a variety with things like hearts, stars, moons, etc. Here I use Kleancolor "Twinkly Love."
Pour some polish out onto a piece of paper, making sure you get a few glitter pieces to come out.
Use tweezers to pick the glitter pieces out one by one, wipe off excess goop on your paper, and place them on your nails (I would recommend not using the ones you pluck your respective hairs with).
Once you have the pieces how you want them, apply at least two coats of topcoat to smooth the nail and ensure the glitter pieces don't fall off.