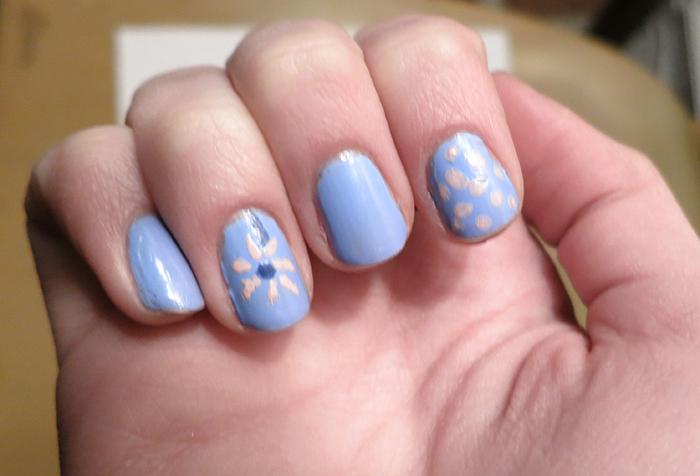 Simple flowers
This is a very simple drawing design for those of us who are unwilling to invest in nail art brushes. It's not anything breathtaking, but it is cute, and very easy.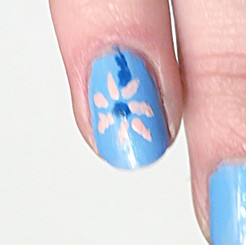 Pick your color scheme. You'll need three colors: a very light color to be the background of the flower, and two colors to be the petals and center of the flower. I used, respectively, Sinful Colors "Sail la Vie" (which is not flattering on my skin tone, I know), Sally Hansen "Petal Pusher" and Nina Ultra Pro "Ahoy Matey."

After putting on your background color, use a sharp but not toooo sharp pencil to take a drop of your center color. Make a small dot on your nail.

Wipe off the pencil and make a small pool of your petal color of a piece of paper. Dip the pencil in the pool and draw the petals slowly, one at a time. There need be no artistry to this, just slightly curved lines. This is a *stylized* design, remember that. Re-dip as necessary and be sure not to put too much polish on the pencil at a time to ensure your lines are delicate and defined (as much as possible with this technique).

Optionally, you can take another drop of your center color, or another color, and draw a stem and/or leaf. When you're satisfied with your design, apply topcoat.
Donate to West Side Story