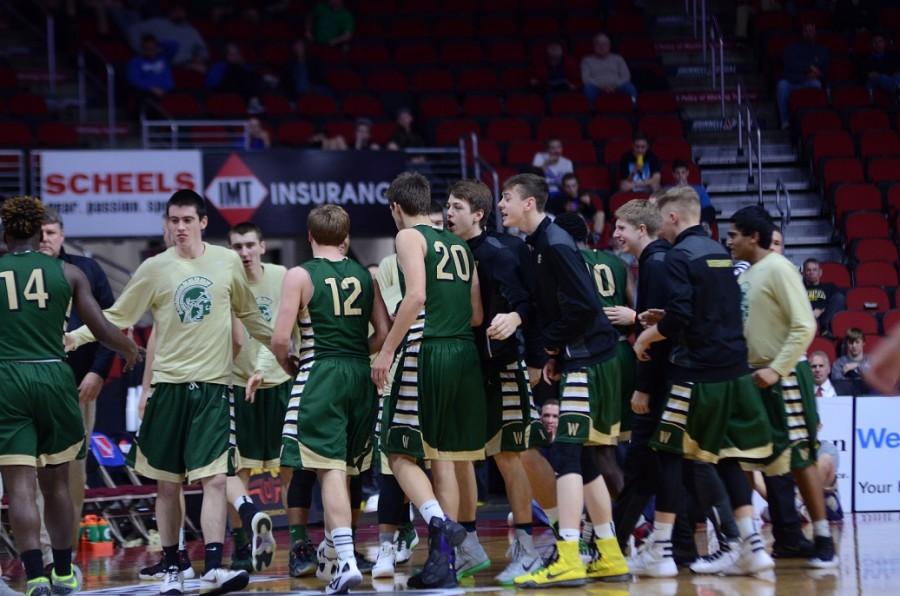 The miracle moment produced by Tanner Lohaus '16 sent #6 West on to its fourth title game in the last five years. Lohaus' tip gave West a 61-59 victory over #7 Cedar Falls on Friday night.
Lohaus didn't let the moment get to him; instead, he chose to give credit to team manager Tommy Duffy '16.
"When I was injured Tommy would help me work on scenarios that might come up in games and one of them he came up with was a last second tip in," Lohaus said. "So I really owe him a lot of credit for putting me in the position to pull that play off."
Devontae Lane '17 continued his hot streak into the semifinals, after scoring 24 points against Des Moines Hoover, with a solid 13 points in the nail-biting game on Friday.
But all respect to Lane, his 13 points will not be the story headlining in most newspapers, but it will be that of Lohaus' miraculous tip. Video of that tip has already been blasted all over social media and even has been featured as the #3 play on Sports Center's Top 10 plays. But, according to teammates of Lohaus, it will not be the same as watching it live.
"I thought the game was incredible. To be a part of something so amazing like that just puts me into shock." Wali Parks '16 said.
West has now taken on a new mentality of "survive and advance" as put by Parks who had 17 points, including four ferocious dunks. West has two wins in the State Tournament but only by a combined five points. It is obvious, however, that the team only cares about the final result.
"We had a chance to extend the leads pretty far at points in each game but we didn't pull through," Nate Barnes '16 said. "I'm not worried though because if we pull through we are in good shape."
The opponent West will face in the championship game on Saturday night will be #5 West Des Moines Valley. Valley also reached the championship on a buzzer beater over #1 Pleasant Valley, but in a much different fashion.
Valley held the ball for one shot the entire second overtime period (four minutes) which was not received well by the West High student section.
"We thought what Valley was doing was pretty bogus, and in my own personal opinion, was unsportsmanlike," Chase Blatz '16, creator of the WHS Student Section twitter account, said. "But the main reason we booed was because we wanted them to end the game already since we were so excited to watch West play."
No matter the coaching strategies or the amount of views one buzzer beater got over the other both teams come in just hoping to win one more game, and knowing these two teams it is sure to come down to the buzzer.
Click below to view pictures of the game.

Photos by Sarah Longmire