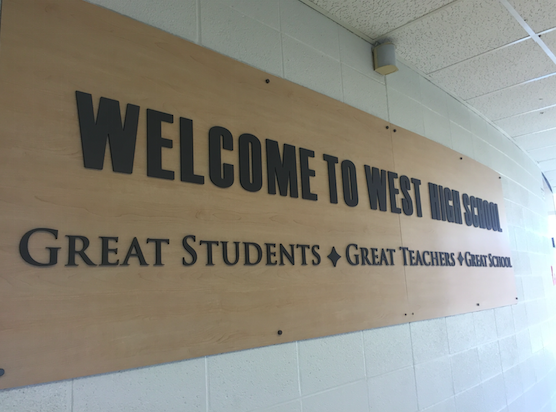 Intervention Block
The purpose of this time period will be to catch up on homework, or if you're struggling with concepts, talk to your teacher. Although the time of day or amount of days each week isn't finalized, next year there will be an intervention block each a week. These blocks will replace advisory and be 20-25 minutes long.
"You identify the students who are not getting the core concepts. If they're not getting it, you make sure you're not waiting until the end of the tri [to realize they don't understand]," Shoultz said. "A lot of people would have time to read or do homework in their current classroom."
Digital signage throughout the building
Digital signage is just a fancy way of saying there will be TVs everywhere. These TVs will display current events happening in the building, and any other information relevant to students. Student groups and clubs will be able to display information they want to get out to the student body, and just need to give it to the west wing secretary.
"I want a platform for student activities," Shoultz said.
The goal is to add a TV display wherever there isn't a SmartBoard. The fund for the TVs came out of the guidance account, and each cost $600-$2500 depending on the size.
Live stream cameras in the auditorium
There will be television production cameras in the auditorium to stream plays, concerts and any other event taking place there.
Makerspace
A "Makerspace" will be a place where students can produce podcasts, make posters and create videos.
According to Shoultz Associate Superintendent Matt Degner is currently working on the initiative, and The ICCSD Foundation is working on funding.
"We are looking at having a video, audio, and print Makerspace in the library," Shoultz said. "Junior highs and all of the other secondary schools will be receiving this."
TVs in the library study rooms
All three of the study rooms in the library will be fitted with TVs and a Chromebox. Students will be able to checkout a keyboard and a mouse to work on group projects together on the screen. They will be able to log on to their school account and collaborate while having their project displayed. This will be funded using leftover activity funds.
New furniture in the cafeteria
With the library the prime hangout spot at West, it has undoubtedly also become the most crowded area. Shoultz hopes to transform the cafeteria into a similar hangout place where students can go to do homework and work on projects.
"We are hoping to get more high-top tables and chairs, instead of just those benches we have now," Shoultz said.