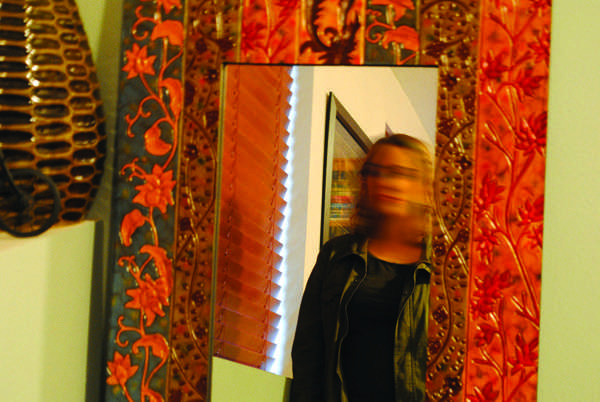 Dysthymia, or chronic depression is a relatively common diagnosis with approximately four million cases documented annually in the U.S. according to the National Institute of Mental Health. For some, dealing with their depression is just a matter of not being able to regulate emotions, turning things worse than they really are. Darian is one of these people.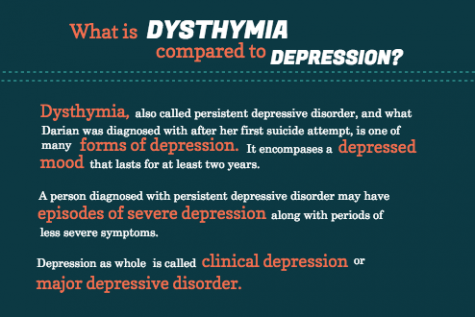 "I've gotten to the point sometimes where I don't know how to get out of the feeling that I am in, which kind of leads to those [suicidal thoughts]," she said.
Showalter starting having suicidal thoughts at the end of eighth grade, but was not yet diagnosed or vocal about it with family or friends. It wasn't until September of her freshman year when she overdosed on over-the-counter pills that those around her started to see her struggles.
"A lot of times I feel like suicide attempts are a cry out for help . . . You're not trying to seek attention by a suicide attempt," Darian said. "In your head you're like 'I wanna die, I want to do this action,' but then you're like 'Do I really want to die, or do I just want people to see this is how I feel?'"
Shelby Zukin '17, one of Darian's best friends since elementary school, was one person who did not know how Darian really felt until her attempt.
"One night she called me back [after she missed my call] and told me [about her attempt and] what had happened. My world was turned around. My best friend who I thought was okay wasn't okay," Zukin said. "That was new territory for me, helping out my best friend. It was really hard to hear, that someone I cared about so much was going through such a hard time."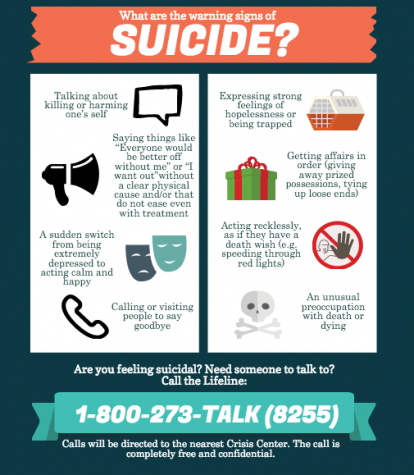 After her first attempt, Darian's stomach was pumped and she stayed in the inpatient unit for four days. After that, she was diagnosed with dysthymia and began intense therapy, about two sessions a week, at the University of Iowa and took the antidepressant Prozac, but she was not happy with the effects it had on her.
Darian attempted suicide again at the beginning of her sophomore year. She overdosed on cough medicine, and was sent to the hospital as a precaution, and continued therapy and antidepressants. For Darian, communicating with doctors about her feelings was difficult.
"It's really hard to gauge something like [depression]. You could lie and say you're feeling better," she said. "How do you really tell someone they're not better when they are telling you that they are?"
Moving past rock bottom
Darian described her junior year as her worst. In January, she overdosed on an anxiety medication. She passed out and began seizing. An ambulance arrived at her home and she was rushed to the hospital. There, they discovered her overdose caused acute kidney failure.
Darian said this attempt was after a break up with a boyfriend. Later, she realized being in relationships doesn't fill the void depression can create.
"You can't put all of yourself into a relationship, especially since you don't even have a love for yourself. I think I tried to take and take so much from someone, but I didn't give anything back," she said. "I wanted all this love to make up for the love I didn't have for myself."
Since she was close to 18, her doctors expressed that it was time for a change. She began a new medication, Lexapro, and started sessions with a new therapist who helped her focus on emotion regulation.
"A lot of people think when you're depressed you can just take medicine and then it gets better, but no, that's just for the chemical imbalance in your head. You still have to get to this mental state of mind where you can control how you're feeling," she said. "It's a matter of 'How do you make this [sadness] something that is not such a big deal?'"
Around the end of her junior year, Darian turned to alcohol in an attempt to drown out her thoughts.
"When you're drunk you feel good for a second, but then tomorrow what do you have?"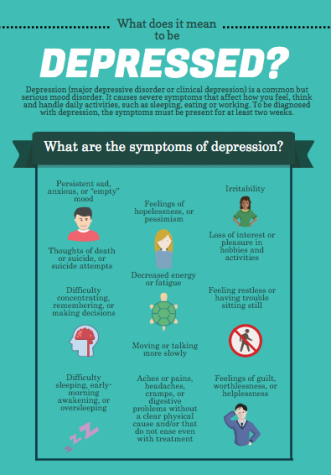 Throughout this time, her family and friends had trouble figuring out how to help; her mom, Liza Showalter, notes that this is due to the recurrence of her actions.
"She says 'You can't keep bringing up the past' but we say 'You're living your past every day," Liza said. "That's the hardest part — When you're making the same choices, your past becomes your daily present and future. It becomes who you are, and it's hard for people to see past that."
It took a friend to pull her out of it.
"[They said] 'You need to find something better than this. This is not okay for you.' After that point, after I realized how bad I got, I just stopped. . .I had to make the decision on my own."
Finding fortitude
Though some times have been worse than others, Darian looks back on moments of strength, such as her sophomore year Dance Marathon. That year, she decided to shave her head and donate her hair to be used for children with pediatric cancer.
"I wanted to feel like I was good for something. I was doing something good for myself, [when I shaved my head], I felt strong at the point. I wasn't going to feel insecure about my hair or anything."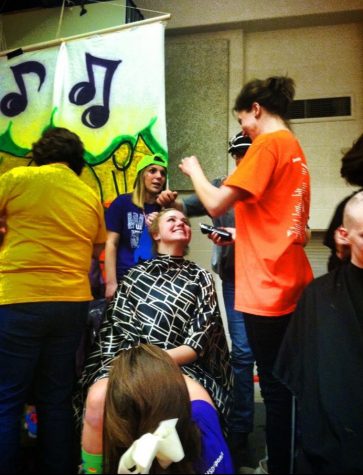 After junior year, Darian traveled to Haiti with Mission Starfish, a group of students and teachers that taught Bible school to underprivileged kids at an elementary school.
"[Going to Haiti] made me feel a lot better about myself, like I had done something good and selfless."
Darian highlights this feeling of selflessness as necessary for growth.
"If you aren't giving any of yourself or doing anything that makes you happy for yourself and others there's no way you're going to get better."
Her mother says this quality is what impresses her most about Darian as she grows through the journey.
"I'm most impressed that she cares so much about everyone else. For as little as she [cares about herself] she cares about everyone else," Liza said.
Learning from the past to move forward
Now, Darian is more able to look back on her experiences and reflect on where she has improved.
"You have to know that a feeling is temporary, that a feeling lasts 30 seconds. . . Taking 40 pills takes 30 seconds, or I could talk myself out of it that takes 30 seconds, too."
Although she admits to having suicidal thoughts often, her attitude before she takes action has changed. She urges others who have felt similarly to her to remember the world is greater than a moment.
"[Now] the first thing I think about is 'How will this affect other people's lives?' Because it's just not fair. You might think you were put on this earth alone, but you're not alone here. There's so many people here you will affect."
In the past, Darian had found she affected more people than she thought. WIth her attempts, she realized there were people that were getting hurt because of the pain she was inflicting upon herself. This led to distance arising between good friends, and a feeling of guilt from Darian. From the friend standpoint, Zukin has seen Darian's struggle with guilt, but preaches to other students to understand getting better is a work in progress.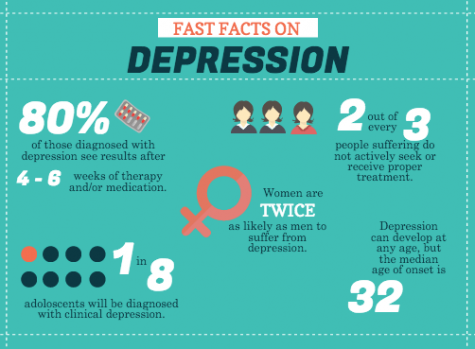 "I know that she felt guilty. I think for anyone that tries to commit suicide there is a feeling of guilt. That guilt is normal, but not necessary. The people around her care about the person so much, the only thought [we have is that] it's not her fault, and that goes for anyone," Zukin said. "Even therapists need therapists."
Ultimately, Darian and her mother both point out that guilt is something that must be overcome by oneself. Liza understands how her guilt has arisen.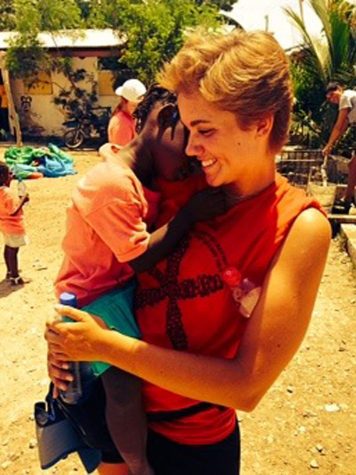 "It's really hard to explain what is like to help someone get over something they have internally felt. Her guilt is knowing that her actions have caused a lot of pain in our family. She almost took her life, she almost multiple times, had her sister be sisterless," Liza said. "I think that's why she's really guilty, because she knows she has caused pain for us."
But Darian is growing.
"I do feel very guilty because it's hurtful to threaten your life," she said. "I don't think you can be a really good friend until you figure yourself out. I'm getting there now."
Now Darian plans on continuing medication, but only goes to therapy once a month.
Darian graduated early this year, at the end of the second trimester. She is planning on going to Kirkwood for two years to get her associate's degree and a minor in psychology. From there, she plans to go out of state to school in hopes of becoming a child psychologist.
"[I'm excited] to see what life has to offer," she said. "I know wherever [I end up] I'll be successful. The joys of life are actually something I want now, and I think when someone feels that way they're doing better; they're actually excited for all the things out there."
Photo by Nick Deerberg.
Graphics by Isabelle Robles.