Tennis teams split with City High
On Tuesday, April both boys and girls tennis teams faced off against City High. The girls lost with a score of 3-6 while the boys won 9-0.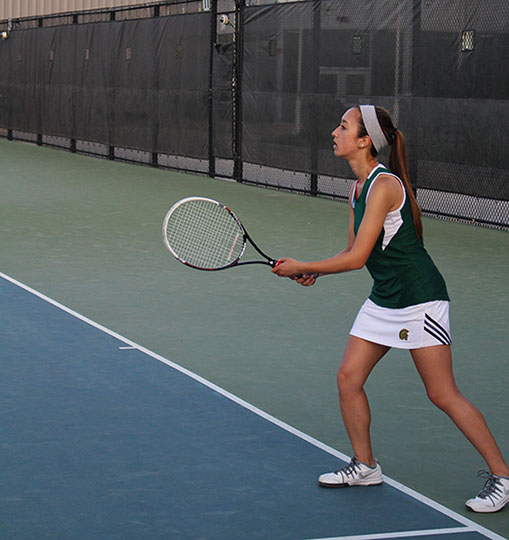 On April 26, a battle went down between the two schools at the Hawkeye Tennis and Recreation Complex.  The boys won the meet 9-0, making it seven consecutive years that the trojans overcame their cross town rivals, City high.
 West High fell to City high with a 3-6 final score. Emma Koch '19 took down Innes Hicsasmaz '16 at the top position, being the only player to win her singles match. With it being her first high school tennis meet against West's rival school, Koch experienced a much different level of nerves.
"I was really nervous, but it wasn't really about the people watching me. I was more just nervous because it was City… it ended up being fine and the nerves kinda worked themselves out," Koch said.
Elise Chang '17 is a new varsity player this year, though she was on JV the past two years with a bit of varsity experience. This meet was her first varsity city-west experience. Chang paired up with Simran Sarin '17 in doubles after a tough loss in singles.
"There was more pressure because we were playing against the rivals and there were a lot of people watching. I didn't do that well in singles but I think for doubles Simran and I had some really good plays and we're proud of it," Chang said.
Ann Burnett, the girls varsity assistant coach is another newcomer to the City-West meets, with which she experienced a high-intensity atmosphere that set it apart from other meets.
"I thought it was pretty tough for everyone…everyone did a great job, they fought. I thought things were a little bit tense just because we were playing City," said Burnett." We learned a lot from [the meet] and we can come back next year and get them." 
"
We learned a lot from [the meet] and we can come back next year and get them.""
— Ann Burnett
The girls are currently 8-2 for the season. They faced off against Cedar Rapids Kennedy and won 8-1. Their game on Saturday against Cedar Rapids Washington was delayed due to rain and is rescheduled for this afternoon at Cedar Rapids Washington.
On the other hand, the boys' had their sixth consecutive win against City High. They managed to succeed in this without dropping a single match, leaving them with a final score of 9-0.
"I feel really good about the meet Tuesday and I was telling myself not to be nervous. My team feels pretty good about winning," Brad DiLeo '18 said in response to the meet.
Jiung Jung '17 also felt a sense of pride and accomplish about it.
"I felt the meet went overall really well. Everyone stepped up and pulled through against a very good City High team," Jung said.
The boys are currently undefeated in the season 10-0. They faced off against Cedar Rapids Washington and Cedar Rapids Kennedy last Friday and won both 7-2 and 6-0, respectively.
Though only one of the tennis teams here at West succeeded in their attempts to take down the rival school, both remain hopeful for the years to come.
Photo by Meg Moreland.