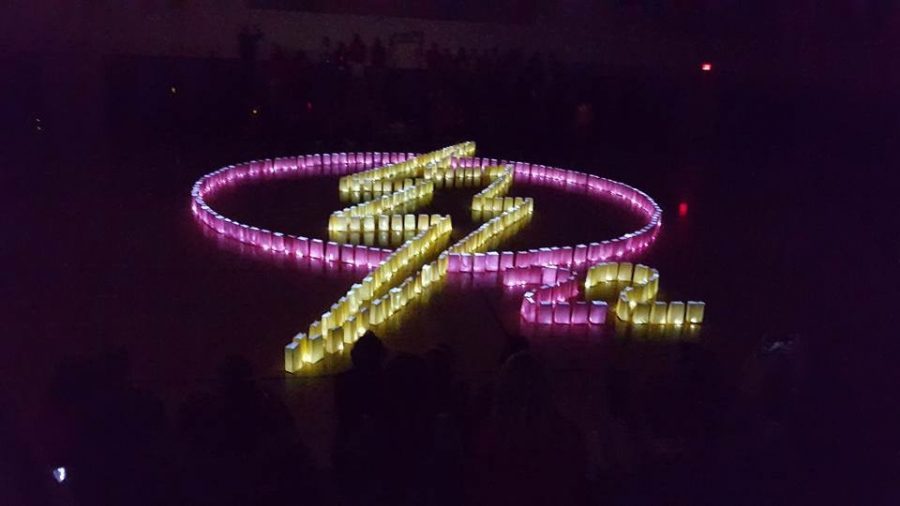 It is April 28, 2016. The bleachers are full of high school students, teachers, family members and friends of Austin "Flash" Schroeder, the lights low, unlit red and yellow lanterns make out the fight with flash symbol in the middle of the gym. Every person in the room wears a fight with flash shirt, as if they were all one unit. The whole community has come together to honor the legacy of Austin.
One year ago to this day, Austin passed away from cancer. Today, he is remembered as a loving friend and brother. Many friends and family shared their favorite memories of him at the Celebration of Life of Austin "Flash" Schroeder, which took place that evening at North Central Junior High.
Carter Johnson was Austin's best friend, and will forever be grateful for his relationship with him. Johnson shared one of his memories with him as the community listened, laughed and grieved with him.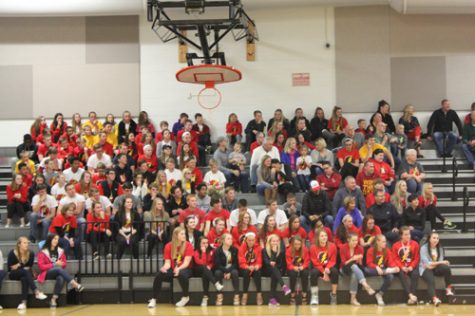 "My parents and Stacy and Craig decided that they were going to go out for dinner that night and that means us five kids were left alone. Those were our favorite nights. Austin and I came up with a game; we were going to put sleeping bags on our head and then Haley, Ella and Cody were going to run around and try to tackle us. We thought it was a great idea," Johnson said. "It was even more fun than we were expecting, until I heard a loud bang and crash. I froze and was a little scared to take off the sleeping bag. It was dead silent, and I took off the sleeping bag and Austin had crashed right through the drywall. I turned to Ella and she is terrified and she said, 'I think I might have hit him a little to hard.' So, Flash erupted in his hysterical laugh while sitting in our drywall. And we didn't know exactly what to do, and if it weren't for his hysterical laughter I probably would have had a panic attack, but instead we were able to laugh and enjoy that moment. I will forever be grateful for the relationship I had with him."
Dillon Doyle also shared a memory pertaining to Austin's laugh, believing that he will carry on his laugh and attitude forever.
"Every single one of my memories with Flash contains his laugh. We were in the car and we were going to PetCo to pick us Buster, and he comes out with a buzz cut. Well, Craig and Stacy were really not okay with that. They got home and I remember Stacy just saying 'That's not my dog.' And Flash, he kept a straight face because his parents were upset about it, but as soon as we were alone he started laughing super hard," Doyle said. "He always taught me to have a good attitude and I think that is something I will carry with me throughout the rest of my life. I feel so blessed that I got to meet someone like Flash, and I will carry on his legacy every day."
Austin taught many lessons to those around him. Belle Parker will forever cherish the relationship she had with him because of the lessons he taught her.
"Austin and I had a girlfriend and boyfriend, brother and sister type of relationship. He taught me a lot of things while he was here, but most importantly was he taught me how to love, and that's something that I will cherish forever," Parker said. "In junior high, all the guys would hug their girlfriends every day after school, it would be super quick and then they would run away. I remember we used to hug each other after school, and it would be fast but then he would still hold onto my back afterwards and I was like 'What is this boy doing?' It really showed the connection that we had and it is something that I will love forever."
Stacy Schroeder, Austin's mother, reminisced on the time before Austin's passing as she spoke to the audience about her memories with him.
"When Austin was sick, he knew that he was going to pass, but he didn't tell us, he never shared with us that. I told him that God would only take him if he really needed him. And he told me that he was not afraid to die," Stacy said. "He told us that he would be watching over us. And we feel him everyday."

<span class="mceItemHidden" data-mce-bogus="1″><span></span>[&lt;a href="//storify.com/<span class="mceItemHidden" data-mce-bogus="1″><span class="hiddenSpellError" pre="" data-mce-bogus="1″>westsidestory</span></span>/forever-with-flash" target="_blank"&gt;View the story "Forever with Flash" on Storify&lt;/a&gt;]</span>
Austin's father Craig Schroeder is grateful for Austin's continuous presence, as well as the community support, which has helped him and his family get through the last year.
"This last year … it hasn't been easy. We know who Flash was, we know what kind of person he was, we know he loved to live his life. He was extremely positive and he didn't complain and he continues to give us signs to let us know that he is always with us," Craig said. "The amount of support from everyone is really, really touching and it has helped us get through that fight as we try to pick ourselves back up and move forward. The amount of support we have received today, I can't even begin to tell you how good it makes us feel. It's hard to put into words what losing your child is, but something that Flash always said is that things could be worse. I have an amazing wife, two amazing kids, an amazing set of friends and everyone in this room. Things could be worse. I could be sitting here, one year out, at home without all this amazing support. You guys have helped us get through this difficult time."
After the memories were shared, friends of Austin were invited to light the lanterns on the ground, each person receiving their own candle to place inside. When the lanterns were lit, the fight with flash symbol and the number 22 illuminated the faces of everyone there.
Pastor Sarah Goetsch then addressed the audience, moving everyone through laughter and tears as she spoke about the concept of time.
"There are two words in Greek for the word time. In Kronos time, things unfold in the time they are supposed too. In Kronos time, parents die before their children. And then there is Kairos time, this is time that is out of joint. This is when time stops and spins. Many friends in this room have been stuck in Kairos time for this past year, starting on exactly 9:04 a.m. one year ago today. For many, time has never been the same. Days and months seem to spin rather than progress," Goetsch said. "Austin may have died, but he is now alive in resurrection, he can run again, he can dance again, he can laugh again, because his broken body has been healed. Neither Kronos or Kairos time can harm him now. We will meet Austin again, one day when we all die, but until that day we need to help one another, we need to support one another and we need to hold on to one another with all of our strength. For many since Austin died, time will never be the same, but don't be afraid. Keep fighting."
The family then proceeded outside of the gym into the grass where members of the West High choir sang "He Will Rise" and 22 lanterns were released into the sky as a sign for Austin. Applause was given after each lantern was released, and silence was held as they disappeared into the clouds. This ended the event, and family and friends left on an encouraging note, and Craig believes that positivity is the only thing that can get the community through this time.
"We all go through things in life, and this will not be the only tough thing that we will go through," Craig said. "We all need to remember that no matter how hard things may be, no matter how dark they may seem, that we must always find the positive in that, and that's what we live by and we have to live by to be able to get through this time."
To follow the Schroeder family's journey, go to the Fight with Flash Facebook page.
Photos and video by Isabelle Robles.