Orchestra director finds new home at West
In the five minutes he had during orientation, he seemed like a natural in front of the incoming freshmen class. His remarks about his past work, his wife and his dogs were often punctuated by a quick, "Come on in, sit down," to the stragglers lost in the halls. But even though he seemed at ease, he was as much a newcomer as all the students in the room.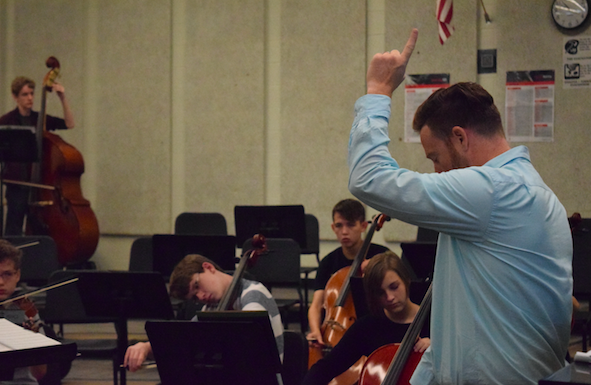 Exceptional violist, coffee snob and Radiohead fan are only three ways to describe Jonathan Welch. He's also a dog owner, the son-in-law of the Salmon King of Kansas City and perhaps most importantly, the new orchestra conductor at West High.
Welch got his start in music in fifth grade, when he followed in the steps of his two older brothers and started playing viola.
"We were very fortunate to have a strong public school orchestra program, and the lady who taught me was . . . a well regarded pedagogue in the Cincinnati area," Welch said. "She taught my two older brothers and they both played viola, and I wanted to as well. I started on viola and I've always been a violist."
This woman, Susan Milligan, also influenced Welch in eighth grade, when he was in an orchestra program she was helping to run.
"One day when I was in the eighth grade, she did this thing where she wanted everybody to get to know each other, and she had this thing called the "hot seat".  I was the first one, she put me up there. [She] kind of interviewed me and asked questions, like 'what do you want to do when you grow up' and all of these different things," Welch said. "At the time I thought I was going to be a professional baseball player or something like that . . . and she said, just kind of casually said, 'If you ever decide to do something with music, I think you'd be really good at it,' and the seed was planted."
Susan Milligan doesn't remember that day, but does remember that Welch was a natural.
"I don't remember that moment when I told Jonathan that he should consider music as a career, but I remember thinking that he could be a professional musician, right from the start," Milligan said. "He had a feel for the viola that he showed from the first day."
Welch not only believes his desire to pursue music started there, but even his drive to become a teacher began.
"I went to Bowling Green State University . . . and they tried to convince me to go performance and I just knew I wanted to work in the schools. I always had a passion for teaching high school orchestra," Welch said. "[Performance] is a really tough road to go down, and I always enjoyed working with students. And it's hard to say exactly the genesis of that, but it's maybe even going back into the eighth grade when Mrs. Milligan kind of said, 'You would be really good at this.'"
For Welch, music is more than just a talent; it has, in the past, functioned as a coping method.
"In high school, my father lost his job a couple of times, and one of the only things that really kept me grounded was music," Welch said. "And my orchestra teachers were very important to me and helped me out throughout those years… it was one of those things where they were able to keep me involved and just really kept my head on my shoulders."
This was another experience that drove Welch to teach.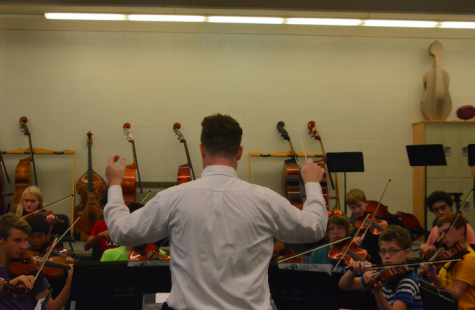 "I always kind of felt a responsibility to share that with people . . . it was just very powerful to me personally, and I like to also try to empower students that way as well."
After teaching in Cincinnati for several years, Welch and his wife moved to Iowa.
"When my wife and I left Cincinnati . . . we didn't know if I was going to have a job as an orchestra director, and that was a very hard thing for me to face," Welch said.
Luckily, he was able to secure a position teaching at a high school.
"Now that I've been fortunate to work at Linn-Mar, fortunate to be able to be here, it's one of those things where I'm so confident in knowing, 'Man, this is the stuff that I love, and this is what I want to do, and this is what I miss.'"
Though his career path has been smooth, no one can live their life without a few hiccups; Welch is no exception. From losing a charter bus in Boston to breaking two ribs on a music stand, Welch has had his fair share of challenges on the orchestra scene. At present, that challenge is breaking into his new job.
"Right now it's overwhelming, just as an incoming teacher; where all the keys go, how to log into all eight different things you have to that have like nine different passwords," Welch said. "But I'm excited to get the year started and see where we can go."
Luckily, Welch is a problem solver.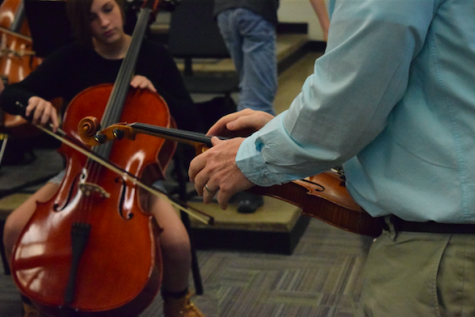 "My favorite part [of teaching orchestra] is the procedure. I like the process, I like the everyday. I like being able to sit down with the score and say, 'We didn't do this well yesterday, why?' and it's a puzzle," he said. "What are we going to do to make ourselves better? Just that interaction, that human interaction, with students and with the community."
That attitude toward orchestra has had a positive impact on Welch's students as well. Charlotte Hands, a student of Welch's from Cincinnati, remembers his teaching fondly.
"He had a phrase he would tell us very often: 'Every note.' He would emphasize how important each note was in order to have an amazing performance," Hands said. "Even if you messed up, it's better to make a loud mistake than a quiet one. That being said, our rehearsals were very productive, therefore making our performances truly the best."
Welch was also initially nervous about following in the footsteps of recently retired Wayne Thelander, whom he describes as having done a "tremendous job" with West's orchestra program. However, Welch is confident he can succeed through teamwork.
"What I always tell my students is, 'When I'm on that podium, and we're in a performance, or we're in rehearsal, it's not all about me and my thoughts or anything else,'" Welch said. "It's always the best when we're on the same page working together and that we understand that we all play a part."
This way of teaching an orchestra, according to Milligan, started as a way of playing in one.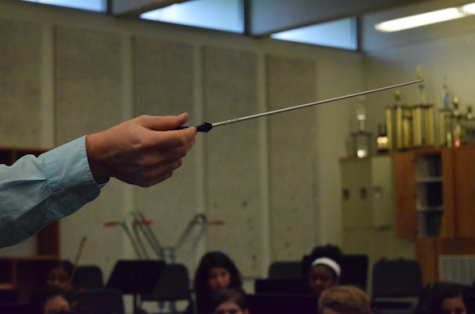 "He has a good sense of humor and a true interest in other people," Milligan said. "Jonathan grew up in a fairly large and very loving family; he always thought like a brother, not like a prima donna."
Milligan believes that this attitude as a student helped him teach once he became an adult.
"As opposed to a performer, who is driven to excel, to spend hours in a practice room honing his craft in pursuit of personal expression, a teacher must look outside him or herself for expression," Milligan said.
Through this collaborative and teamwork-focused teaching style, Welch has followed in the footsteps of Milligan and influenced his own students–including Hands–to pursue music.
"Mr. Welch really has a passion for music that has made a lasting impact on me," Hands said. "Going into freshman year, I just saw orchestra as a small hobby of mine, but after just one year of working with him, I grew as a musician and a person. Without his leadership, guidance, and passion for orchestra, I would not be in the place I am today."
While Welch has had success elsewhere, he is eager to become part of the community at West.
"I'm just excited to see what's been part of the culture in the past and see where I am with my strengths and see what we can do with this together," Welch said.
According to Milligan, what he can do will probably be a lot.
"I can't tell you how proud I am that Jonathan has chosen the path of a music educator," Milligan said. "Sharing the gift of music will be his legacy, one that continues far into the future."
Personally, Welch wants to dive right in.
"I'm really excited to get involved," he said. "I'm just thrilled."
Welch's top 10 Spotify Playlist:
Photos by Cameron Cook and Caroline Young.