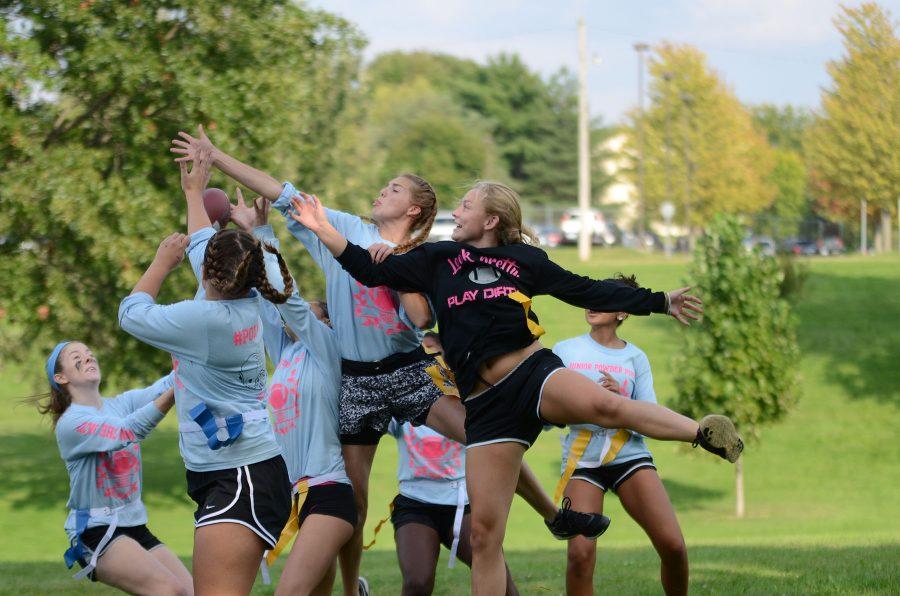 Powder Puff and Manball: upperclassman perks
Being an upperclassman in high school is an exciting time. Along with an extension of freedom, junior and senior year provide two recreational games: Powderpuff and Manball, both of which will be played on Sept. 15.
September 13, 2016
The idea of leaving the parking lot legally during lunch time and getting an open hour may seem like the typical upperclassman perk, yet what this year has in store for juniors and seniors might just be the advantage underclassman will be looking forward to later in high school.
Powder Puff is a game of flag football played between junior and senior girls. Mackenzie Bonner '17, the head of this year's senior girls team, said,
"It's a game which settles the rivalry between the juniors and seniors, and it also gets everyone pumped for homecoming."
Kesten Anderson '18, one of the heads of the junior girls team is playing for the first time.
"I heard about it last year, and it seemed like something that I was interested in. I thought we played other schools, and it was a shock to find out we didn't. I saw the pictures from last year, and it looked fun," Anderson said.
A lot of preparation goes into making the game happen. Anderson has to keep up with everyone who wants to participate, which means checking Twitter 24/7 and keeping track of the constant messages from a group chat filled with excited teens.
"It's definitely a big leadership role. You realize how much energy you have to put in to organize something like this because you are communicating with so many people," she said.
On the other hand, the event is familiar to Bonner.
"We have a Twitter set up, and we tweet shirt ideas, and people vote on it. You don't need to sign up for it; just buy a shirt and come to the game," Bonner said.
As the girls get Powder Puff ready, Leah Dusterhoft '17 is in charge of getting Manball up and running.
"I remember freshman year Manball happened, and I thought the guys had a lot of fun, and then my sophomore and junior year they didn't have it because there was not enough interest in it," Dusterhoft said.
Just like Powder Puff this event is done during homecoming week. The game that is played is volleyball, and only upperclassman boys are allowed to participate.
On Thursday, the seniors will wear black and juniors will wear blue, so students can wear their t-shirts to the game and abide by class color day. Powder Puff and Manball both take place on Thursday, Sept. 15. Powder Puff is played on the front lawn of West High at 4:30 p.m., and Manball starts at 5:35 p.m. in the back gym.