West cruises past Burlington
West defeated Burlington 59-7 on Friday, Sept. 30.
West won a much needed game last night against Burlington after two loses against City High on Sept. 16 and Cedar Rapids Prairie last week. Their record comes to 4-2 overall and 1-1 in the conference.
With 5:41 left in the first quarter Breyton McDole '17 scored the first touchdown of the game off a pass from QB Ethan Postler '16 who started in place of injured Evan Flitz '16.
"[The touchdown] felt pretty good because we set the tone for the game," McDole said. "We wanted to get in a few more plays quicker than that, but it felt pretty good."
West consistently scored throughout the game, racking in a total of six touchdown and a 3-point field goal by the end of the first half. Before the game, Postler said, "[The team] has faith in me. They've told me they believe in me and they think I can go out and play well so hopefully I can do that."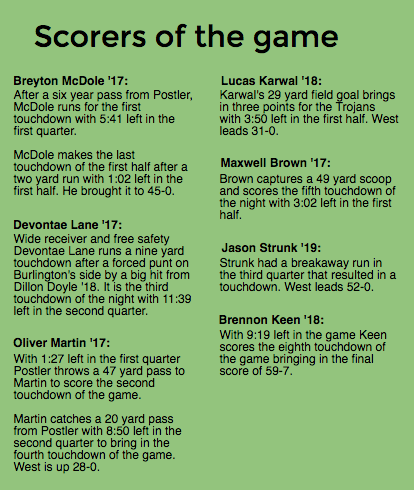 And he did. Poster totaled five for five and 118 yards in the whole game and threw for three touchdowns in the first half.
"We got out and played fast and got a big lead right away," he said. "[We] got a lot of guys in in one game," he said.
An unexpected touchdown came from senior linebacker Max Brown with 3:02 left in the half. Brown scooped up a fumble on Burlington's 49 and ran it back for a touchdown bringing it to 38-0.
"The touchdown felt good. I don't play offense anymore so it was a special event for me," he said.
The team highlights their overall team chemistry as a factor to their success.
"We like to have a lot of fun. We sing and dance with each other," McDole said. "We really want to enjoy on senior year and the juniors are right there with us."
Next week the Trojans will take on Cedar Rapids Kennedy at Kennedy. The game will decide if they will move on to playoffs. Kennedy won last night 31-14 at Linn-Mar and has an overall record of 4-2, but leads in the conference at 2-0, tied with Prairie.
McDole admits to some nerves, but is up for the challenge.
"Nerves are a good thing; they push you to play as hard as you can. They're a good team, so we're just going to have to come out and give it everything we've got."
Donate to West Side Story