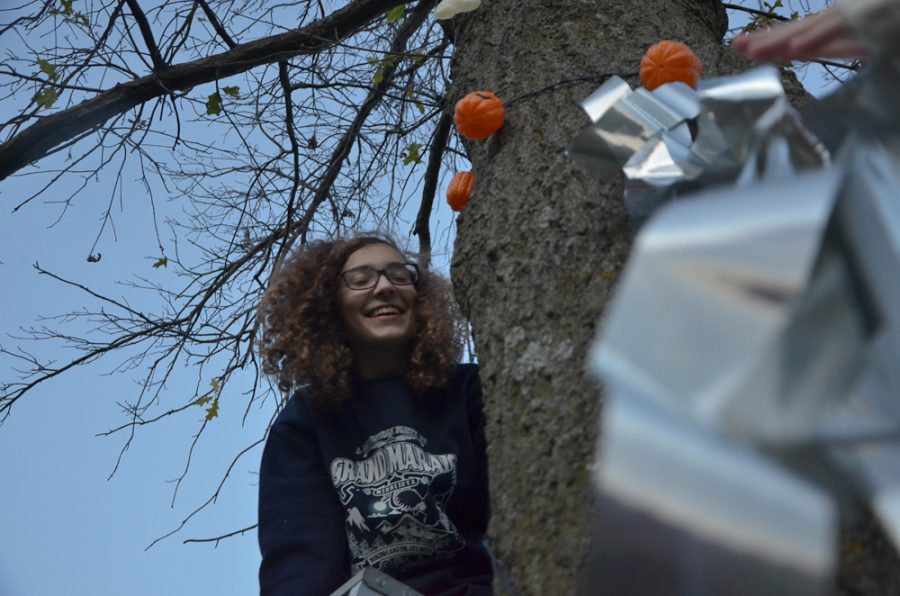 Alyson Kuennen
The 1440 charity movie event began at sundown, but the real action happened in the hours before a single moviegoer stepped onto the makeshift theater.
Approximately twenty 1440 volunteers spent hours transforming the plain grassy lawn outside the courtyard into a ghostly movie theater. The trees were adorned with orange lights and eerie cobwebs while a large screen was set up to project the movie.
The air was chilly, but the environment was warm with good spirits: songs like Africa by Toto and Wannabe by Spice Girls mixed with excited chatter kept the work site cheerful.
"I love the setting up more than the actually watching it. I love decorating with everyone and getting the screen all set up," said Callie Dains '18.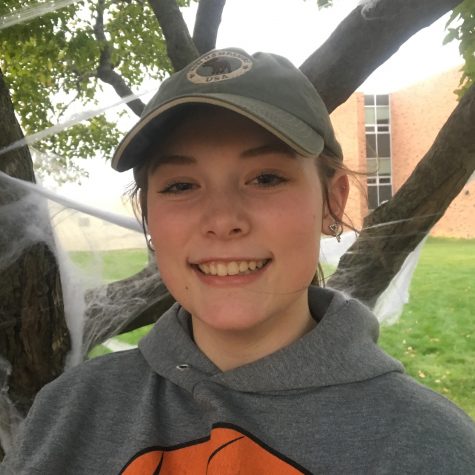 This event is actually one that the club has been planning for quite a while. "We've been planning it for the last couple of months just on and off for every week's meeting and then in the meetings we have formed committees and the committee help plan with us [the executive board] and we have message and so we are constantly talking about it," Kenna Short '17 said. Club members have helped out in a variety of ways.
"I brought cookies and I am here to help set up. I [also] hung up posters and gave them to teachers," Laura Machlab '18 said.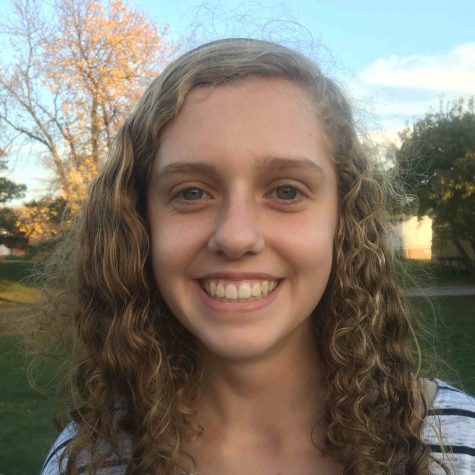 The event itself is 1440's club fundraiser. 1440 is a club that focuses on volunteer and charity work.
"It's a volunteer club and events are brought in from all over…We've been doing volunteer projects within the club where you can earn volunteer hours for silver cord," said Kelsey Baller '17. The members really like getting out and helping their community.
"You're doing something to help people, which I feel like not a lot of people think of doing in this day and age," said Emma Grace Shoppa '20.
That being said, 10% of the night's earnings go towards the club's funds. The other 90% goes straight to charity.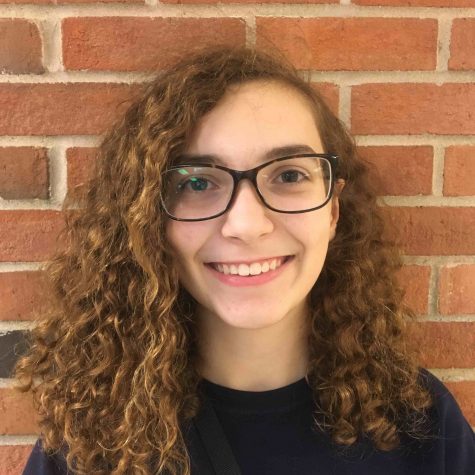 "Once the money is raised we donate it to kiva.org which is a website for people in other countries we loan them money for years on end and then they eventually pay us like half back or whatever they can…" Kasey Baller '17 said.
The money could be used for anything from finding transportation to get water to buying a goat.
"So in other countries they, this sounds weird, but they might with the money we give they might go ahead and buy a goat because that is their form of income with the goat milk. … In another country a cow is equivalent to two [U.S.] dollars so it's like nothing much on our part to give them but they receive so much from it." Kasey Baller said.
As for whom they choose, it's based on a Democracy. The club votes on whom they want to send money to. Last year they sent money to people in the Philippines, China, and a handful to Africa.
"We normally support women especially. Woman and young children," Casey Baller said, "last year we helped a lady in the Philippines she needed help getting water…Every single day she was walking 3 hours to get water…pail by pail was her only water supply.So we just gave her money so she is able to get her transportation closer and not have to walk three hours every day one way for water.
The members of the club are very excited to host a movie night.
"I think it's really fun. I think it's a way for people who don't really like sports to sort of do something on a Friday night. I feel like the football games are the [usually] what people go to," Shoppa said.
However, the club has a mix of high hopes and reservation for how successful the night would be. This is due largely in part to last year's movie which had some unexpected obstacles.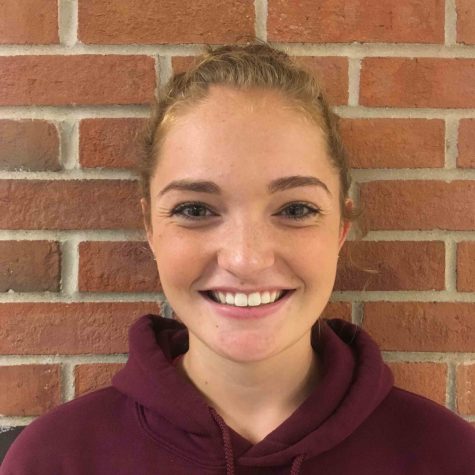 "Last year we had a really bad turn out because it was raining… and we didn't quite get the word out,"  Kenna Short '17 said. However, the year previous to that the movie had been a big hit.
"In the past years we have made up to 300 dollars. We normally have a great turnout. The tickets have previously sold from 5 to 10 dollars," Kasey Baller said. The outlook of members varied.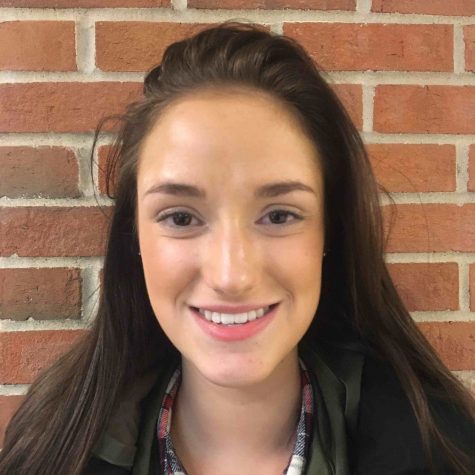 "I don't like to overshoot it, but I also don't want to make it sad. [Two years ago] a ton of people came, it was over 70 people. Last year there was about ten because it was not a great turn out. So I am hoping for somewhere in between that tonight," Dains said. Lucky for the club, rain was not a part of the forecast last Friday. Another notable change is that the ticket and food pricing has changed.
"We normally had food [and] people had to pay for it. This year we are taking a new approach because it is nice of people just to come. The ticket is five dollars and food is free," Kasey Baller said.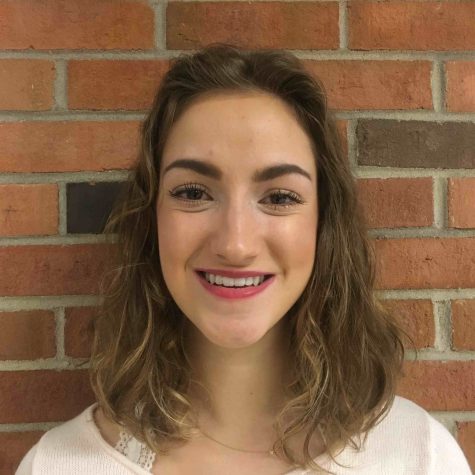 If you missed the movie, don't fret — there is another 1440 event coming up. The annual Dance for Humanity will be around January or February. "We just dance and there is a band there and food and all the money goes to Habitat for Humanity. We will have the official date coming out soon," Kasey Baller said.

WRITER'S NOTE
[So they say people who do volunteer work are usually nice. And I'm here to confirm that. Being the coordinated person I am, I knocked over a box of cupcakes. Yes I knocked over charity cupcakes — cue the slow clap please. Anywho, the 1440 volunteers just laughed it off very kindly. So if you want some more incentive to attend a charity event, the people are really nice.]
Photos by Alyson Kuennen