West High students' pins and keychains
Students share the stories behind the pin and keychains that make up their backpack attire.
November 2, 2016
Students of all ages roam the halls of West while sporting numerous keychains and pins on their backpacks. Some use those backpack attentions as a way to show others that they are friendly, while others have sentimental meanings behind them. West Side Story interviewing the owners of the most decorated backpacks at West to find the meaning behind them.
"My dad got this pouch for me a couple years ago and it has the most meaning to it. It has these little stones in it, and there is a buddhist statue. He told me to keep them with me when he gave them to me because they are supposed to bring you happiness and joy," said Valerie Welch '17.
"I got into the aesthetic of wearing pins on my bag in ninth grade and I just really like them. They are basically representing all my interests and everything that I like, and I also find them really funny," said Jena Shaver '17.
"When I got my backpack it was really boring, and I don't like plain things so I started drawing on it. They are all drawings of what I support and what I like, the rainbow represents gay rights and I saw some others in The Rolling Stones magazine which I really like," said Alejandro Drey '17.
"They are a way to express myself without outwarding saying it, they are subtle but if people can get the references that are on them then they know that 'hey, she is a friendly person that likes the same things as me'," said Madi Wehmeyer '18.
"I always have the peace sign one on my backpack because my old best friend and I used to obsess over peace signs back in third grade, so it always reminds me of her," said Katie Mehaffy '19.
"I have this keychain that my mom and stepdad gave me, and it says like on the front it has my name and stuff and it's pink and it's a heart, and then on the back it says Kassidy, our hearts are always with you, Pat and Mom. And I don't know it kind of makes me feel good when I'm driving because then it's like, okay, I'm not totally alone," said Kassidy Putchio '19.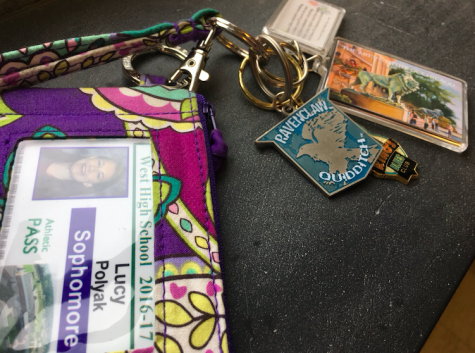 "[This one] is from the fall play last year, You Can't Take it With You, and Nahra gave us all keychains, everybody involved with the show. It was my first sort of experience with Theatre West, which is something I've wanted to be a part of since I was little. And so it's sort of a  commemorative little token, I guess, for following my dreams," said Lucy Polyak '19.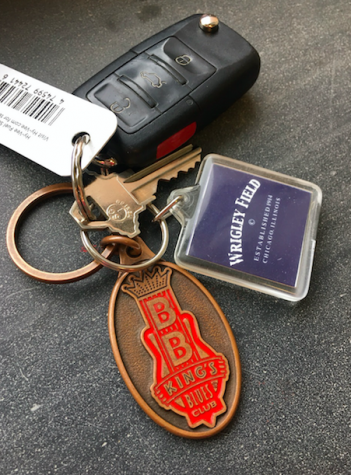 "I have one that Lucy gave me from when she visited Chicago of Wrigley Field. I like to claim that I'm a Cubs fan, which I am, however, I'm not an avid follower of them," said Zach Ring '18.
Photos by Kristina Rosebrook and Fenna Semken.