West alum Sgt. Anthony "Tony" Beminio '96 killed while on duty
Members of the West community share memories of alum Sgt. Tony Berminio '96 who was killed on the morning of Nov. 2 while on duty.
November 2, 2016
Early Wednesday morning, police sergeant and West High alum Anthony Beminio '96 was shot and killed in Des Moines, IA. The murder of Beminio was linked to the killing of Urbandale police officer Justin Martin, as both ambush attacks took place within two miles of each other shortly after 1 a.m on Wednesday. The suspect in custody is Scott Michael Greene of Urbandale. Beminio was an 11 year veteran of the Des Moines police force and was a student resource officer at Roosevelt and East high schools in Des Moines. He is survived by his wife and two children.
The community comes together
Hurts Donut Co. in Coralville donated all proceeds from their sales to families of fallen soldiers on Wednesday, Nov. 2. In 20 hours, Hurts sold over 3,000 thin blue line donuts at $3 a piece. At times the line extended out the door and had a wait of an hour and fifteen minutes.
Additionally, Court Avenue Brewing Company, Americana and Gilroy's in Des Moines offered free meals to any officers who came in on Wednesday.
Owner Scott Carlson said in a Facebook post "My 13-year-old son has a dream of becoming a police officer and I'm teary, sad and disappointed with what some of us become and do to one-another. Peace, strength and safety to our officers."
Beminio at West
While at West, Beminio was a member of the 1995 state championship football team, all-state football player and an individual wrestling state champion.  He also worked at the Coralville Hy-Vee, where he met current athletic office secretary Lyn Prelle.
"We just became friends and hit it off. He was just the nicest guy to everybody," she said. "He was a big presence but had such a gentle way about him. He was huge walking around the hallways, but he would say 'Hi' to everybody. He always had a friendly smile."
Beminio was on the 1995 homecoming court, winning most athletic, and in his senior year committed to the University of Northern Iowa for football.
For his senior future in the annual West Side Story, Beminio wrote, "I plan on attending UNI. I'd like to receive a good education and be an All-American football player. I also plan on watching West win another state title next year."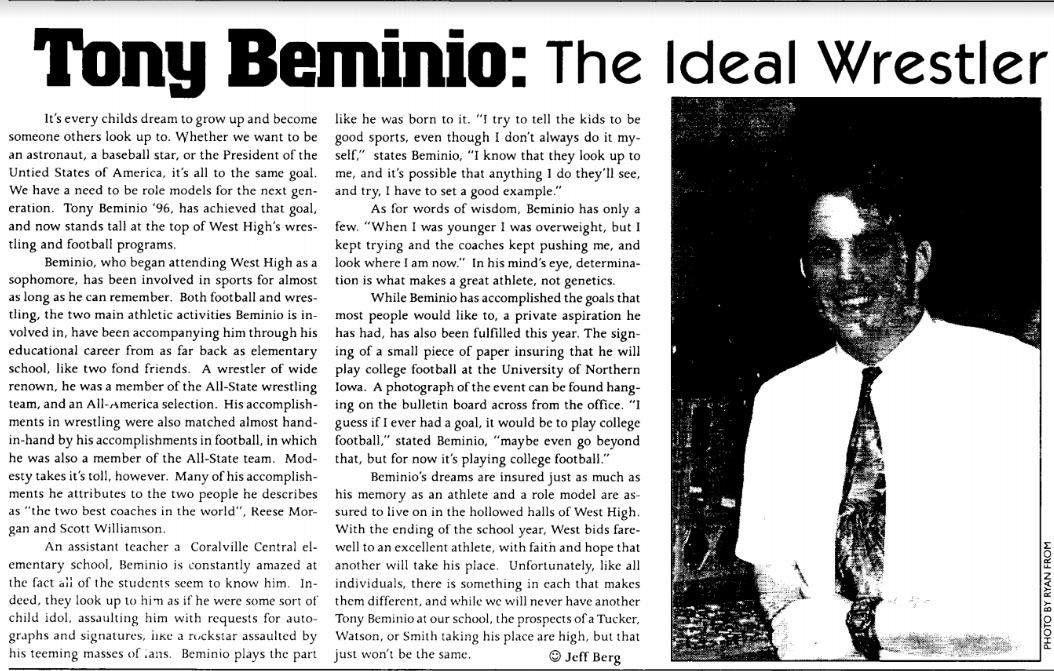 While Beminio was a football player, assistant coach Tyler Meade's father was a head coach for the team. Meade remembers hanging around the players during practice as a kid and looking up to Beminio.
"I looked up to high school players as most kids look up to professional athletes. He was a big guy, that larger than life star athlete," Meade said. "You have certain things you remember, vivid memories, some of them are completely random, but I just remember he worked at Hy-Vee… This big guy you think of as a big intimidating athlete was just this friendly guy checking out the groceries…Obviously he was a great athlete, but like what everyone has been saying the past day or so, he was just a great person, too."
West football remembers Beminio
On Friday, Nov. 4, the team wore stickers on their helmets to honor Beminio. It is the first time the team has worn stickers on their helmets since honoring the death of varsity volleyball player Caroline Found in 2011. Meade came up with the idea.
"Obviously there is nothing you can do about [his death], you kind of feel helpless, but you want to do something. In sports generally what you do is something like that just as a representation of remembering somebody," he said. "The kids get the message of the teamwork mentality and what a great leader Tony was. It all relates even though it was twenty years ago. You know, we're wearing the same helmets and that's something you take pride in in sports."
"
You know, we're wearing the same helmets and that's something you take pride in."
— Tyler Meade, assistant football coach
In 1992, Coach Reese Morgan came to West High, when Beminio was a sophomore, in hopes of turning around the team's losing record. In 1995, Beminio lead the team as a captain of the All-State team to winning their first state title with a record of 13-0. Morgan continued the winning streak, going to nab the other two state championships in West history including in 1998 and 1999.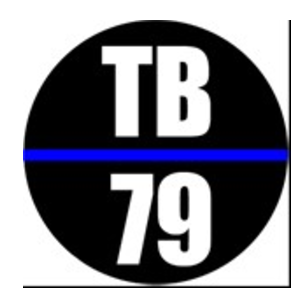 Christophe Trappe '95, who played alongside Beminio on offensive line, said Beminio was an integral part of turning around that losing streak.
"We could run behind him and he was leading the way into turning thr program into a contender," he said. "He was just dominating on the field and we were just following his lead."
Counselor and current assistant freshman coach Paul Breitbach coached at the freshman level in 1995. On Wednesday, Breitbach talked with the football team about the lessons Beminio brought to the team while he was a player at West.
"Every play you've got to have 11 guys doing the right thing," Breitbach said. "Tony kind of set the standard for offensive lineman play… He was a vital part of our first state championship team… more important that athletically he was, as many people have already said, he was an outstanding person which was evidenced by the work he's done as a police officer."
The football team will proceed to the semifinals and play at the UNI dome against Cedar Rapids Washington next Friday, Nov. 11. This is the first time since 2002 they have made it to the semifinals. See our coverage of the game here.