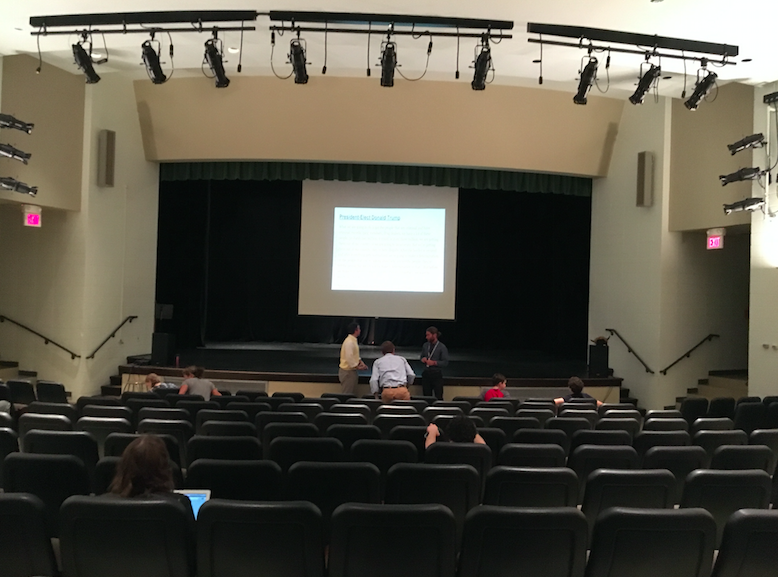 Fenna Semken
Social studies teachers Mitch Gross and Brady Shutt hosted an after school forum on Nov. 14 to discuss President-Elect Donald Trump and what might happen over the next four years.
The discussion began with political, intellectual topics, but shifted toward Trump's harmful rhetoric once questions led it that way.
Antonio Clipperton '17 expressed that people of color feel unsafe since the election.
"Trump has allowed people to express xenophobia . . . and that's why people of color feel unrepresented," Clipperton said. "They feel at risk and feel that they are harmed."
Both Shutt and Gross were quick to admit that, as white men, they couldn't speak for everyone, but having white people acknowledge racial tension and racism may have been beneficial, as not all white people see racism as a problem.
"That's one of the reason's that there's too white guys sitting up here trying to talk about this," Gross said. "To be out there like, yeah, we got some issues going on."
Some of those issues were further elaborated.
"People of color and people of different religions are now very concerned that they are going to be open targets," Gross said.
Shutt agreed, and had ideas for solutions.
"I think you need to reflect and ask 'What am I going to do to make a difference in my community, as a starting point?'" he said.
Both teachers asked students to take action in any form, including writing to the legislature or taking on problems in the community.
"We can't control what the President-Elect says or said," said Gross, "but we can respond."