Simone's story
January 31, 2017
"Say hello Simone," Kim Cranston, special education teacher, said. She was speaking to Simone Taylor '20, a seemingly average freshman student. Her straight, shoulder-length hair and simple jeans and blouse would let her blend away in any crowd. Momentarily I forgot what made her not so average. I turned to her expecting a greeting and immediately remembered. Simone Taylor couldn't say hello. She couldn't speak. I threw a small smile and gave a small "hello" that I was sure would just be lost on her. I didn't know it at the time, but she understood everything around her, including my nervous stammering excuse for a greeting.
Taylor has an intellectual disability syndrome called Rett syndrome. "It is due to a change in a gene," Dr. Pamela L. Trapane, medical geneticist and pediatrician at the University of Iowa Hospitals and Clinics. "Then name of the gene is… MECP2. When that gene is changed then that causes people to have difficulty in learning. It may also cause them to have seizures and some movement disorders. Many people with this disorder will have difficulty gaining weight." This is an incredibly rare Syndrome. In fact, according to the U.S. National Library of Medicine, only about one in 8,500 girls get diagnosed.
Before Taylor's Rett Syndrome was identified, she was diagnosed with intellectual disability and autism. During these earlier years, prior to her current diagnoses, Taylor would seem to be more engaged in her toys and more engaged in life itself. This was not the case after her official diagnosis of Rett Syndrome.
"She seems more withdrawn now…and more [anxious] and more dependent," said DeSimone.
According to DeSimone, in the Rett Syndrome world, girls are often called 'Silent Angels' on account of the fact that Rett Syndrome takes away their voice. "Prior, she used to talk about having boyfriends [and] going to the prom," DeSimone said. At the worst point in her regression, DeSimone described her as "basically staring at a wall for two years."
DeSimone first heard that Taylor had tested positive for Rett Syndrome over a phone call. "I was like 'What? What are you talking about? How can that be? How can she not have been diagnosed all these years?'" said DeSimone. "I was just devastated because the first thing I did was Google it." Upon Googling the syndrome DeSimone found that there was no cure. She also found that there were four stages of Rett Syndrome but Taylor did not fit into any of them. DeSimone later learned that in addition to Taylor having Rett Syndrome, she had atypical Rett Syndrome.
Although being "high functioning" is fortunate, the gravity of the diagnosis is nothing to take lightly.
"Overcoming the sadness and depression about Simone's disability is an everyday struggle. Some days are better than others…. And also I am a single mother so I don't get many breaks which is very needed when you have a child with special needs. But I think that the good days [push me forward]. So when she is having a good day and she's happy then that makes me happy," said DeSimone.
Kim Cranston, Taylor's teacher for teacher for math, language arts, and social skills, sees Taylor every weekday and believes she is among a group of the happiest of students. "She's just awesome. I don't know [what else] to say. All the kids [in the special education department] are wonderful…She always comes in here with a smile on her face," said Cranston.
Cranston believes having a disability does not impede a student's ability to be happy. "These kids have a lot of challenges more than probably you and I can manage. But if you want to see happier kids, you're not going to. Come here, these kids are happy," Cranston said.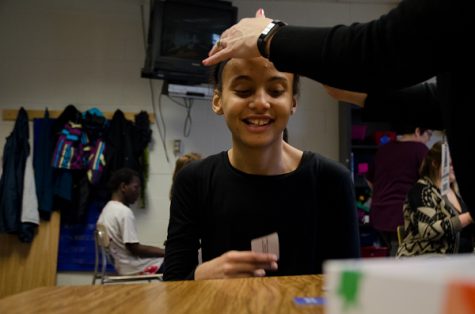 In some respects, Taylor's future looks hopeful.
"For atypical Rett Syndrome… [patients] may have more mild loss of skills and gain more of them back," Trapane said. Taylor's words resurface once in awhile.
"When we are presenting information to her, sometimes her words will come back and she'll say something…she used to speak [but] she doesn't speak anymore so when she does say something it's really neat," said Cranston.

Taylor has also started working towards using a conversation program. "She's got a new device [called the NOVA chat] so we are working on [teaching] her how to communicate using that. We have to systematically teach her how to use it…. So if she wants a snack she pushes [the snack button]. The hope is to make the connection that the device is talking for her and she is getting what it says," Cranston said.
Taylor's Syndrome separates her from most other teenage girls but she still has many things in common with the average teen. She is actually quite the Belieber.
"She loves Justin Bieber, Katy Perry, Taylor Swift, she really likes Ariana Grande right now…Simone loves singing she can actually mouth all the words to Top 40 songs," DeSimone said. She also like the average teen in many other ways, she likes to play with her iPad, watch Disney channel, and even gets dragged on obligatory shopping trips with her mother.
"I just want her to be happy I want her to have all the things other little girls do like [going to] prom [or the] mall," DeSimone said, "…[I want to] spread awareness that there are little girls and little boys out there with disabilities that can't talk, that can't run, that can't eat [by themselves], but they just want to be just like everyone else and be included and be accepted," DeSimone said.