Boys swim qualifies in nine of 11 events for state meet
The boys swim team took third place Saturday at the state qualifier meet. The Trojans managed to qualify eight individuals and three relays.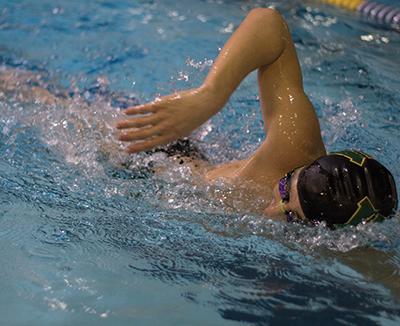 On Saturday, Feb 4, the boys swim team traveled to Southeast Polk for the state qualifying meet. The Trojans came away successful with eleven total qualifications. The team also finished third out of eleven teams at the meet. The state meet will take place Saturday, Feb 11, beginning at 12:30 p.m. at the Marshalltown YMCA-YWCA. Admission to the meet is $10.00. If you can't make it to the meet, make sure to follow @wssathletics on Twitter for live coverage.
The qualifiers are listed below with their seed in brackets, with 24 qualifying in each event. Relay qualifications are listed in the order that they competed at the qualifier meet.
Individuals
200 Yard Individual Medley- Izaak Hajek '20 (19)
50 Yard Freestyle- Oliver Martin '17  (1), Brennon Keen '18 (23)
100 Yard Butterfly- Hajek (11)
100 Yard Freestyle- Martin (3)
500 Yard Freestyle- Lane Griffis '18 (20)
100 Yard Backstroke- Ben Berhow '18 (6), Sam Deyak '17 (16)
Relays
200 Yard Medley Relay- Hajek, Deyak, Keen, Berhow (7)
200 Yard Freestyle Relay- Noah Bruns '17, Berhow, Ethan McAreavy '18, Martin (5)
400 Yard Freestyle Relay- Bruns, Hajek, Keen, Martin (8)

Hang on for a minute...we're trying to find some more stories you might like.