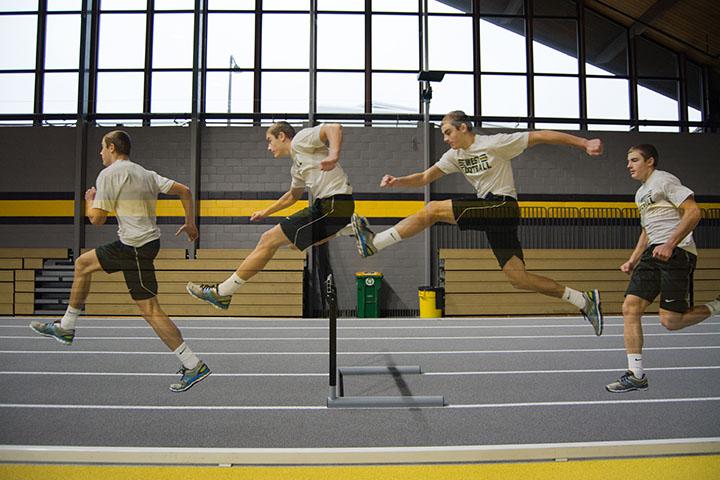 Nick Pryor
One of the ultimate goals as a high school athlete is to make it to state. Despite only being a sophomore, Cole Mabry has already achieved this–in two sports.
With a background in sports stretching back to early elementary school, Mabry is no stranger to competition.
"I used to live in Oklahoma, and when I was in kindergarten, our elementary school had a track team. I ran for [the team] and then went to a couple state track meets individually," he said.
Mabry also began playing football around the same time he started track. This year the team and Mabry, who plays strong safety and sometimes quarterback, made it to the state championship game. Though being a multisport athlete keeps Mabry busy year-round, it helps him continually improve and stay in shape.
"I got a lot faster last year in track and I've got a lot more endurance. [Track] helps out with any sport you do. It has really helped me with football and basketball," Mabry said.
With track season coming up, Mabry is looking to the future to set goals and improve on what he has already accomplished in the sport, one of which includes making it to the state championships in the 400-meter hurdles, a race accepting 24 of Iowa's fastest runners in class 4A. Mabry finished 18th, clocking in at 56.73 seconds as the only freshman in the event. This year, he is looking to reach new heights.
"A specific goal is to qualify for the Drake Relays in the 400 hurdles and that's a tall task because they only take eight throughout the state," he said.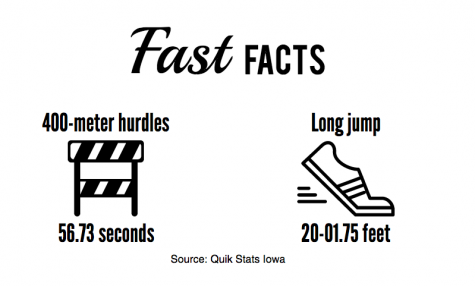 The Drake Relays combine all classes and accepts a smaller number of individuals than the state championships. Before graduating, Mabry also hopes to become the individual 400-meter state champion, an event Mabry didn't begin competing in until his freshman year.
"When I started, I had some success [in hurdles] and I stuck with them. Then getting into high school, [I was introduced to] the 400-[meter] hurdles, which I tried out. It's a tough race, but I liked it a lot," he said.
With a new and more straining event came a new type of training.
"[The training is] more about cardio and it's a lot about toughness, so the workouts to train for that are more long-distance running," Mabry said. "They say it's the hardest race in track, so you really have to be in good shape to be successful."
Mabry trains during the offseason with his coach, University of Iowa All-American and Big 10 Champion Ethan Holmes. Holmes works with several West High athletes, but Mabry sets himself apart.
"To be a coachable athlete means that when they're told to do or change something, they make a really strong effort to make that change right away," he said. "[Cole's] definitely one of the most coachable kids I've worked with."
Mabry's friend and fellow track athlete Austin West '18 also commends Mabry's effort in practices.
"He's always pushing himself to go above and beyond … he's really dedicated. He gives 100 percent no matter what he's doing," he said.
In finding motivation to get through practices, Mabry looks to his coaches, teammates and religion.
"My teammates and coaches are a big reason for some of the success I've been able to have, because they push me a lot. [They] motivate me to work even harder," he said. "As a Christian, I give all the glory to God; I wouldn't be anything without him and all I can do is work my hardest to invest in the abilities he's given me."
Holmes thinks Mabry's hard work will pay off for him in the future.
"He's already run faster than I did in high school, so I think he's on the right path to do great things," he said. "He's an extremely talented dude and I think he has big things coming for him in the 400 hurdles. … He's got the mindset that it takes to be a champion."