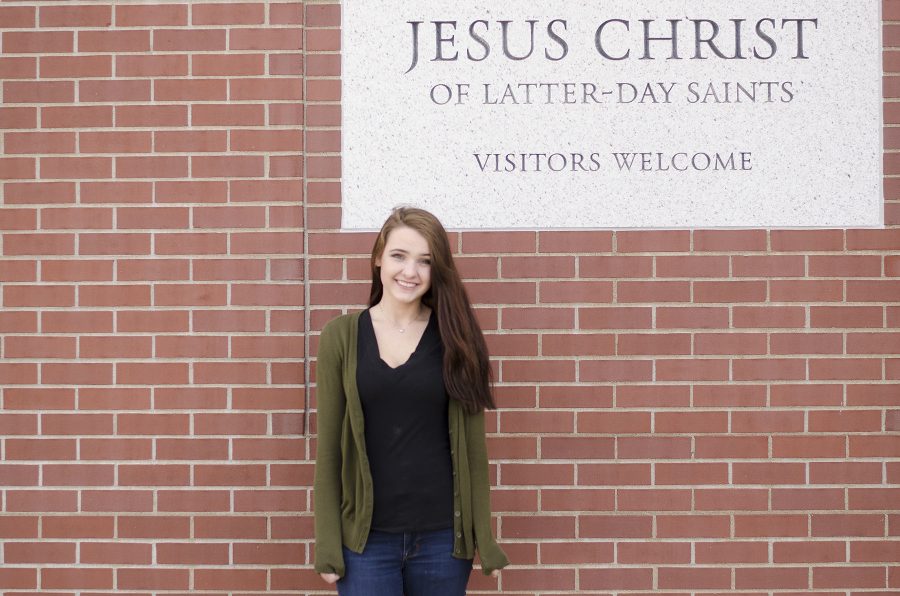 When Gracie Tovar '17 moved to Iowa City last year, she was ready for a change. However, when she met Hirsche Henstrom '17 on one of her first days at West, she did not realize that it would be the start of a six month spiritual transformation.
"We met in the library. He added me on Snapchat and we started talking. He then started to come and sit with me every day. I knew he was Mormon, and I just kept asking him questions about his religion," she said.
As a member of the Church of Jesus Christ of Latter-Day Saints, Henstrom said it was common for people to ask him questions about his life in the church. However, Tovar's questions turned into lengthy discussions and debates that lasted for days.
"[The conversations] were more spiritual than I thought they would be. Most people lose interest after a while, but [Tovar] kept coming back to hear more," Henstrom said.
Tovar admitted that before she met Henstrom, she had a distorted view of Christianity and Mormonism.
"I used to live in a really small town where a lot of people were close-minded and would say things like 'God hates fags.' I thought if that was Christianity then I didn't want any part of it.
I also thought Mormons were weird at first. I always asked Hirsche, 'What do you mean you can't drink coffee? I drink it twice a day.' Over time, the things that I thought were weird ended up making sense after talking with him," Tovar added.
Eventually Tovar became tired of just talking. She asked Henstrom if she could accompany him to church, and never looked back.
"I felt like I was going to throw up the first time I went to church, I was so nervous. I thought they were going to judge me because of my nose ring, so I took it out. But when I got there everybody was so nice and it felt good to feel like you are a part of something. I never went to church growing up, and I always felt like there was something missing."
Although Tovar enjoyed the LDS community, there was still an issue at hand. She had always been a staunch liberal. She canvassed for Sen. Bernie Sanders, attended the Women's March on Washington, is pro-choice and is an advocate for same-sex marriage. However, after talking with members of the LDS community, Tovar was reassured that she would be able to maintain her liberal principles while simultaneously adopting a new faith.
"I disagree with a lot of things in the church regarding politics. [Henstrom] and a lot of Mormons are super conservative, but it is close-minded to think Mormons are all anti-gay and anti-choice. I have always been super open-minded and that is why I started going to church."
Henstrom fully supports Tovar sticking to her beliefs.
"The hardest part of the religion for [Tovar] was the church's stance on gay marriage, but it was good for her to find a perspective from a Christian church that isn't hateful," Henstrom said.
After frequently meeting with church missionaries and gaining the support of her parents, Tovar eventually decided that she wanted to be officially baptized in the faith.
"I think I wanted to be baptized because you get to start over. To be honest, I feel like before I found the Mormon Church, I was a pretty shitty person. I did a lot of stupid things and I really wanted to turn around. I met the church and [Henstrom] at the perfect time."
When she made her decision, Tovar immediately shared the news with the Henstrom family and her close friends, including Lexee Robbins '17.
"At first I was surprised because [Tovar] wasn't previously religious, but being her best friend I encourage and support her decisions and whatever makes her happy is what I want for her. She seems to really enjoy going to church so I am happy she [chose to be baptized]," Robbins said.
Tovar then spent weeks reading scripture, which is mainly written in old English, in order to prepare for the baptism. The hard work paid off when Tovar was baptized by Henstrom early last month.
Although she admitted that the day started out nerve-wracking, Tovar noted that the experience was one of the most memorable of her life.
"I was so nervous that I would get water up my nose and everybody would start laughing, but when I was under the water I felt super calm.  When I looked at [Henstrom], I started crying and I hugged him. Everything just hit me all at once and I felt so happy," she said.
After Tovar emerged from the water, she officially became a member of a family of nearly 15 million people. As she embarks on her new journey, Henstrom has a piece of advice.
"I would tell her to stand by what she came all this way for. Doubt your doubts before you doubt your faith."
Featured Image by Sarah Longmire