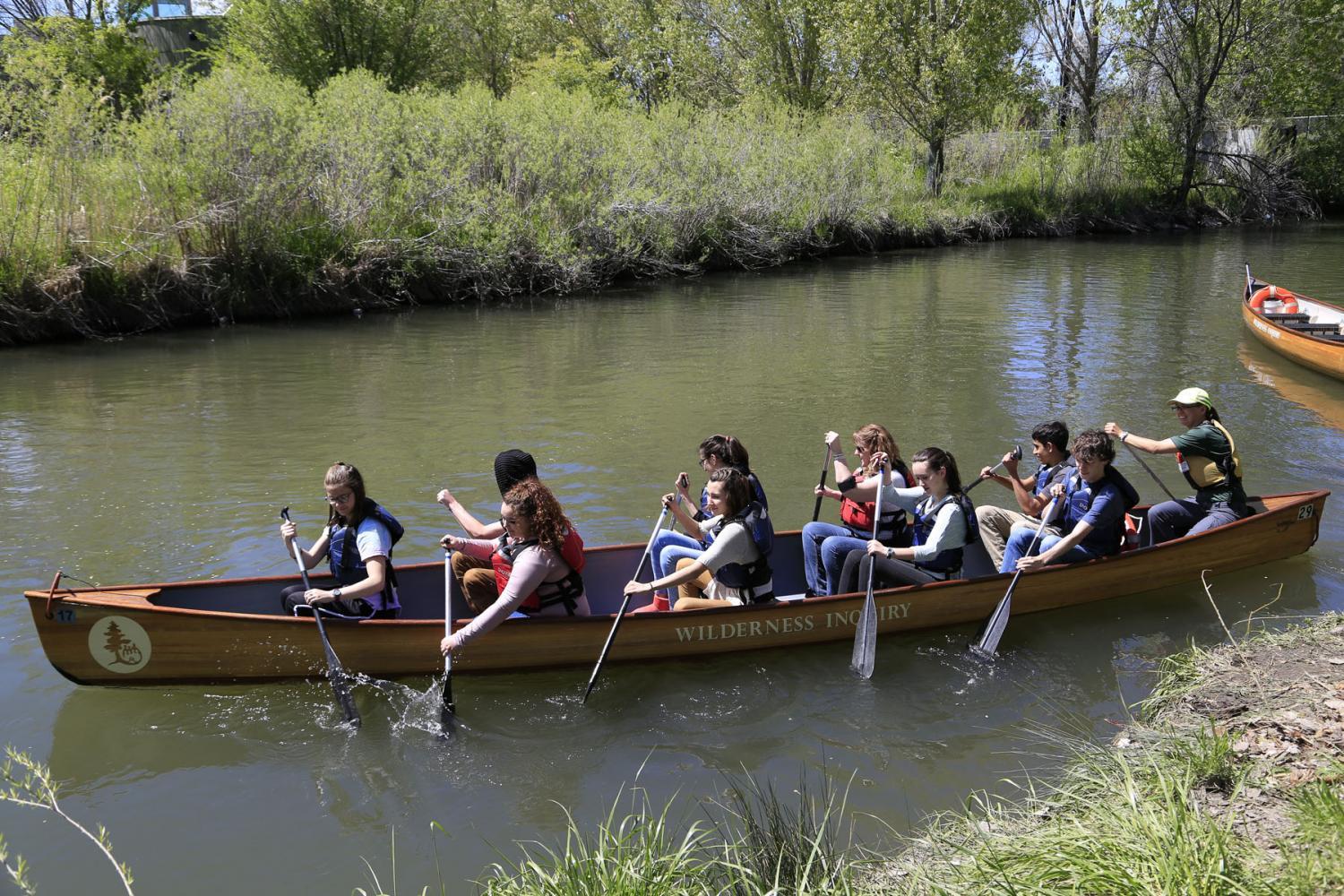 Define happiness. Just try. What comes to your mind? I'll give you a couple paragraphs of white space to fill with what you see in your personal happiness.
Okay. What was on your mind? Did it have to do with anything outdoors? Maybe you thought of swimming at the beach, traveling to Florida, seeing spring flowers bloom, finally being out of school for summer, hiking at Macbride, playing a sport outdoors or tanning in the sun. Whatever it was, it matters.
For me, happiness means being outside, allowed to engage with the world around me freely. That is why this is my happiness project.
When I first started the public school system, I had a hard time sitting still throughout the whole day, especially on the days when the sun poured in through the windows and we couldn't go out to play. As I got older, my parents taught me everything that I know about the great outdoors. We went backpacking, bird banded, caught bugs, spent time with park rangers catching butterflies and snacked on edible plants.
Soon, I realized that I was very alone in my experiences outside. Majority of my classmates couldn't tell if a tree was an oak tree or a pine tree if their life depended on it. (Look them up and understand how incredibly sad it is to not know.) These people whom I shared a classroom with had never even been on a hike.
I came home to my parents in disbelief that people didn't understand the outdoors the way I did. I loved, and love, nature and being outside, so it saddened me. I was told that outdoor education was not something in which many schools supported or participated in.
As classes got longer, homework increased and expectations grew, the less I enjoyed school. Not because of the work load, but because of the amount of time I was kept sitting at a desk or in my room, not being allowed to go outside and continue my learning outside the classroom. I lost concentration in class because I spent too much time staring out the window, trying to see eagles fly in the sky, or daydreaming about hiking and summer camp.
When high school started, I thought that it would get better, but it didn't. My classmates can't identify poison ivy, they don't know that daddy long legs aren't spiders, or that the bluebird is completely different than the bluejay. But more importantly, people are scared of the outdoors. They don't want to go camping or hiking or swimming in a place where the water isn't contaminated with chemicals.
Outdoor learning is necessary in so many ways. According to multiple surveys done by the National Education Center, exposure and access to nature can have a tremendous amount of social, environmental and health benefits. Outdoor education also provided a chance to increase the quality of life and social skills. This is because even minimal physical activity in the natural world aids an increased life-span, increased ability to function well in school, greater well-being and fewer symptoms of depression.
We are failing our generation and generations for years beyond us. We need outdoor education. And it isn't just me who believes this.
I decided to talk to many people around me about their opinion on outdoor education. After speaking with over 100 friends, ranging from ages eight to 65, I realized that I wasn't alone in the belief that there is a need for outdoor learning, and that need isn't being provided.
The most important question I posed to them simply was if being in nature made them happy. The answer? Yes. Words like relaxed, focused, happy, calm, peaceful and renewed were used in the response to that question.
Then we moved onto if they believed that outdoor education would have benefitted them in school. Again, the answer was an overwhelming yes. Here are some of the responses I received:
"Breathing in fresh air and feeling sunlight is super helpful. I want to be able to move around while I learn and enjoy the space I'm in," Audrey, age 18.
"Integrating science and arts with nature would enhance learning," Lori, age 55.
I am not alone in being disappointed in the school system for how little students spend time outside. Today, students are not allowed to enjoy and embrace the world around them, and it is not okay. Please, learn about the natural world we live in because it is beautiful and magical and should not be overlooked the way it is now. And please, fight for the implementation of outdoor education.
Click on the video below to see all of the responses in which people had to questions such as "does being outside make you happy?", "do you think that being outdoors more would have benefitted you in school?", and "do you believe outdoor education should become part of school today?"
To read more about students who have benefitted from outdoor education, click here.
Photo with permission from Creative Commons.