Best Netflix Arrivals, September 2017
With a plethora of new films available to watch this month on Netflix, film critic Harry Westergaard weighs in on the five you must see.
Another month means another set of titles Netflix will be dragging away from your seeping, over saturated watch list. However, conversely, this also means that the immensely popular online streaming service will be adding a host of new titles for your viewing pleasure. With everything from original content, to beloved classics and new releases you missed during the theater run, it can sometimes be a lot to behold. It's cases like this where you need your hide saved by your friendly neighborhood film critic, who has seen most of the available titles. Picking selectively from the list of about 120 titles, I have chosen five films that you should watch, if nothing else this month on Netflix.
1. Jaws (1975) Dir. Steven Spielberg
All four installments in the famed series are going to be once more available as a sort of "package" deal or some such thing. However, you need not bother with the latter three. Busy yourself with the original classic, the film that put both Spielberg and the blockbuster film on the map. It would seem useless for me to summarize the film, but I think that in the presence of the shark, many somehow forget the wondrous trio that is Hooper, Quint, and Chief Brody (Richard Dreyfuss, Robert Shaw, and Roy Scheider). They make up a classic mixture of contrasting personalities, and their antics never get old. The icing on the cake is how perfect every actor is in their respective role, and how serious they take events in the movie. This is what forces the audience to see the threat of the shark, almost more so than the fleeting glimpses of leg severing we get. With breakneck speed in pacing, an inspired cast, and a classic score, "Jaws" is as close as a film can get to being perfect. A must watch for everyone.
2. Pulp Fiction (1994) Dir. Quentin Tarantino
Another timeless classic of American cinema comes to Netflix this month, and a good contrast to "Jaws" at that. The 1975 classic helped launch the mainstream blockbuster that became a staple in the 80's. "Pulp Fiction" on the other hand represents the triumphant birth of the independent film into the mainstream cinema. Indie films had been noted successes or critical darlings (including Tarantino's own "Reservoir Dogs"), but "Pulp Fiction" displayed that there was some place for them, however odd in the mainstream. The film is noted for it's highly quotable dialogue, about every single line of which has become ajoke within film circles. The story unfolds in a nonlinear, yet surprisingly neat and tidy way. By the end, all of the irony in the story clicks together perfectly. "Pulp Fiction" is a personal favorite of mine, and one of those films that keeps getting better every time you see it.
3. The B-Side Elsa Dorfman's Portrait Photography (2017) Dir. Errol Morris
This documentary provides a fascinating look at the dying artform of polaroid photography. If that weren't great enough, we also get a portrait of an aging artist witnessing the decline of her platform and a little time capsule look at the beat generation from her eyes. It's very much a documentary based on one subject, being in this case Elsa Dorfman. She was, as the title suggests a portrait photographer, who began her work at a very seminal time in American culture. You really get an idea through the film of just how much work went into every photo; how much toil went into getting the picture done, even if it was just a simple portrait. It makes you realize how whittled down photography has become as an artform, and makes you yearn for an earlier time of red-rooms and developing.
4. The Squid and the Whale (2005) Dir. Noah Baumbach
Noah Baumbach created a small, yet endearing masterpiece with his 2005 film, "The Squid and the Whale." The movie, set in the 1980's shows the struggles of two boys after the divorce of their parents. The setup is simple, but it is in the characters and the modest production that the film shines. Although we ultimately sympathize with the two brothers, the film serves every character equally. At least as equal as you can get in such a situation. Neither of the parents are shown to be "innocent" or a saint in the divorce. This gives the film a sense of realism that is absent from most films on the subject. I'm making the film sound incredibly depressing, but what is impressive is that, despite how gritty the film is, it never loses its sense of humor. A perfect balance is met here, the same that Baumbach meets when working with frequent collaborator Wes Anderson. Top notch performances by Jeff Daniels, Laura Linney, and Jesse Eisenberg help to make this film a melancholic yet versatile masterpiece.
5. Marc Maron: Too Real (2017) Dir. Lynn Shelton
Following his supporting role on the Netflix original series "Glow," comedian, Marc Maron, seems to have struck a deal with the company, following up with a brand new comedy special set to release this week. The special was filmed in Minneapolis earlier this year, when he was on his, "Too Real", tour for which the special is named. Judging from what Maron has said regarding the special in interviews it sounds like it will be standard territory for the comic. Aging, relationships, music and art. Fans of Maron's material will know what to expect from his dark brand of comedy. I'm permitted to insert a warning however: watch with caution for his act is known for being rather risque.
Other titles of note to check out:
Moonrise Kingdom (2012) Dir. Wes Anderson
The Life Aquatic With Steve Zissou (2004) Dir. Wes Anderson
Jackie Brown (1997) Dir. Quentin Tarantino
George Harrison: Living in the Material World (miniseries) Dir. Martin Scorsese
Gangs of New York (2002) Dir. Martin Scorsese
Flawless classics, enlightening documentaries, and laugh out loud comedy specials are abound on Netflix this month. These five are among the finest currently available, but there are so many more out there (an example being most major pieces of Baumbach's filmography). That being said, there are also some glaring oversights. Why not just release all films in every filmmaker's canon? I doubt its rights disputes between film companies, since many film auteurs of today work closely with one studio. That being said, many of the finer works they have to watch and more are available now- watch now before they are rapidly withdrawn from your list by the powers that be!
Leave a Comment
About the Writer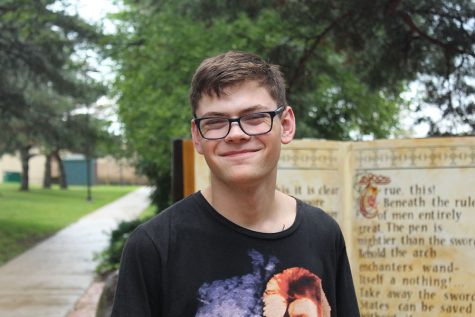 Harry Westergaard, Arts Editor, Co-Copy Editor
Harry Westergaard is a senior at West High and this is his third year on staff. He does a little bit of everything on staff, working primarily as the Arts...