The Green Room opens its doors
The University of Iowa's college class becomes a community-wide learning experiment.
This semester, the University of Iowa is conducting an educational program new to Iowa City. The Green Room, an inclusive community wide class, takes place Monday nights this fall at the Englert Theatre and so far has covered topics of homelessness, wonder and racism.
"My focus is how to make higher education more meaningful and community engaged," David Gould, teacher of the program, said.
"
My focus is how to make higher education more meaningful and community engaged."
— David Gould
The Green Room was created last year to help guide college students unsure of their path as they entered the workforce, and also to inspire them to pursue their passions. The class was made up of thirty University of Iowa honors students.
Gould brought in "thought leaders" such as film producer Kathy Eldon and social entrepreneur Andy Stoll. The leaders gave lectures, often telling stories of how they discovered their passion and were able to pursue that in their career.
"A lot of them were coming in and telling us, 'Hey, if you have this idea, if you have this thing you're passionate about, just go for it right away instead of waiting until you get the confidence to go for it,'" said TA (Teaching Assistant) Halle Wilmott about her experience with the Green Room last year.
"It's been my experience that as soon as you feel that pang, that sort of longing and urgency to do something, if you just trust that and start working to make that happen very soon, that has a magic all on its own and that is ultimately far more rewarding than just continually saying, 'Well, someday I'm gonna make that happen,'" said Nate Staniforth, who spoke and performed magic at the Green Room September 11, 2017.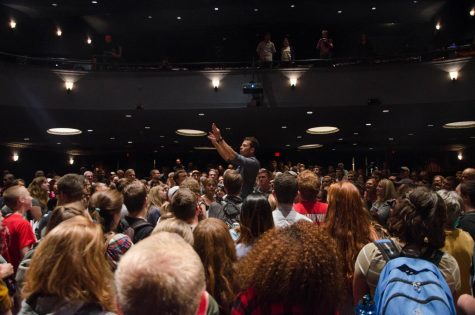 Some Green Room students last year signed up not knowing much about the class, in order to fill their honors hours. However, the class ended up being a turning point in their college education.
"As a bright eyed really curious junior in college I really didn't know what the Green Room was going to be about, but on the first day after everything was said and done, I knew that it was the place I needed to be," Kris Yambao, TA, said.
Tyler McCauley, another TA, had a similar experience. "Last year I was a pre-med student who didn't really know what I was doing with my life, and the Green Room really made me think about , 'Where did I want to be?' and 'What place did I want to be in?' and 'What part did I want to play?' and I realized I wasn't going to the spot I wanted to be. I [ended up switching] to nursing," McCauley said.
When that semester ended, the University of Iowa wanted to continue the class on a larger scale. Gould was anxious about expanding the class because the group of thirty students were able to thrive in a very close knit environment. They had even eaten dinners together during the evening class.
"I think that the same level of intimacy, I'm not sure it can be achieved, but I think that the idea of inspiring however many hundreds of people at one time … seems like a really powerful goal to me, and I really hope that it happens more intensely for the next couple classes," Emilie Sommers, TA said.
"
I think that the idea of inspiring however many hundreds of people at one time…seems like a really powerful goal to me, and I really hope that it happens more intensely for the next couple classes"
— Emmie Sommers
This year the Green Room is open for free to any member of the community, with classes put on by students. There are thirteen Teacher Assistants leading groups made up of 80 new students, and Gould oversees them all.
Everything, from sounds, lights, handing out pamphlets, social media promotion and introducing speakers, is done by TAs and current students.
"Now we get to market it to the community," said Shannon Mulligan, TA. "Which is really great because there was a lot of awesome stuff that was happening in the classroom that a lot of the community just didn't have access to, and now we're opening it up to the community and it's becoming a lot more effective."
Besides educating a larger group, community involvement in the Green Room brings college students and Iowa City citizens together.
"For me it just doesn't feel like there's a ton of overlap between the university and the general public so I think this is like a really positive space for that to happen," Sommers said.
"The hope is that the community is affected positively and you as a student are as well because you're part of it and you had the fun of saying 'Man, I helped make that happen,'" said Gould. "I don't know if that's gonna work or not because we've never tried it but that's kind of where I'm shooting."
This year the class also added an entertainment aspect. Singer, actress and University student Tempestt Farrar is bringing music to the Green Room.
¨Music and art and theater, all of that makes the world go 'round, it helps with communication, it helps with being in front of classrooms, it helps with understanding certain subjects and music was my outlet," said Farrar.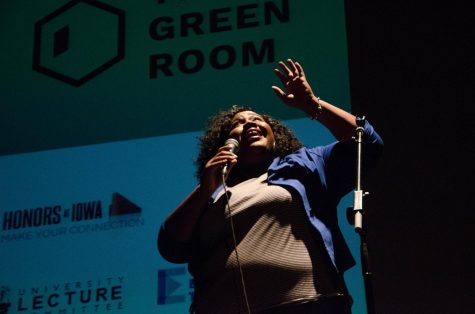 "Music, art reading, literature, those types of elements, the things from the heart if you will, those types for things help to set the tone." said Gould.
Gould said he's measuring the Green Room's success in four steps. First he wants people to attend. Second, he wants to inspire people and third, he wants that inspiration to stay with them after they leave the Green Room. Lastly, he wants the inspiration people feel to lead to actions that better the community.
"I think a lot of people are just so unaware of how easy it is to just be a part of a community and see the effects of it," said Mulligan.
Leave a Comment
Donate to West Side Story
Your donation will support the student journalists of West High School. Your contribution will allow us to purchase Scholarship Yearbooks, newsroom equipment and cover our annual website hosting costs.
About the Contributors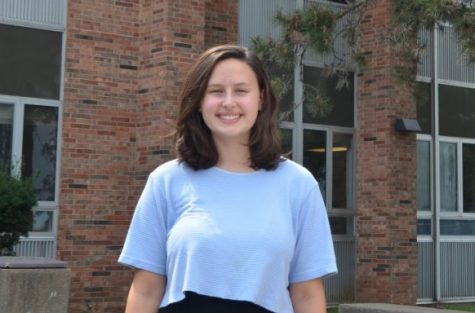 Natalie Dunlap, Online Editor-in-Chief
Natalie Dunlap is a senior and the Online Editor-in-Chief for the West Side Story. She is also involved in theatre and West High Democrats. When she's...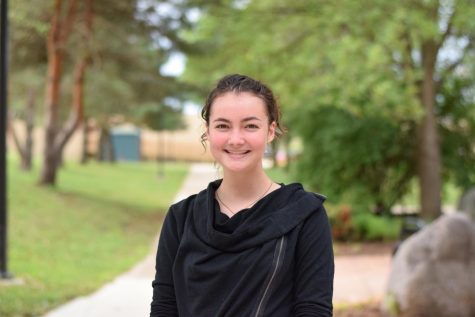 Alyson Kuennen, News Editor, Photographer









This is Alyson's second year on staff where she is a news editor and photographer. As a senior she spends her time working, working and...