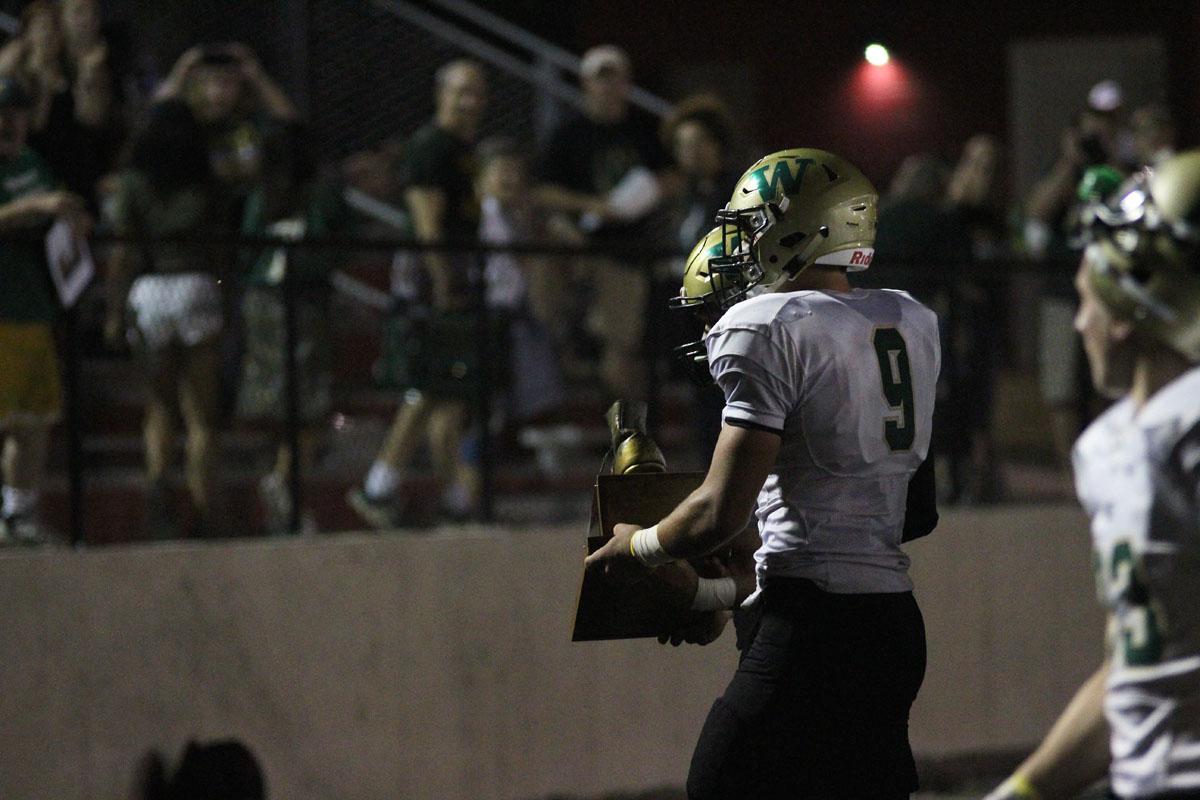 Kara Wagenknecht
The West High Trojan football team triumphed over the City High Little Hawks on Friday in the annual Battle of the Boot game with a final score of 52-6.
Cheered on by an energetic student section, West took an early lead, scoring 10 points in the first quarter. "It's super fun to watch," said Callie Dains '18.
West continued to rack up a total of 38 points through the first half, all the while their impenetrable defense keeping City High scoreless.
"They are handing it to City, and we all knew that would happen," said Carter Johnson '18.
Many students feel that the winning this grudge match was particularly vindictive, since West has lost 8 of the last 10 Battle of the Boot games against City.
"West High lost last year at our own field so we need to redeem ourselves and win at [City's] field," said Jillian Baker '19.
That feeling was likewise felt by the team, who worked hard to follow through with revenge.
"It's really exciting to win this boot for all our fans and the school . . . I'm really honored that I was able to do that tonight," said quarterback Evan Flitz '18.
The victory was not won so easily as it seemed. West came into the game very prepared and ready to execute their strategy.
"We practiced all week . . . just focusing, we had to come in, do our job, play sound defense . . . execute well, and that's what we did," said player Andre White '18.
For other students with close connections to City High, the game was an interesting experience. "My dad went to City, so it's fun to be on the other side," said Kaitlyn Rose '18. Even more unique is Samantha Titus '18's perspective.
After attending City High for three years, she transferred to West for her senior year.
"It's super weird," she said about being on the other side. "It's nice, though. It's a good change, actually being on the winning team."
The night was bittersweet for a lot of seniors, this being their last City-West game.
"I'm sad because I really like the rivalry [but] . . . I'm glad that we're doing well now," said Amanda Parsons '18. Rose echoes her sentiment, saying "It's kind of sad, but exciting at the same time."
Although the game proved to be a great victory, the Trojans' hard work is far from over. "We still have a lot to work on. We're nowhere near where we want to be," said White.
Iowa City West's next game will be against Cedar Rapids Prairie on Trojan Field on Sept. 22.
Read the recap of the game below.
[<a href="//storify.com/westsidestory/battle-of-the-boot-recap" target="_blank">View the story "Battle of the boot recap" on Storify</a>]