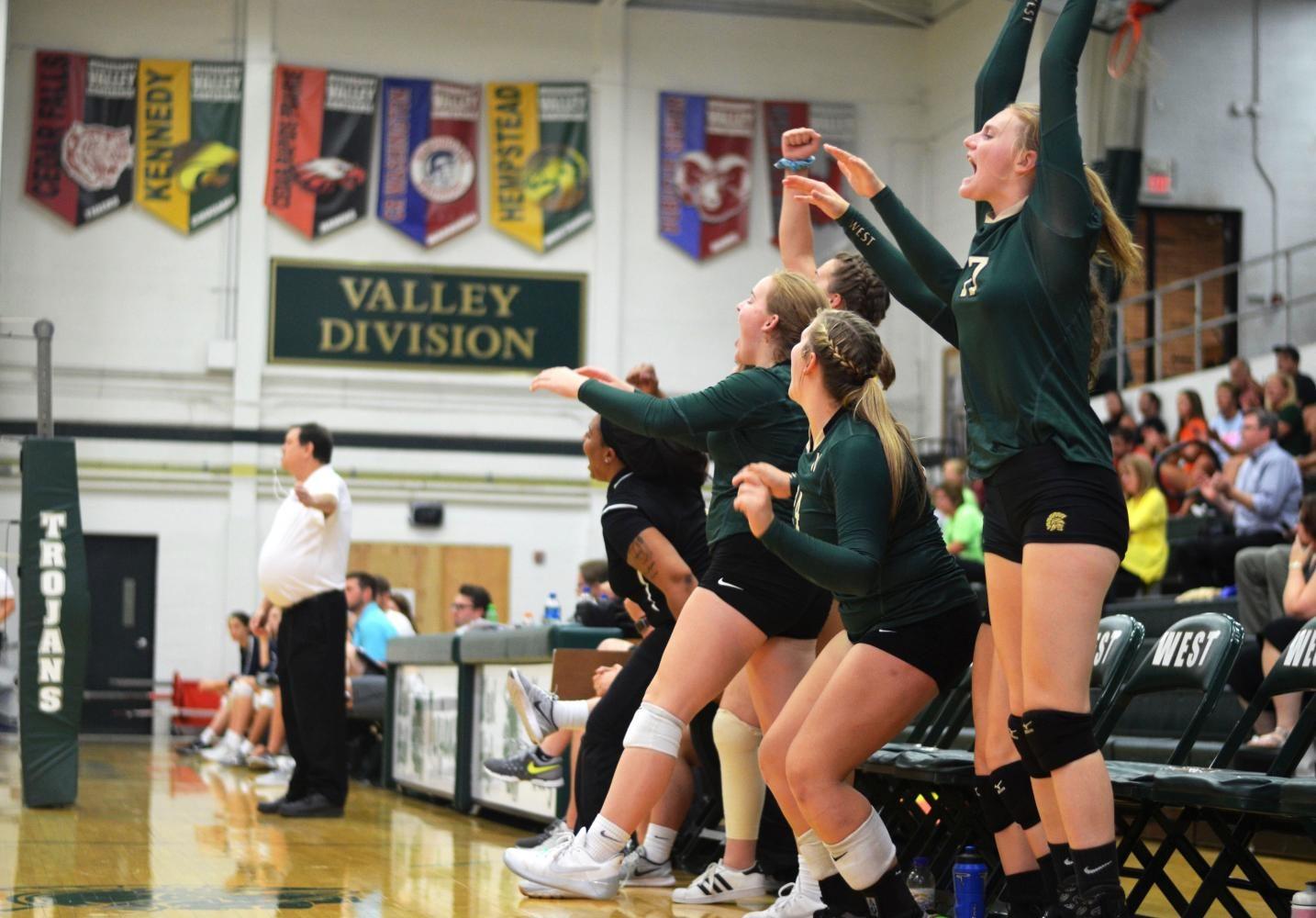 Anjali Huynh
The Women of Troy were defeated 3-2 in a close match against Cedar Rapids Xavier, who are currently ranked first in Class 4A. Regardless of the loss, both players and coaches alike are proud of their performance and will continue to strive for improvement in upcoming games.
"It was definitely a strong match for us. We showed a lot of fight and grit. To be in a match like that with the number one team in 4A, it just goes to show you the strength of our side of the conference," said Scott Sanders, head varsity volleyball coach. "I think we certainly made it tough for ourselves, making a few mental errors. I believe we are right on the verge of breaking through, and when that happens, it will be fun to watch."
Assistant coach, Whitney Lang, is also very pleased with the Trojan's performance despite the loss.
"[Xavier is] number one in 4A, so to take them five sets was awesome," she said. "It's not whether you get knocked down, it's whether you get back up. We definitely showed a lot of fight."
West started off the first match strong, winning the first set with several kills and a tip from Cailyn Morgan '19. Rylee Fay '20 and Emily Burtch '18 executed two blocks as well, bringing the final score to 26-24 West, with thunderous applause from the student section.
"We're playing really well and West is hitting the ball really well; we just need to keep it up and stay together. It's a lot of fun and even though we don't have a big student section, we are all cheering really loud," said Bre Faulkner '18.
However, Xavier took the second set 25-23 and the fourth set 25-21, following a third set win for the Women of Troy, resulting in a fifth set match to fifteen. Keimoney Lang '18 executed an ace in a critical moment of the third set, bringing the score up 23-20 Xavier, while Khushi Kapoor '18 and Liz Walters '18 had great digs. West lost the fifth and final set, resulting in Xavier winning the match.
"Even though we didn't come out with a win, we know what we have to work on. It was a lot of our errors that held us back from winning. We can fix that though, and we're going to keep getting better," said Liz Walters '18.
Looking back on the match, Whitney noted the feeling of unity throughout the match as a key factor to their strong performance.
"It was some of the best volleyball that we've seen our girls play so far this season," she said. "Everyone  from the coaches, to the players on the floor to our amazing hype squad on the sidelines were all in!"
The next varsity volleyball game will be the Dubuque invite on Saturday, Sept. 23. and Senior Night will be held on Tuesday, Sept. 26 where the team will be showcasing brand new uniforms. 
Final scores for each set:
West: 26-24
Xavier: 25-23
West: 25-23
Xavier: 25-21
Xavier: 15-12