Baumbach scores again with "The Meyerowitz Stories (new and selected)"
In his latest film, director Noah Baumbach explores a family trapped in cycles.
Editor's note: This story was written before accusations of sexual assault were directed at star Dustin Hoffman. 
If you are a fan of Noah Baumbach films, you will have a pretty good idea of what to expect from one of his films going in. It's usually going to follow a group of characters, living in or around New York, who are troubled artistic types. Quirky, sometimes deadpan comedy ensues. We love Baumbach anyways, as fans, because of his knack for capturing the very specific dialogue of his subjects and the consistently good performances he is capable of getting from actors. The Meyerowitz Stories (new and selected), his latest film, is no exception. You either love them or detest them. I happen to fall in the former camp.
The movie follows the Meyerowitz family of the title. Harold (played by Dustin Hoffman) is the father of three kids. He has been an artist for all of his long career, but never quite reached the same level of success as his contemporaries. In addition to this, he hasn't exactly been best family man. He's been married and remarried at least three times, and his current wife, Maureen (Emma Thompson) is an alcoholic. Harold was never really there for Danny (Adam Sandler) and Jean (Elizabeth Marvel). But he was all too present for Matthew (Ben Stiller) even to the point of impressing many of his problems onto him. The film picks up with Danny taking his kid to college, and trying to catch up with his family in New York. Little has changed in the dynamics.
Lots of the praise around the film has been directed at Adam Sandler, for changing things up  and taking on a serious role. Once again, Sandler proves that when he stops making dumb comedies he is capable of giving a decent performance. He's still a loser in The Meyerowitz Stories, but you get the idea that he's not proud of it. There is in fact, guilt present in Danny. He was preoccupied in college with drugs, has never had a proper job, and recently divorced his wife. Part of what helps is the great script by Baumbach– it doesn't require much from him, but he gets a lot of good lines and is effective as the put upon everyman.
"
Once again, Sandler proves that when he stops making dumb comedies he is capable of giving a decent performance."
— Harry Westergaard
Dustin Hoffman has, with a few exceptions, not turned out much quality work of late. But his turn as Harold Meyerowitz is one of his stronger outings in recent memory. Baumbach writes the part similar to Bernard from his 2005 film The Squid and the Whale, but with a bit more zaniness. He also believes himself to be an outspoken expert on the arts, but comes across as another pretentious snob. Much of the comedy comes from minor things he gets annoyed at and "protests". Hoffman is capable of all of this, and while not pushing any new boundaries he is a joy to watch as Harold. One of my favorite little touches is his old man run he fashions, which includes more arm pumping than actual running.
Emma Thompson plays Harold's alcoholic wife, Maureen. She pulls off the fun trick where you don't recognize it's her her until halfway through the movie. Her face is somewhat concealed under large glasses and frizzy hair. Thompson has a lot of great scenes in the role, I only wish she would have had a little more to do. That being said the story proper is actually more focused on Harold and his kids, so it's not a problem that impacts the whole film. I just dig Emma Thompson in this role.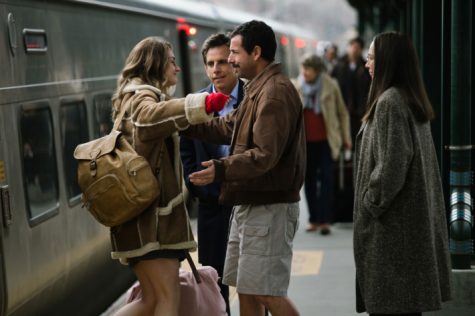 The film also sports a good supporting cast. Judd Hirsch, in the role of Harold's rival LJ, has some good back and forth with Dustin Hoffman. Matthew, the child Harold parented too intensely, is played by Ben Stiller. It's a typical Stiller role, with him being a finicky businessman type. Harold seemed to harbour dreams of his family being a clan of artists, but this never really came to fruition, and Matt is the pinnacle of this. He's eschewing everything his dad expected from him. That said, he is the only member of the family who actually has a stable job. Harold sees this as betrayal or sell out of sorts. Matt had to do this though, because as demonstrated in the movie, he gets caught in the same trap as all of Harold's kids. He tried to care, but got nothing for it, and had to eventually leave.
Randy Newman provides the film with its score. It's very nice, elegant piano work, that drops some of the whimsy that is typical in his scores. This is ultimately effective for the film, giving it a playful, almost deceptive, calm tone. As a director, Baumbach doesn't overdo. The focus is mostly on the characters here, and thus the strength of the actors along with the script is exemplified.
"
Without veering into melodrama, we are given a fairly grim depiction of a family trapped in cycles."
— Harry Westergaard
The Meyerowitz Stories (new and selected), is typical fare from Baumbach, for sure. That's not a bad thing. His strength for dialogue, and characterization, as well as getting good performances from actors is present here as much as ever. After all, who could have predicted the welcome surprise of Adam Sandler doing another good film. The subject is also very universal. Without veering into melodrama, we are given a fairly grim depiction of a family trapped in cycles. This is the strength of comedy, and of Baumbach's in particular: the ability to explore such themes in an accessible, and at times, more realistic way.
Like this film? Here are a couple other classics from Baumbach to check out…
About the Contributor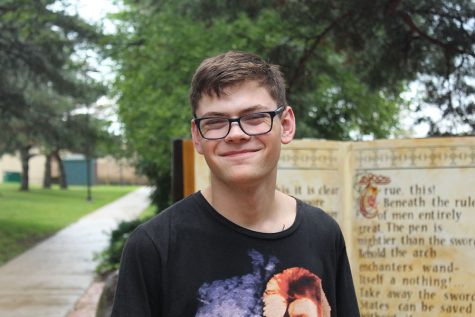 Harry Westergaard, Arts Editor, Co-Copy Editor
Harry Westergaard is a senior at West High and this is his third year on staff. He does a little bit of everything on staff, working primarily as the Arts...