I know that you would want it: a "Ten Years" review
Ten years after their last album, former Disney darlings Aly and AJ Michalka are back with an EP soaked in '80s nostalgia.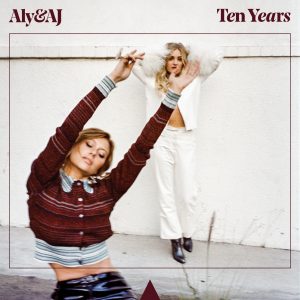 If you talk to people who grew up watching Disney Channel in the mid-2000s, most would argue that era was Disney at its prime. One of those gems that made that so? Sister duo Aly and AJ Michalka. They were signed to Hollywood Records in 2004 while Aly starred on "Phil of the Future" as love interest Keely and released their first album in 2005. They exploded when their single "Rush" was used in the movie "Twitches" and took off from there. They had the absolute headbanger "Chemicals React" in summer 2006, a Christmas album, a movie with them as the leads ("Cow Belles") and the song that will forever be their iconic staple: "Potential Breakup Song."
After 2007, the sisters enjoyed time in the spotlight before parting ways with Hollywood in 2009. They then pursued acting careers independently, briefly coming back together for an attempt at music under 78violet and stopping after one single. There was more silence on the music front after the departure. But their acting careers received great success. Aly has been promoted from her supporting role as Peyton Charles on CW's "iZombie" since its third season, and AJ has had a large role in ABC's "The Goldbergs" and played the fusion Stevonnie on "Steven Universe".
(Aly & AJ Music LLC)
At the beginning of this summer, a new Aly & AJ single came out of the blue. It was pulled down shortly after and officially released in August, and then the true magic began. "Take Me" is a complete shift in the sisters' sound, yet it captures their spirit perfectly. It's '80s pop at its finest: infectious grooves, luminescent synths and bombastic personality. The girls embrace this throwback by having a blast, Aly taking the lead in calling out the dating culture her younger sister has experienced. It's a frustrating world, one where people aren't bold enough to get past knowing someone via surface level or a screen. "When you gonna take me out? Make a move and make it now," Aly sings on the hook before the sisters yell the first line again as a last straw. When will this special someone get the hint? "[She's] got better things to do" than wait for someone who isn't going to recognize their partner desires them to speak up about the relationship.
(Aly & AJ Music LLC)
The next track "I Know" is more reassuring. Here, Aly and AJ trade verses amidst pitched background vocals and a gorgeous faded bass line. Inspired by a friend of theirs who lost their battle with cancer, the sisters set out to write a song dedicated to the best kind of friendship, one where "you know who's gonna pick you up [and] take you home." They were successful. It's an emotional track that's intimate and lush, offering a hand to anyone who's going through rough times. It made me think of a really close friend on first listen and almost had me crying. That's how wholesome and relatable it is. I know I'll carry lyrics from this for a long time: "Who's really gonna care about tomorrow? It's gonna be fine. You're gonna be fine. We're all gonna be fine." No matter what happens in our lives, we're going to make it out alive. There's so much out there to feel and experience. When friends are in ruts, we need to be there for them and help them out, no matter how long it takes.
(Aly & AJ Music LLC)
The last two tracks on the EP come back to relationships. "Promises" is a heartbreaking track anchored in percussion and funky synths. The sisters craft a story where a girl drives to her lover's house in the middle of the night. However, another person's car is already there. "It's [her] worst fear" come to life: her partner's cheating and in love with someone else. "All this is is another mistake … to check off my list," Aly sings as the protagonist moves on with her life despite her tears. "All this is is another big break … of promises." The background vocals here are interesting, switching between humming the melody and one of the sisters whispering the title. It all comes together to create yet another catchy song that's devastating but sounds like a graceful dream.
(Aly & AJ Music LLC)
After "Promises" fades out, glittery guitar brings the start of "The Distance." Rock influences show up immediately, punctuated as soon as the drum kicks in and AJ takes the mic. "Sanity kind of got away from me," she admits, proceeding to paint the picture of a long-distance relationship on its last threads. The general consensus about couples trying to stay connected despite being miles apart is that they never last, and this supports that theory. No matter how good it makes her feel or how much she's willing to risk, the girl at the center of this track isn't afraid to cut ties, noting "every hang up takes the soul from [her]." "I just couldn't take the distance," the sisters sing, whispers creeping on the bridge to rewrite classic sayings and prove it: "This heart never grew stronger. Distance never grew fonder." It's an epic track that feels universal to anyone who has gone through a long-distance relationship and knew when to call it quits. Sometimes you have to take the high road. Let it unfold behind you underneath a sunset-stained sky and don't be afraid.
Needless to say, I'm so happy Aly & AJ are back and I hope they continue to make music just like this. The production by Ryan Spraker and former Echosmith member Jaime Sierota is breathtaking. The music is blissful, catchy and calls back to earlier decades when I was a kid and the sky was limitless. And the sisters themselves are still phenomenal singers and pack so much charisma in simple catchy pop songs. Everything is as it should be.
Leave a Comment
About the Contributor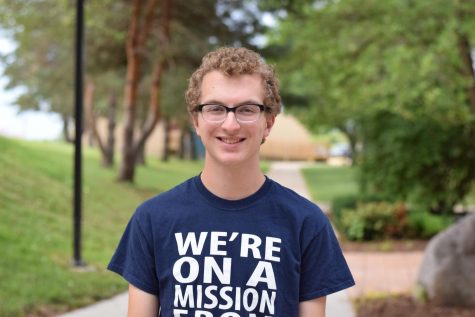 Luke Reynolds, Copy Editor, Anchor, Reporter
This is Luke's first and only year as a member of West Side Story. He'll be kept busy with anchoring, editing and reporting, but he's gonna have fun while...