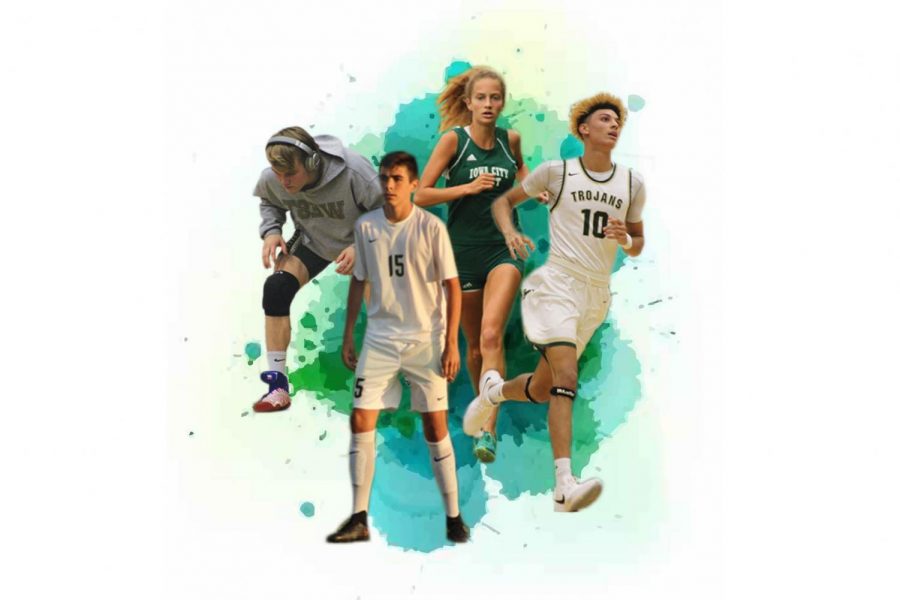 Most student-athletes dream of becoming a state champion at some point during their high school career. Only a handful can achieve this feat, with an even smaller portion able to come out on top multiple times.
Nelson Brands '18 is one of that handful, having won state wrestling his sophomore year after not qualifying as a freshman. Last year, he repeated as a wrestling state champion.
"[Winning state was] really fulfilling, like all the hard work paid off. Junior year was pretty much the same except kind of putting a stamp on it," Brands said.
Similarly, Bailey Nock '18 went into the 2016 cross country state championships as the underdog. She let this motivate her and ultimately finished first.
"These people online had ranked me seventh; nobody [thought I was] going to win. My motivation was basically [to] prove people wrong," Nock said. "It was amazing. It was like I wanted to cry but I couldn't. I just remember [it] being the happiest moment of my life."
But for these two, the road to an individual state championship had different obstacles. Brands, on one hand, felt a sense of confidence, but Nock had a different experience. Following a third-place finish her freshman year, Nock entered her sophomore year as the top returning finisher from the state championships, earning herself the No.1 individual ranking. After winning her junior year, she received more attention from the media as a senior, this time favored to come out on top.
"I did not handle it in any way that I should've. I saw that I was No. 1 and I let it get to me. It completely destroyed me mentally," Nock said. "[My senior year,] all eyes were on me, which was opposite from the previous year where nobody was looking at me. But I'd say throughout my junior year I had grown so much as a runner. It was just like putting everything aside—Tweets, newspaper articles, headlines saying what I'm going to do at state—and focusing on each meet."
On the other hand, Seybian Sims '18 and Micah Frisbie '20 were members of the boys basketball and boys soccer teams, respectively, that won last year. Both teams return to a predicament this year, having graduated a senior class of players that greatly contributed to their teams.
"We were definitely projected to win since the beginning of the season, just because we had Connor [McCaffery '17] and Devontae [Lane '17]. Just because they expect us to win doesn't mean it's guaranteed. We still have to play for it," Sims said.
Only a freshman when he won his first championship, Frisbie witnessed one of the most surprising state soccer tournaments, as West won after entering as the No. 8 seeded team.
"It was crazy and I know the public didn't think it was actually going to happen and we didn't either, but it happened," Frisbie said.
Sims returns to try to rebuild the team this year, saying that he will be taking the season one game at a time instead of letting his mind jump directly to the state tournament.
"Some of the guys might feel pressure [to repeat], but I don't feel pressure because there's nothing to feel pressure about. We're projected high, I guess, but you just play."
Frisbie feels similarly, though his team last year was not favored to win.
"I definitely want to win state again but I know it'll be really hard," Frisbie said. "I don't think it's as expected because everybody knows that we lost a lot of seniors."
Regardless of the sport, many West High individuals and teams have come back to repeat, with Brands being one of the most recent examples, but Nock's last performance didn't go according to plan.
"My mistake [when my opponent passed me] was thinking that she would come back to me instead of I need to go get her," Nock said. "It was frustrating of course because it's your senior year … but I didn't want to remember high school cross country for that so I kind of just set it all to the side. My family was still all at the finish line; they were still proud of me."
But the hopes to win are still alive, with many teams and individuals drawing inspiration from last season's performance.
"When I got [my state champion ring], I put it on right away, took pictures with it, posted it everywhere. It was fun, I liked it," Sims said. "I just want to get two, that's all it is."