The Band-nana
Jill Fair is a supervisory paraeducator at West High who has engaged in many practical jokes on students and fellow teachers over her years of teaching.
Jill Fair has a major pet peeve: students leaving trash in her classroom. This became an issue for her when one of her band students left a banana on her desk when she use to work in Highland Community School District. None of her students would throw the banana away, and every day it would make her more mad. After a while Fair decided to get back at her students.
"It sat there forever and someone tied the banana from the ceiling so I was like, that's it, it's game on. So I went to Hobby Lobby and bought a fake banana," Fair said.
"
It sat there forever and someone tied the banana from the ceiling so I was like, that's it, it's game on."
— Jill Fair
Since the real banana was left in her space, Fair would put the fake banana in her students' spaces. For instance, she would ask another teacher, to give the fake banana to one of her band students when they came into class. Then, that student would try to give it back to her in a more creative way. They called the fake banana, the band-nana. The banana war increased to the point that student's parents even Fair's husband were involved in the prank.
"One of her students asked me to put the banana in front of one of our home security cameras that Jill uses to check on our cat. The student asked her how the cat was doing and when she opened the app on her phone, she saw the banana. She couldn't believe it. I thought it was hilarious," said Ben Fair, her husband.
Eventually, the banana was given back to her, but Fair couldn't come up with a way to get her students back. However, after a couple of weeks, Fair was able to prank her students back on a band trip to New Orleans. The students had to get their bags checked and afterwards Fair slipped the banana into the bags of one of the ringleaders.
"So we get down to New Orleans and he opens up his bag, and the banana is in there. I heard him scream 'no' from my hotel room," Fair said.
Fair enjoyed the prank war, because it gave her students something to be happy about even if a student was having a bad school day.
This personal connection is why Fair became a teacher, and while pranking the band kids had been fun, she realized she wanted more. After reflecting, Fair realized that being a band director wasn't completely fulfilling that wish. Therefor, last year, Fair decided that it was finally time to go back to school in order to receive her master's degree in counselling to become a guidance counselor. Fair realized she would need to find a new job if she was going to go back to school so she decided to take the vacant supervisory paraeducator position at West.
"There is too much required for [being a director and my classes] for me to give it the attention that it needs. I really wanted a job that was still in the school and I saw this job online and was like that would be cool," Fair said.
Fair now monitors West's hallways and writes parking tickets. Despite not being a teacher anymore, she's still able to play practical jokes. This time Fair works with the students, targeting her coworkers instead. Steven Breitbach, a fellow West paraeducator, is one such victim and remembers a time when Fair found his old college football picture to add to the current West high poster. Even when she told him to check out the poster, Breitbach didn't notice that he was also on the poster.
"I realized that my college football picture was on the poster. The funny part was that the poster is made up of headshots of all the seniors, and my college roster picture was a headshot of me, so it actually fit in with the poster," Breitbach said, "However, in the moment, I was also kind of creeped out because I knew that they had to search for it, so they definitely were creeping on me to find it."
While Fair likes to keep things more light-hearted, not all her interactions are positive. She has some negative aspects of her job; such as students angry with getting a parking ticket and the difficulties that the weather can bring.
"I am not going to lie it's not fun in the cold, but it is what it is. I knew what I was signing up for. I think I have talked [Breitbach] into pulling me on a sled for parking once it starts snowing," Fair said.
The snow can make it difficult to walk around to check the parking lot so Fair has been pushing Breitbach to pull her on the sled pretty hard. Fair believes if she says it enough times it will happen.
"As a kid, I always enjoyed sledding, but pulling somebody around in a sled is a whole different story. I feel like I'm getting the raw end of that deal. I'm a team player, though, so who knows? Maybe it will actually happen," Breitbach said.
Fair's jokes don't stop with the people she interacts with during her career. She continues them outside of school, such as every Halloween when Fair and her husband leave plastic pumpkins at a friend's house.
"Every year we do something different to be funny. This year we [left] one pail with a red balloon [tied to it] like the movie it," Fair said.
With many pranks under her belt, it can be hard to remember them all. However, some are more memorable than others.
"I still feel like the banana is just out there lurking," Fair said.
Leave a Comment
About the Contributors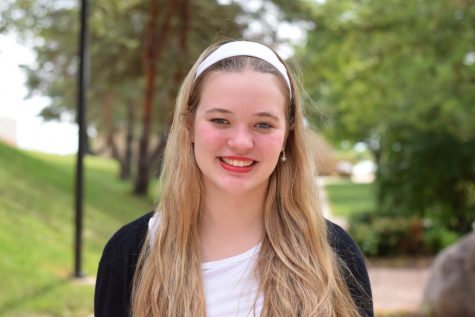 Reagan Hart, Reporter, Distribution Manager









Reagan Hart is a senior at West. It is her second year on staff and she is a reporter and distribution manager. Besides newspaper, Reagan...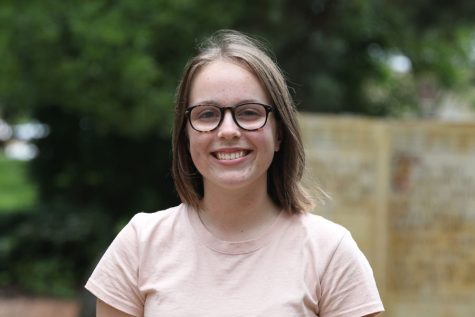 Maddi Shinall, Photo Editor
Maddi is a senior, this is her second year on staff and she is the Photo Editor. If she's not taking photos, she is probably engaging in a lively political...