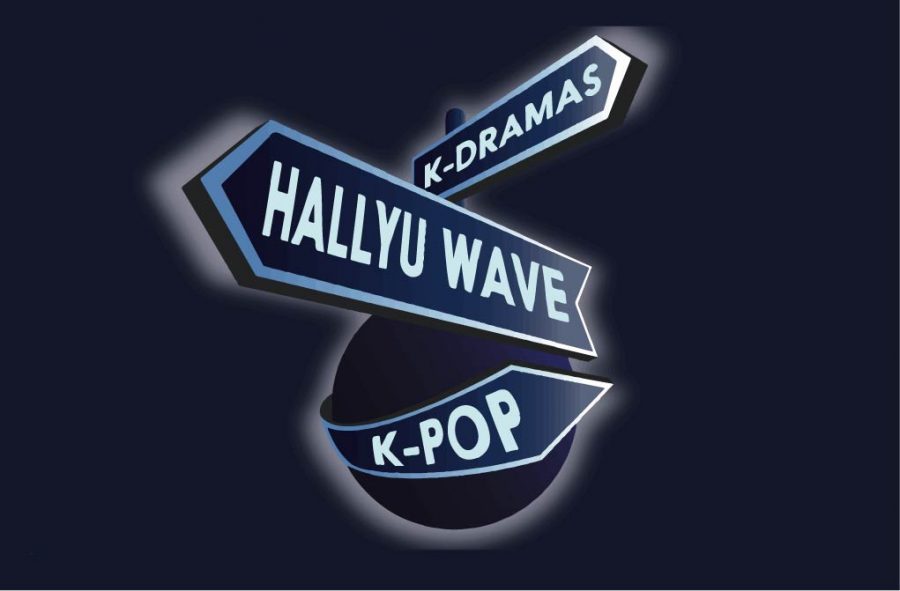 Frances Dai
From "The Bachelor" to fidget spinners, Western entertainment has been the center of popular culture since the mid-20th century. However, starting in the 1990s, South Korean culture has increased in global popularity with the driving factors being K-dramas and K-pop; both of which had created a sale record of $4.7 billion in 2016, according to Bloomberg Businessweek. Called the "Korean cultural wave," or the Hallyu Wave, South Korean entertainment has now reached a fever pitch and rise in popularity in the Western mainstream within the last decade.
So what makes K-entertainment so popular? With the music specifically, appealing features have been the high production quality, blend of different musical genres, choreographed dances and messages portrayed in the lyrics. These factors combined have propelled K-pop into a global phenomenon, reaching as far as Iowa City itself. Olivia Manaligod '18 was first introduced to K-pop at 12 years old when her brother introduced her to the group 2NE1. One component that initially piqued Manaligod's interest was the combination of a variety of popular styles.
"They have a lot more genres within 'pop' in K-pop. … I sometimes feel like the Top 40 music here [in America] is the same EDM music with the same chord progression, and it can get boring. This isn't the case for K-pop as often," she said.
Manaligod shared her interest in K-pop with Anna Truszkowski '18 back in 2015 with the release of the music video for "Mansae" by Seventeen. Now as a full fledged fan of K-pop, Truszkowski said she believes the overall performance is perhaps one of the main sources of her appreciation for Korean idols.  
"I think that K-pop is really complex because each song has a specific dance that goes along with it and a specific style, whereas Western music is just the song," Truszkowski said.
This emphasis on performance is because choreography contributes to the visual element of K-pop, which is vital in the industry and results in highly produced music videos, or mvs.
"I personally love the mvs they do," said Ellie Brown '19. "They are all really, really good quality and it involves dancing as well as singing and acting. Personally, I like them better than most Western mvs just because so much work goes into them and the editing is so cool. … They are amazing."
For several K-pop groups, particularly Bangtan Sonyeondan or Beyond the Scene (BTS), music is a platform for discussing controversial issues and spreading positivity. Not only are these messages portrayed in their music videos, which are shot similar to that of a movie with storylines, but in their lyrics as well.
"Compared to American music, … I think that K-pop has a lot more meaningful lyrics. They talk about struggles and mental health, which I think is interesting," said Julie Shian '20.
Manaligod said she believes that while a variety of topics may be uncomfortable to discuss, they are the most applicable regarding real life. For example, BTS member Min Yoongi, who goes by the stage name Suga, uses his past experiences with mental illness to connect with those who are still struggling. In addition, BTS launched a "Love Yourself" campaign to combat the violence around the world and promote self-awareness involving mental illness.
"[Yoongi] shows the complexity and hardships of depression while still remaining hopeful. I think music like this can help others that are dealing with issues of depression," Manaligod said.
Societal oppression and stigmas have come to the forefront in several groups as well. While issues involving the LGBTQ+ community are a topic that is commonly avoided in South Korean culture, a handful of idols have chosen to bring awareness to this matter, slowly changing views of this community in South Korea.
"A lot of the songs have messages about beauty. I know that there's been a recent effort to include different communities like the LGBT community," Truszkowski said. "[There's] a video that features transgender people, which I think is awesome, and . . . I'm glad that with an industry that is growing in popularity, they are including that."
One of the distinguishing factors between K-pop and Western pop is K-groups are assembled by agencies from a pool of trainees who have trained for years. This only adds to the appeal for many K-pop fans.
"The artists put so much work and training into their careers, and I really respect them for that," Brown said. "With K-pop you have to train and get into a company and work your butt off just to debut and have a chance of becoming famous."
Nonetheless, Manaligod believes the greatest component for K-pop's wide fan base are the idols themselves. Rather than just promoting music, idols promote their personalities through various social networks, such as reality shows and survival programs.
In addition to K-pop, K-dramas have progressively became popular throughout Asia. An appealing element is the length of each series typically being one season with sixteen to twenty-four episodes, allowing the audience to view more shows in a shorter amount of time. Manaligod became hooked on K-dramas after Truszkowski recommended the drama "She Was Pretty," and Manaligod couldn't get over the enjoyment of the dramatic scenes and exciting cliff hangers. However, what caught her attention was the creativity of the plot.
"[K-dramas] have some pretty original ideas for their shows," she said. "I find that a lot of shows are spin-offs of something or a remake in Western culture lately. We do have original shows of course, but some of [the] K-dramas are remarkably creative."
Although K-entertainment has made tremendous progress in breaking into mainstream culture globally, underlying stigmas continuously haunt the Asian culture.
"Historically, Asian men are portrayed as nerdy and awkward while the women are fetishized," Manaligod said. "The exposure from the Hallyu Wave shows that these ridiculous labels don't apply to Asian people at all. … I do worry over people who are quick to be ignorant over K-pop, though. For example, a lot of people say, … 'They all look the same,' and that's really racist."
Not only is historical prejudice still prevalent in the modern world, but stereotypical images of Asian women have put off many potential fans as well.
"I think a lot of people think K-pop is kind of immature because they see images of twenty-something women being very cutesy, but they don't understand that the people have genuine talent and it takes a lot of effort to do what they're doing," Truszkowski said.
Now, with the more clear-cut representation of Asians portrayed by the Hallyu Wave, the public has a more accurate portrait of K-entertainment. This positive representation has allowed for K-groups to gain popularity among diverse groups of people.
"In our mainstream media, we don't really see a lot of Asian enterprises succeeding, and I think it's really good that they're bringing over that really cool culture [to America], and everybody's getting really excited about it," Shian said. "When things like that used to happen, like PSY, it didn't last long, … but I think [groups like] BTS are doing a really good job of promoting their music here, and they have a really wide fan base, which is really good."
In the face of criticism, those involved in K-entertainment continue to succeed, going beyond what critics initially believed to be their peak. This is shown with BTS, who gained popularity in America after becoming the first K-pop group to win a Billboard Music Award, coming home with "Top Social Artist" in 2017. Accomplishments such as this have proven that language is not an issue regarding the success of entertainers from foreign countries.
"The language barrier isn't a huge deal. All it takes to learn what the lyrics mean is a quick Google search. … [Westerners] often say, 'Why do you like them? You can't understand what they are saying,' . . . [but] what matters is that the music sounds good. I don't necessarily need to know the lyrics to a song to know I like how it sounds," Manaligod said.
Now almost three decades since the beginning of the spread of the Hallyu Wave, K-entertainment has become a global sensation. For Shian, the most important pieces of advice she can give is to stay true to individuality without pressure from society, but also having the sincerity to explore other areas.
"Just watch what you want to watch," Shian said. "Explore different [songs]. There's not a specific one that you should feel pressured to like, and I would say explore, because you can't know what you're going to like if you don't try."