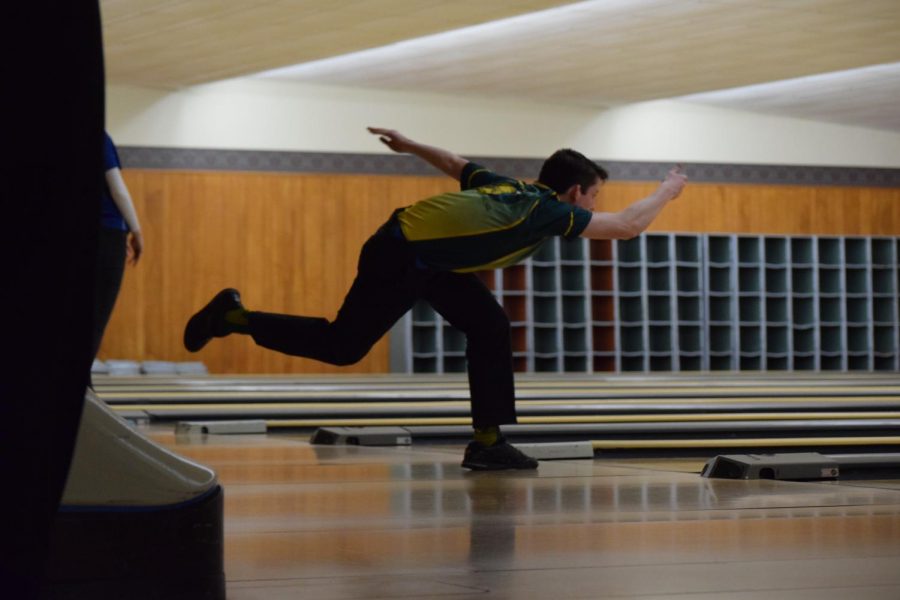 Ivan Badovinac
A young boy attempts to pick up a bowling ball for the very first time. With the encouragement of his family guiding his actions, he slowly makes his way to the lane. Gathering his strength, the boy grasps the ball with both hands and throws, aiming for the pins, but ending up in the gutter. Disappointed, he turns around to see the optimistic faces of his family. Nine years later, with the support of his family, Corey is now one of the top high school bowlers in the state.
Corey's father, Kevin Roth, first introduced Corey to league bowling when he was seven years old. Inspired by his own parents and personal experience as a bowling coach in Japan, Germany and throughout the United States, Kevin wanted to share his love for the sport with his son. Since then, Corey has been on the Lancer Lanes Jr. Sr. league team in Cedar Rapids and trained with his father for nine years. This training continued into high school, where Corey quickly became one of the best on the team with his father's guidance.
"[I admire] my dad for the mental side of it … [My dad] always wants my game to be as best as it can, and the only thing he can do [during games] is give some advice and I have to take it from there." Corey said.
Kevin not only provides mental support and advice on how to perform well in the heat of a match, but continuously works to help Corey improve his physical game as well.
"They're constantly talking back and forth about which bowling ball to use, where to stand, what arrow to throw over [and] what board to throw the ball over. They work pretty hard together," said head bowling coach, Mike Mellecker.
However, even with all of his father's assistance, Corey's main source of improvement is his determination to do well and improve his game in order to become the best he can be.
"Corey wants to do well and his dad is just there to assist him, keep him on track," Mellecker said. "Each year, Corey's increased in his average quite a bit and then this year he knew that he could be one of the top bowlers in the state, which he is, and he just worked really hard at it."
Not only is Corey an important asset to the team for his individual skill, but also for his leadership.
"It was a really great experience [to work with him]. He was a great leader and I felt he made a tremendous difference in the team. He was well-gifted and [performed] to the best of his abilities," said former teammate and 2016 state champion, Patrick Wood.
Corey is just as grateful for his teammates who are always supportive and keep up a pleasant and positive team dynamic. This showed in a Baker tournament, which typically has five members on a team with each member rotating bowling for each frame of the match.
"[It] was amazing. It was a total of eighteen teams and we went in there not knowing what would happen, but we came out as champions and it was really nice," Corey said. "The whole time we were supportive; we were in there and we were focused in. When someone was feeling down, we would always come hype them back up and it was great."
One particular experience that is very memorable for the Roths and marked a turning point in Corey's bowling career was when he bowled his first 700 series — a difficult feat in which the bowler gets over 700 points in three consecutive games.
"When I had my first 700 series, it was a 775 and I came back and my dad was there and he was really proud of me that I came that far. It was last year that I shot it. I felt accomplished and happy that I was up there now and knew how to get there," Corey said.
Now with years of experience, Kevin considers Corey to be "worlds ahead of where [he] was at his age," due to his determination to do well and his hard work ethic during practice, and he couldn't be any prouder.
"I got my dad's help for most of bowling. I was pretty nervous at some points in my bowling career, but when I needed help I got it from him," Corey said. "I've gotten a lot better than he has and I can see that he's pretty proud of me so far because I've come such a long way from my start, and he's happy to see me improve so much."
Corey's end goal is to take bowling to the professional level, but he acknowledges the effort that will have to be put in to achieve this.
"It's a long term dream that I have, but I'm going to have to work pretty hard to get there. [My end of season goals are] just to be a better teammate, be a better bowler, focus in at practice, focus in on meets and then just improve my game," said Corey.
Kevin continually supports Corey in his dream and knows he has what it takes to go professional.
"If this is something he desires, he will have to push himself in all aspects of the game: physical lane play, ball dynamics and especially the mental game. I think he can do it because he has a solid base, a great support system and wonderful opportunities available to him in the college and the bowling community."
Throughout his bowling career, Kevin has provided Corey with much advice, but there is one in particular that has stuck in Corey's mind.
"Take it one step at a time. If you think too far ahead, you'll push yourself too far sometimes and then you'll get lost along the way."