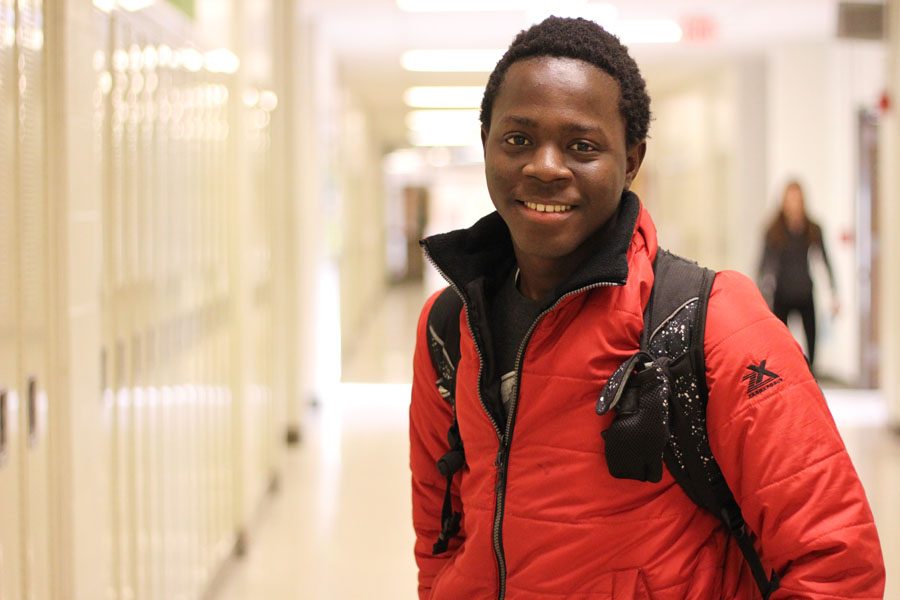 Kara Wagenknecht
Between November and February, it's not uncommon for Iowans to experience bitter temperatures, icy roads and piles upon piles of snow. After all, for most West students, Iowa's unpredictable weather and frigid winter temperatures are the norm. But for Mukeh Lamin '19, seeing snow for the first time is just one of many new situations he has had to adapt to after coming to the United States last fall.
"I'd seen snow before in TV or movies, but I never knew how it felt like," Lamin said. "When I first touched snow [and] it just melted in my hands, it was really, really cool. When I stepped on snow and it made sounds, it was amazing, but it was very different."
"Amazing but very different" seems to be Lamin's overall take on living in the United States so far, as this is the first time he has traveled outside his home country of Sierra Leone. Lamin is the first exchange student hosted by West High in over a decade and came to the United States after receiving a scholarship from the Iowa Resource for International Service, also known as IRIS.
Back home, Lamin lived with his mother and his brother in Bo, the second largest city in the country. His father lived and worked in a different city and would only come home to visit his family from time to time. This created some distance between Lamin and his father.
"Our mom, I felt like she was doing everything for us," he said. "Sometimes [my dad] would come by, have some time with us and then go back. I was more close to him when I was a kid, but then when I grew up I wasn't as close."
Lamin's main priority in Sierra Leone was similar to that of many students here: to do well in school. However, he has noticed significant differences between the two countries in terms of education. For example, Lamin feels that the competition and pressure at school in Sierra Leone was much higher than at West.
"This school is a little bit different in terms of grades," he said. "[At home] they would read out our grades to everyone, and here, you only know your own grades … For us, announcing the grades might be shameful, so … the very, very good students would start working harder so that they could compete and lead the class."
He believes peer pressure may have encouraged him to work harder.
"In some situations, my friends might have a very good grade and I might not," he said. "They [wouldn't] mock you, but you wouldn't feel very happy or good, so later on, you would be pressured to study harder to get the same grades, especially when they're your friends and you do everything with them in school. It's a lot of pressure."
Despite this pressure, Lamin maintained good grades throughout school, which led to him being recommended for the IRIS program. Following this recommendation, he underwent a rigorous application process involving further academic testing, proficient knowledge of English and an interview process. While Lamin had experienced great academic success in Bo, he was doubtful that he would be accepted into the program.
"Sincerely speaking, I wasn't even focusing on whether there would be any possibility of me being a finalist, so it was a surprise for me," Lamin said. "I never thought that I could ever be an exchange student … so I was really happy."
But when he was informed of his acceptance into the program, he was ecstatic to have an opportunity to further both his educational and cultural knowledge.
"One of the reasons why I was really happy was for my academic background because I know so many great, great, great scientists … are from the United States," he said. "And then, later on, they explained to us the importance of the program. I am the first Sierra Leonean to participate in the program with IRIS, so I'm really happy to be an exchange student and share my culture and life with other people and also learn here."
When Lamin first came to the United States, he lived with Norman and Bonnie Anderson. Because of their affiliation with IRIS, they have hosted a variety of students from Africa––some from Nigeria, others from Tanzania, but never from Sierra Leone. Right away, they were able to see that Lamin would be a great addition to their home.
"He was a very friendly student, and it's been a good relationship ever since we first met," Norman said. "He's been very nice to deal with … and he's been very cooperative, very friendly."
Soon after his move, Lamin was exposed to an integral part of high school culture in the United States: extracurricular activities. Since coming to the United States, Lamin has participated in a variety of activities, ranging from joining Science Olympiad to building a home with Habitat for Humanity.
"When I was back home, the only thing I could do back home after school is go home," he said. "But clubs give you the opportunity to meet new students and also to try new things like singing in gospel choir. I never knew I could sing, but joining that club helps you learn to sing. Clubs are one thing I'll really miss back home."
Lamin's host family feels that joining new groups of people and having new experiences has helped Lamin learn and develop as a person over his time spent in the country.
"He's grown up a lot," Bonnie said. "I think [exchange students], in the year they come, they have a lot of growth intellectually and mentally and physically. They come over as young people, young teens, and they go back very mature and grown up."
Lamin is set to go back to Sierra Leone after the end of this school year––something he has mixed emotions about.
"I'm having a very good time here," he said. "I miss my family, but my host family is taking very good care of me, giving me support, so I could say that I'm in between … Most of the things, like simple things, I'll miss. Like rotating classes, during first trimester, it was a little bit harder for me to adjust to that, but I think now I've adapted, so it's a really fun thing for me. And I think all my classes have been very good for me … There are all sorts of things that are really, really nice."
While Lamin is unsure about whether he wants to come back to the United States, he knows he'll always look back fondly on his "amazing but very different" time spent here.