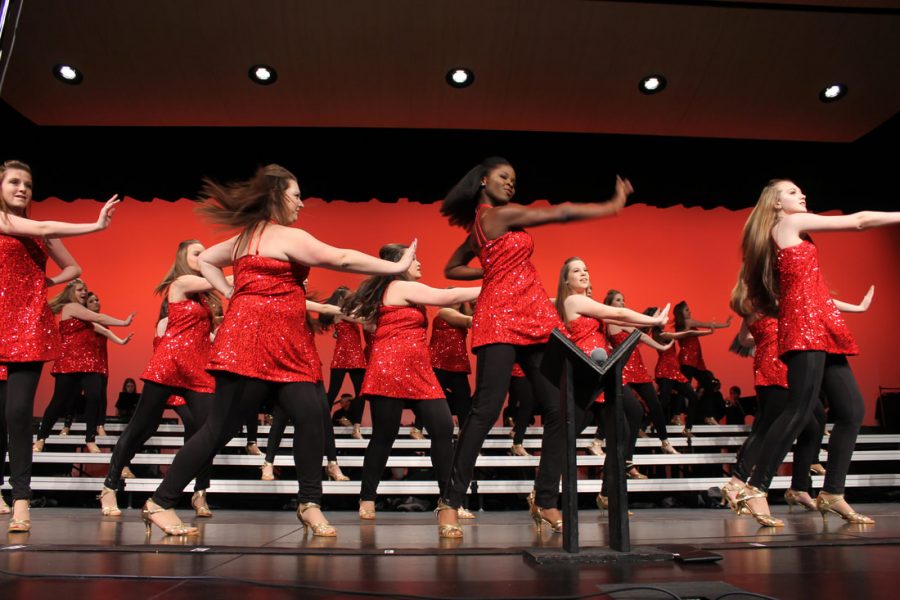 Even though singing plays a major part in show choir, dancing is equally as important. Showtime and GTC have trusted choreographer Kevin Chase for the past seven years when it comes to the moves of the group. A freelance choreographer based out of Iowa City, Chase has worked with about 50 schools over the course of his career. When he was younger, he never thought he would craft dance moves for a living.
"My original goal was to be a singer," Chase said. "Unfortunately, I paralyzed my right vocal cord and was advised to no longer pursue a professional singing career. I ended up back at my alma mater in Bemidji, Minnesota and became a director…. It wasn't until I got hired by other schools … that I was motivated to become a freelance choreographer."
Chase wants the performers to convey the messages of the shows he works on.
"I think it's important to really focus on lyrics and make sure that what the performers are doing visually matches the message of the lyrics," he said. "Choreography can be like sign language for the whole body, in a way. It can tell a story or portray an emotion."
To make sure the choreography is clean, Chase hosts clinics throughout the season to go over what was first taught at choreography camps in early August. But when he's not there, students take the reins. There are four dance captains on Showtime and six on GTC. Two of them include Clay Hulsebus '20 for Showtime and Shalom Alarape '18 for GTC.
Although sometimes his position can be challenging, Hulsebus has still had fun with the job this year and really connects with the theme.
"Life can be tough, especially for high schoolers 'cause we have everything being thrown at us," he said. "Sometimes we just want to get away from it all."
Alarape notes the season has been a little more difficult than usual despite her position.
"Even [at] the start of this year, the first day we were supposed to have our choreography camp [but Chase] was sick so that put us back a day," she said. "We weren't able to learn everything we wanted to beforehand so we had to learn dancing at different times. I still think that the show is just as great as it was last year because we were able to get through all those issues and problems."
Both urge their fellow and future members want certain things out of the workplace.
"Make sure you wanna be there," Hulsebus said. "Be serious about it, and don't goof off, because that just hurts the whole group and then it pushes everything back."
"Don't let negativity get to you," Alarape said. "If you do, you're not going to get anywhere and your group is not going to get anywhere either."