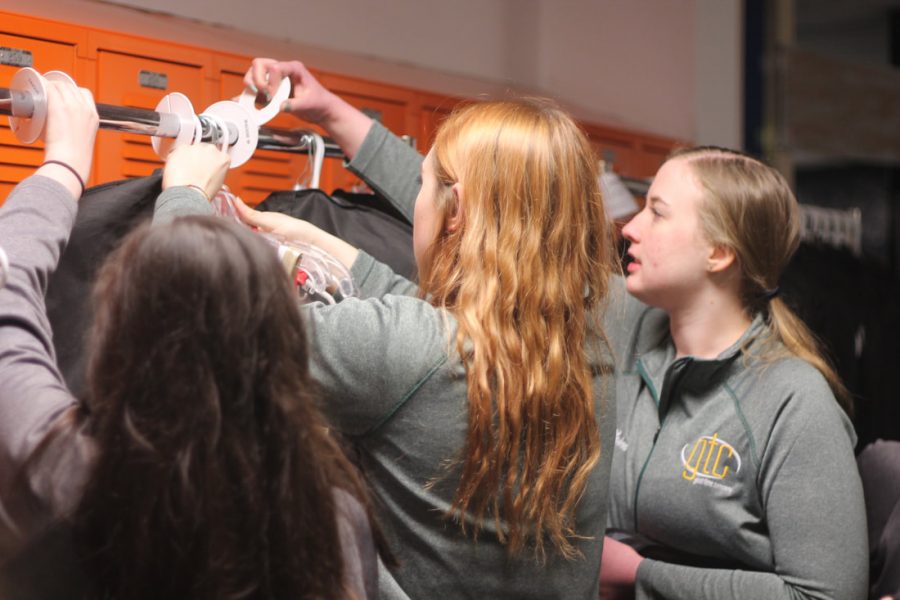 Behind all the beautiful costumes and mics clutched in the hands of soloists, there's an entire group of students dressed in black making sure everything is as it should be. Comprised of eighteen crew members between the two show choirs, the show crew is a force to be reckoned with.
"[Show choir] is a big machine and it needs a lot of people to run it," Associate Choir Director Luigi Enriquez said.
In general, the show crew is responsible for ensuring the costumes fit correctly and are assigned to the correct performers. Their weekly responsibilities at rehearsal include sewing in labels, making quick fixes and making sure the costumes are all accounted for.
"We're making sure, in the beginning of the season, that we have costumes that fit everyone right and that everyone feels happy and confident in," said Kat Armstrong '18, a co-head of crew.
During the shows themselves, crew members stand backstage to help with quick changes or hand microphones off to soloists from underneath the stage. The crew prides themselves on being helpful and looking out for everyone involved.
"A lot of it is making sure [we're] doing all of the little things that we don't want the directors or the singers to have to think of, like making sure they tape their shoes or keeping track of the costumes, all those little things so they can focus on performing," Armstrong said.
In addition to the crew, a multitude of parent volunteers also assist in helping the show choir with costuming. Meg Wagner, the mother of Thomas Wagner '18 and the head costume mom, has helped the show choir for seven years. As head costume mom, Meg works directly with the choreographers to coordinate costumes.
"It starts with the choreographer who has a vision for not just what the show will look like in terms of the dance moves, but what the picture of the show is in their mind," Meg said. "[Choreographer Kevin Chase] comes up with some ideas and sends them to me. I send back other things that are possible to try and make his vision a reality."
Finding and choosing costumes for the show choirs can be a difficult task. Meg has to consider a variety of factors before selecting the costumes.
"We have a bunch of different body types and complexions," Meg said. "Choosing [a costume] that will look good on everybody but also enhances whatever the theme is are the two big [factors]."
In the coming year, the show crew will experience many changes. Not only will Meg be leaving her post as head crew mom following Thomas's graduation, but eight out of the sixteen current crew members will be graduating. Many of these senior crew members, such as Armstrong herself, have been a part of show choir since their freshmen years and have revamped the crew as a whole. Although leaving is difficult, Armstrong believes the current crew has left a legacy that can only grow stronger.
"We have a really great group of younger people and underclassmen that are going to follow in our footsteps. And every year, crew just grows and grows. We have a lot more interest in it," Armstrong said. "I'm really hopeful and … pretty positive that we'll continue getting more … dedicated and passionate people that want to do crew, not just as a second choice but actually enjoy crew itself."
Believe it or not, most crew members don't join crew for the desire to hang up costume after costume or to pick up sweaty clothes during performances. Instead, most cite the desire to help others and to feel like a part of the show choir as their main motivation behind joining crew. Even though the work of the crew literally occurs in the dark, they are still widely recognized and appreciated.
"I wouldn't come back if the kids weren't appreciative of us, but I really think everybody [appreciates us]," said crew mom Kathy Duys, the mother of Showtime performer Robbie Duys '19. "They've learned to come when they have a problem so it doesn't get bigger. I think they've learned to trust us as much as we trust them."
Show crew is not only an essential part of show choir, but a tightly knit group of hardworking individuals. Even when they're working hard, they're always sure to enjoy their time with the show choir and with each other.
"We always joke every time we have to touch the [sweaty] clothes after the competition," Armstrong said. "Everyone just makes these faces … and jokes about it…. We never stop laughing."