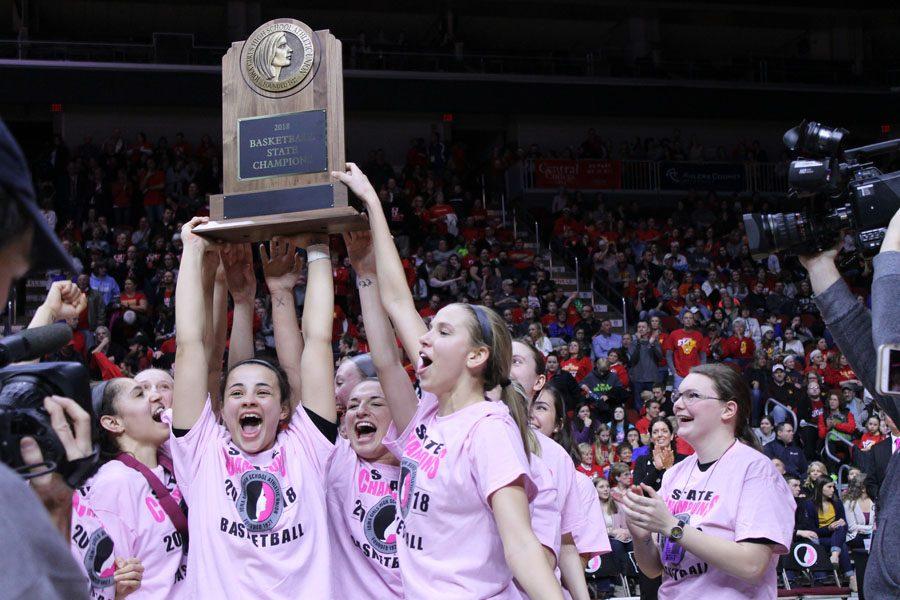 Kara Wagenknecht
"It's hard to beat a team three times," Logan Cook '18 said. "We came back the third."
Her reference is to the two regular-season games between the two 5A teams in Iowa City, with City High coming out on top in both: 53-40 on Dec. 12 and 79-70 on Jan 23. Now on the third meeting between the teams this season West High emerged as the victor, gaining a lead in the second quarter and stretching it out until the end of the match.
"It's the most amazing thing I can imagine," Rachael Saunders '18 said. "We wanted to beat City so bad and we played the best we've ever played."
Defense ultimately won the game for the Trojans, with only star and all-tournament team captain Ashley Joens '18 picking up more than ten points for the Little Hawks. Lauren Zacharias '19 led the Trojans in scoring with 15 points, followed by Cook and Cailyn Morgan '19 with 14 and 10, respectively. Emma Koch '19 and Saunders also each added 7 points for West.
Zacharias and Morgan were also awarded positions on the all-tournament team, chosen for their high level of playing throughout the state tournament. City High's Joens and Rose Nkumu '20, along with Indianola's Grace Berg '18 and Johnston's Jennah Johnson '18 were also given the honor.
The formal 'welcome home' for the team was postponed, but there will eventually be one held, when the whole team can attend. The date and time of this event will be posted on Athletic Director, Craig Huegel's Twitter. The West High boys basketball team begins their state tournament play on Tues., March 6 with a game at 6:30 p.m. against Muscatine at the Wells Fargo Arena.