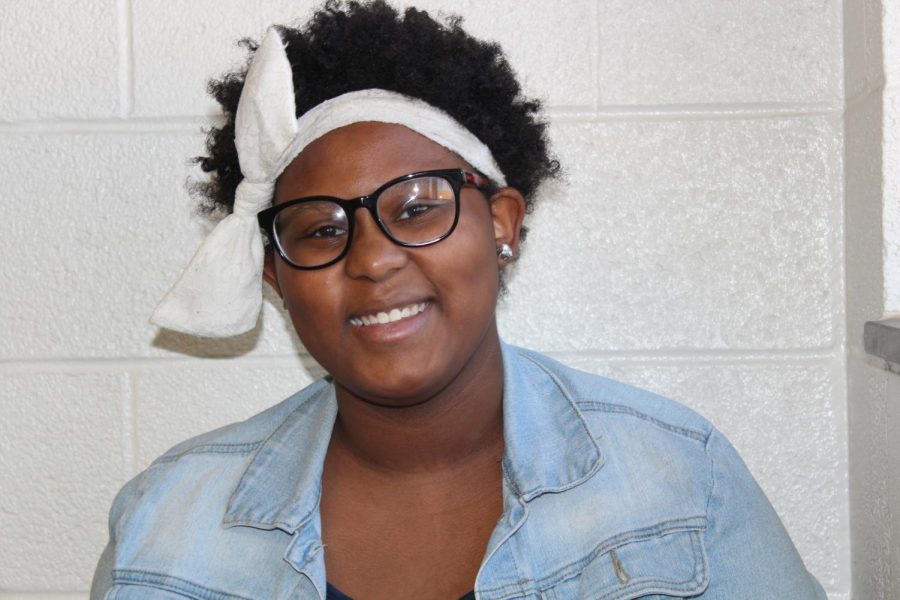 Teya Kerns

Adjusting the big white bow holding her glasses in place while smoothing down her dress, she walked to the podium on stage. Taking a deep breath to calm her nerves, she began to give the speech that she would remember for the rest of her life. On April 6, Dasia Taylor '21 introduced one of her heroes, Dr. Terrence Roberts, a civil rights activist and one of the Little Rock Nine.
Taylor didn't know she would be giving the introduction until the day before, when science teacher Maureen Head approached her.
"She has an appreciation for black culture and black history [so] I thought she would be someone that would be excited about the opportunity," Head said. "I think that at some point she will probably be, if not already is, a leader at West."
Head's choice for Taylor to deliver the speech was fitting because Taylor is inspired by how hard Roberts worked for equality and sees a little of him in herself.
Taylor was born in Chicago and lived there until she was eight years old, when she moved with her mother to the small town of Madison, Indiana.
No matter what city or state they live in, Taylor and her mom are always there for each other. Moving from the third largest city in the U.S. to a town of 3,500 people was a drastic change.
"When the movers drove off, I freaked out and it was so crazy because Dasia was there for me. She was only eight years old and she gave me all this advice like a counselor would give. I felt better. I literally felt better," said Taylor's mom, LaDonna Phillips. "That's one of the best memories that we share together as mom and daughter out of many."
Moving can be a challenge, but for Phillips and her daughter, it was a chance to pursue a better life.
"When you have the means and a supportive family and a village to help you, [moving isn't hard]. I knew I needed to get a career and finish college so that my daughter [could] have a better life than I did," Phillips said. "That's just how it goes. Every child should have a better life than their parents."
Knowing how hard her mom worked to provide for her drives Taylor to always do her best and take advantage of everything available to her.
"My mom didn't grow up as well as I am right now, so she tries to put her everything towards me. It feels good to know that she cares," Taylor said.
While her mother moved, finished her college degree and ended up in Iowa City, some of Taylor's extended family still lives in inner city Chicago.
"It's hard to be in a separate state and look in and [know] that [the situation is] not good. I have family that lives really close to [the violence] and that could have been them at one point," Taylor said.
It seems like as [a person of] color, I think she just felt like it's probably not fair to the black community that this [is] going on," Phillips said.
For her English 9 Symposium project this year, she chose to research police brutality, addressing Black Lives Matter, a movement that hits close to home.
"I like to start small. I figured I could start that [project] and get awareness out there because people see it on the news, but [then] it's just another thing on the news. It's not right and there should be some sort of consequence," Taylor said.
"If people knew or even understood what [was] going on then they would not be so quick to be so judgemental. That's another thing I love most about Dasia: she brings awareness," Phillips said. "Whether it's from the black community or just in general, she's going to fill that gap of knowledge if she can."
Since moving to Iowa City, Taylor has become involved in numerous activities. She is a facilitator for the restorative justice group, where she mediates a conflict between two or more individuals.
Through these little actions, Taylor has allowed seeds planted long ago in her family's history to fervently grow by spreading awareness on issues that mean a lot to her.
But most of all through little actions, Taylor has watched her mom support and care for her in every way possible. Not only has she become very close with her mom, but Taylor has also learned many valuable things from her—to take advantage of opportunities and to value family—but most of all, she's learned where hard work will get people in life.
"When you come from a family of love you will be great. Dasia has been loved since coming into this world," Phillips said. "We knew she was someone special from the time she entered the world."