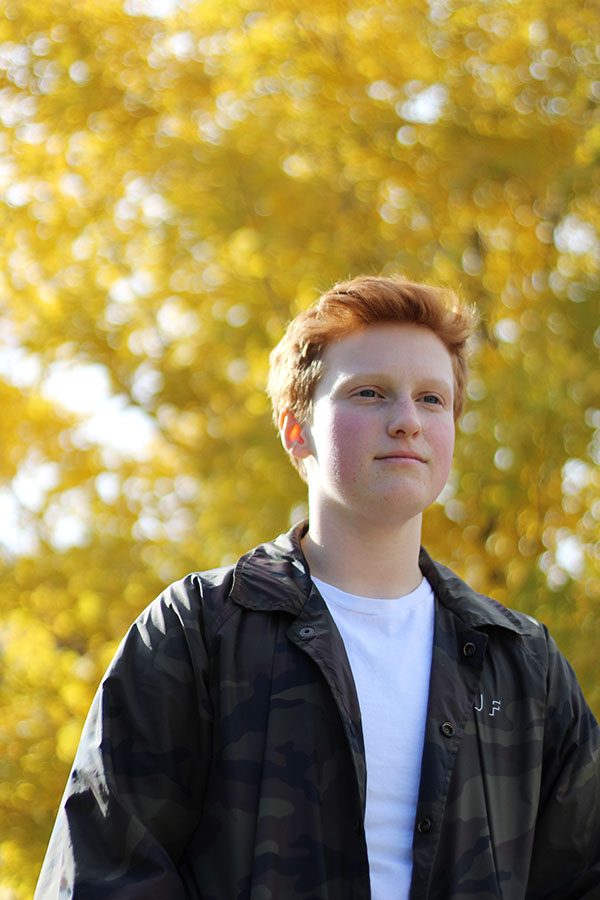 Maddi Shinall
For many students, using public bathrooms is an occurrence that happens without another thought. But for transgender individuals at West, this seemingly ordinary event transforms into a time of ridicule and self-questioning.
Aaron Lidral '19 made the transition from female to male during his junior year of high school and subsequently began using male restrooms. However, upon doing so, he started hearing laughter and snarky remarks.
"Within a couple weeks, I started noticing I'd just get weird looks and [comments like], 'Why are you in here?' … I felt unsafe," Lidral said.
After facing harassment, Lidral went to school administration out of fear for his own safety. However, school administration did not take adequate action, forcing Lidral to change his mindset altogether.
"Last week, I could hear [a group of guys] saying, 'Why the hell is he in a stall? Stand up like a man,'" Lidral recounted. "I just kept my head down, washed my hands and walked out. That's just how I've had to approach it."
Lidral's concerns for personal safety are mirrored across the country, as transgender people are at high risk in public spaces. According to a 2015 U.S. Transgender Survey, 47 percent of transgender people are sexually assaulted within their lifetime at least once. During 2014, 46 percent of participants were verbally harassed and nine percent were physically attacked. Moreover, this discrimination, harassment and discomfort can lead to severe trauma at disproportionate rates for transgender students. 39 percent of transgender survey participants experienced serious psychological distress at a rate eight times higher than the U.S. population at large.
Emily Buck '19, COLORS president, says that despite Iowa City's progressive climate, discrimination is still a large part of the transgender and non-binary student experience.
"It seems like a lot of the struggles that non-binary folks and transgender folks go through are not widely seen in the school, even though they blatantly happen," Buck said. "That creates a lot of invisibility for the trans and non-binary experience at West."
The bathroom issue is an important one faced by the transgender and non-binary communities. This is because it is harder to protect students in areas where teachers or administrators are not always present.
"I would say that the school should do more to protect transgender individuals, but it's just really hard, like how can you protect someone in a bathroom?" Lidral said. "That's the main area where I think anyone who's trans feels unsafe. Everyone's vulnerable in a bathroom, but trans people especially."
Last school year, West administration took steps to make the school a more inclusive environment by establishing a gender-neutral bathroom. Although this was a milestone for the West transgender community, discrimination still remains a struggle.
Moreover, there is a great stigma against transgender individuals even within the LGBTQ+ community. Harpur Barahona '20 is a transgender female who experienced this stigma firsthand.
"During eighth grade, I was still figuring it out but also coming to terms with being who I am," Barahona said. "There is a lot of stigma against trans people, and at the time, I didn't want to identify with it, even though I knew that this is what I was … Then, I was trying to keep it back and go with different things so that I would be more normal even within the LGBT community, because there's some people who go against one another in the community itself."
"As long as something is not 'the norm,' it will always feel unsafe for people who don't identify with that norm," Buck said. "[Gender] is just now [becoming] an issue, and there has not been a lot of time to allow for change, especially in mindsets … It's understandable that non-binary and transgender folks feel unsafe, no matter the political climate."
Barahona had a simple message to perpetrators of disparaging remarks.
"I want to know if it's worth it," she said. "Because do you really feel good about yourself after making someone else feel like that? It really doesn't make sense how you can be negative for no other reason than being negative."