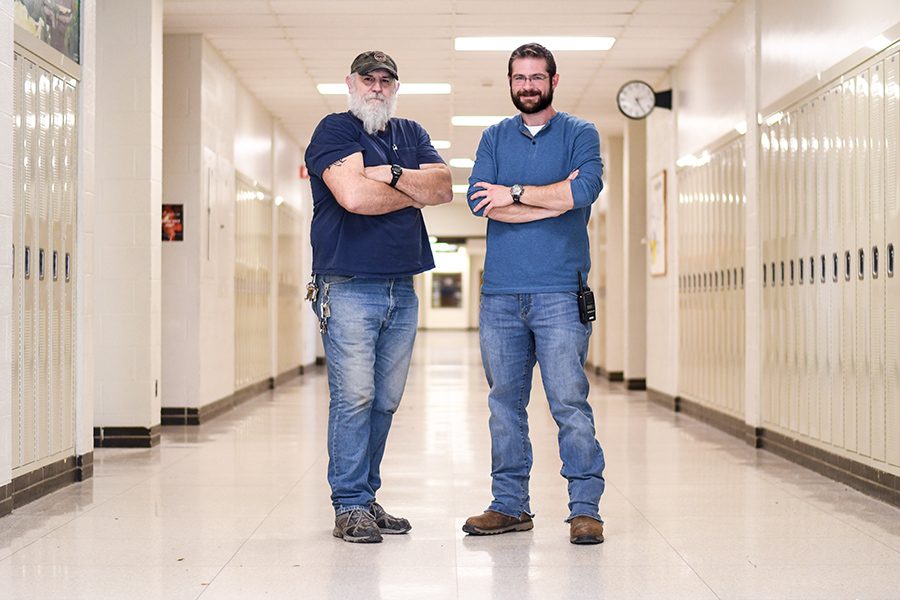 Anjali Huynh
While most students and teachers are asleep, head custodian MJ Plank wakes up at 4:00 a.m. and arrives at school at 5:30 a.m. to prepare for the day.
"I do a route around the building and the grounds and check to make sure there's no big issues … then I come inside, check the alarm, the boilers, [and] start opening the building … the next two hours is just getting through the entire building," Plank said.
Plank has been working at West for seven years, and before that he worked for three years at Midwest Janitorial, a janitorial service company that offers a large variety of custodial services including commercial cleaning, lawn care and snow removal.
Before Plank was a custodian, he worked as a farm hand. When the 2008 Flood and Financial Crisis occurred, Plank lost his job. At that time, he had a child on the way so he knew he needed to get a job quickly.
"I was kind of in shock. I have never liked the idea of not having a job," Plank said. "My plan was to make some phone calls and get my resume updated. I had a job lined up … that night, and started on my birthday. I was very thankful, but still kept an eye out for something that would provide better."
He was hired at Midwest Janitorial for Oral B and climbed the totem pole to a supervisor position for Mercer Administration. Then, Plank was hired as the head night custodian at West.
"Never would I have in a million years thought the school district would hire someone like me. [I thought that] you'd just need to be a little fancier," Plank said.
West differs from other places that Plank has worked. In general, the students are polite to the custodians and treat them with respect.
"I got here and realized how nice it was because you get paid well and this building treats us very well," Plank said. "I've seen a lot of different buildings. And, you know, people don't really treat custodians very well. [West] was a huge change. It was very nice."
At West, there are two groups of custodians, night and day. Both groups of custodians have eight hour shifts. The night custodians work until 12:15 a.m. and take care of the majority of the cleaning. They also do the setup and clean up of events like concerts and sports. The day custodians focus more on getting the school ready in the morning and maintaining the school.
"[I do] various things during the day like spills, hazard materials, health matters, cleaning up in bathrooms, cleaning water fountains, pick up trash on the grounds, keep hallways swept, washing windows [and] opening lockers," day custodian Ron Melsha said.
Melsha has been working at West for 13 years. Before he worked here, Melsha worked as a construction worker.
"[I] was injured so I could not do that job; I need[ed] to be in a position that was safer and on the ground. It also had benefits, regular vacations and insurance, things I did not have," said Melsha.
Another custodian, Mark Hubbell, cleans the auditorium and new music area of the school.
"[I also] set up and tear down for concerts and events," Hubbell said.
Day and night custodians work on separate things, and when Plank was promoted to head custodian, his duties increased. He started primarily doing day custodial work and occasionally night custodial work.
"[As head custodian I] line up anything that we need for any events, talk with the teachers [to see] if they have something special going on, or if they're going to need something brought in," Plank said. "I have to coordinate [with the construction company], let them know what's going on."
It takes the help of everyone at school to maintain a clean, well-functioning school, not just the custodians. Sometimes, the students don't remember this.
"When we stop paying attention to how what we do affects everyone else that's the worst thing. You see a lot of that whether it's just a little piece of thing on the floor or 'I decided to destroy this because I had no better thought in my head.' It always reflects onto other people," Plank said. "But it could be a lot worse, so it's not bad."
Melsha also agrees with this sentiment.
"I do not like it when people make unnecessary messes and they assume the building is always open 24/7," said Melsha. "It is hard to keep up with all the work need to be done when there are always messes and people around."
Even with the mess that comes with working at a school, interactions between students and custodians are usually very warm. Plank appreciates the students at West.
"The great thing I tell all my guys is that if you ever need to speak to a student, all you gotta do is be polite and say something, and it's usually fine," Plank said. "Maybe be a little witty, make them laugh. So yeah, no problem whatsoever. We have good kids here."