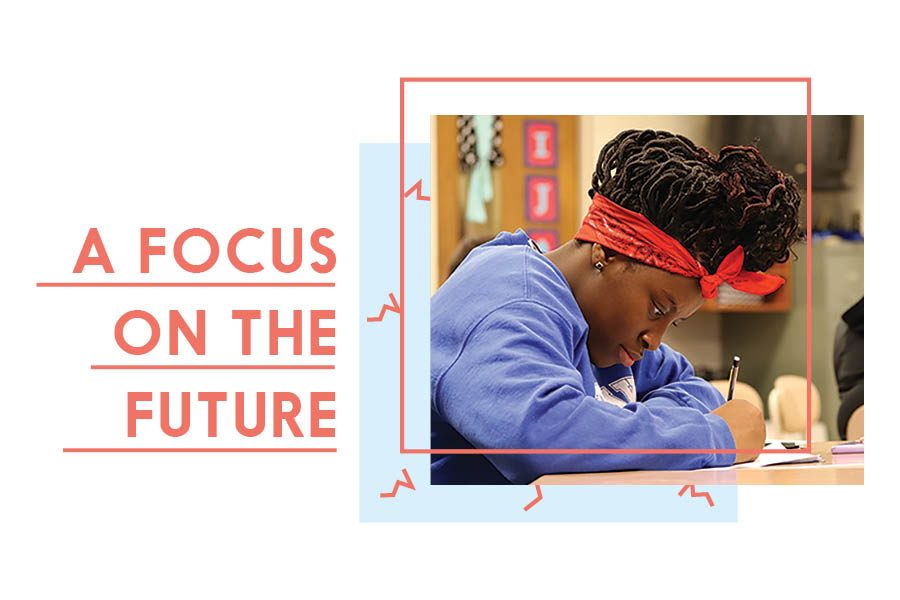 Kara Wagenknecht '19
There exists a class that is practically unheard of among West students even though it has been around for four years.
The class is called Iowa Jobs for America's Graduates (iJAG), a program whose purpose is to mentor students who are at the highest risk of disengaging out of school and to work through barriers to create a future plan, such as joining the workforce or college.
Potential students may be identified by guidance counselors.
"It's all based on want, need and benefit, so the student has to want to be in there, and we feel anyone could benefit and need some of the services that we provide," said ninth and 10th grade iJAG education specialist at West Vicky Graff.
Graff works alongside 11th and 12th grade education specialist Kerry Kilker and together, their role is to teach students employability skills, build relationships, help them graduate and develop a career path.
With one period per day, the class involves many activities.
"We do project-based learning," Kilker said. "It's not just lecturing; there's a lot of interaction and student voice and choice. It gives us the opportunity to be very flexible with what we do and cater to what works best for students."
One of the most important components of the curriculum involves businesses coming to talk about careers and what kind of employees they want.
"We connect them with career fairs or professional experts so they know that there's more than the five jobs that every kid wants," Kilker said. "I had somebody talk about a business once, and a student put in their application. They still work there full-time. That was the connection made through iJAG, and it's nice to see," Kilker said.
Because the class focuses on skills students will use in real life, iJAG creates ways for them to practice those skills through competitions held on the state and national levels. Students compete in areas of math, employability and critical thinking by participating in interviews and public-speaking.
Although iJAG offers students numerous opportunities to succeed, many initially walk through the classroom doors with barriers such as being first-generation or having experienced traumatic events. The stigma associated with the class adds an extra burden.
"We're not the classroom for kids who have these behavior issues. Sometimes that stigma gets attached to us, that we have students who are super disrespectful. That negative image is hard for us," Kilker said.
Despite that image, the students within the class have become a close community.
Miriam Aguirre '21, who is the iJAG class president, believes that the weekly social-emotional discussions help give a voice to iJAG students.
"We'll talk about problems that we've been dealing with or anything that's going on in the world. A lot of the students are minorities and at-risk youth, so lots of topics are relevant to them," Aguirre said. "By talking about it, it's relaxing to know that there are other people that have the same problems as you."
Regardless of what others may think, the overall success of the program has had far-reaching impacts. This includes improved attendance, graduation rates, GPAs and relationships.
"My biggest celebrations are that I had a student that ended up going to D.C. last week in a competition — the first sophomore that was selected [in the state] — and the relationships that I build with my students. I had a student tell me that I was their school mom," Graff said.
Aguirre personally believes that the class has helped her with confidence and her studies.
"When I first started at West, I didn't know anyone. Being elected president, I got to meet a lot of people and found this confidence that if I ever messed up, I always had people backing me up," Aguirre said. "It has also helped me with grades. I've always struggled with grades for some reason, and as soon as I was in the program, there was structure in my life."
Kilker especially sees herself in her students after discovering the job position from a love of working with kids.
"I was an iJAG kid. I didn't have the program, but I could have used it. I didn't have my stuff together in high school and struggled to graduate on time. I didn't succeed in college, worked a lot of dead-end jobs and it took me a little bit to get my stuff together," Kilker said.
iJAG has made a difference in many lives of alumni. Kilker sees this first hand when she has follow-ups a year after graduation.
"I get lots of, 'Miss Kerry, I didn't realize what iJAG was doing for me until I got into the real world.' That's the impact and they don't realize it until they're adulting," Kilker said.
Aguirre believes that these impacts stem from the class goals and how different it is. "In other classes, you need to pass in order to graduate. iJAG just wants you to feel comfortable in knowing what you're doing and to make sure you have a good plan in your life," Aguirre said. "It's not just learning, but bettering yourself as a person and learning how to deal with stress and all the problems you'll deal with the rest of your life."
Ultimately, both education specialists believe that the transformative journeys the students have leave the biggest impacts.
"We serve a wide spectrum of students, some who academically and behavior-wise are great," Kilker said. "But then I also have students on the other end of the spectrum who need a lot more support. And so to have that student who, when I started with them, didn't think they were going to graduate on time, to see them walk across that stage in May is huge."