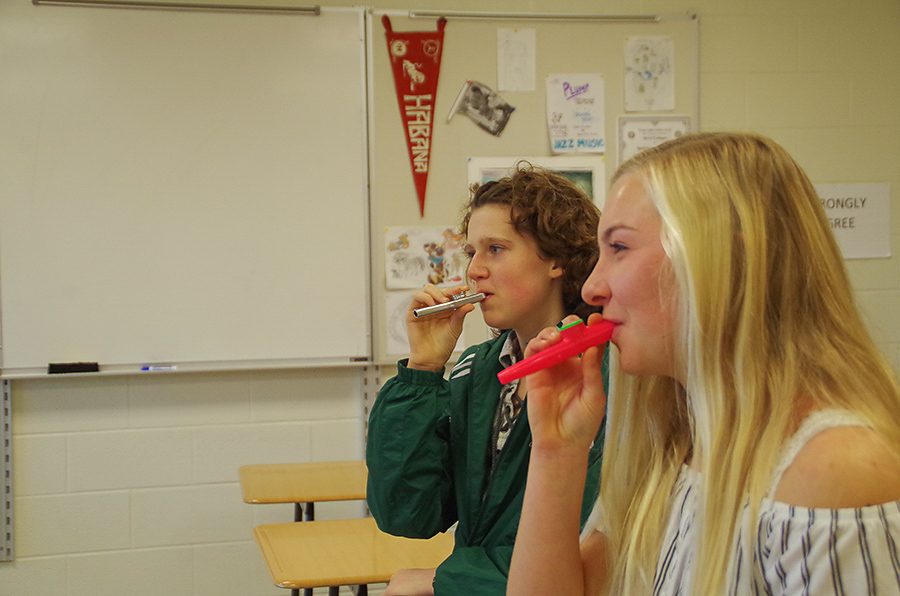 Gwen Watson
You walk down the social studies hallway early on a Wednesday morning, a pleasant buzzing sound reverberating down the corridor. You curiously turn the corner into room 230, encountering a scene that can only be described as bizarre. Six sophomore girls sit in the back corner, fervidly playing holiday carols on colorful plastic instruments. This is the Kazoo Club.
Founded early this year by Emma Kearney '21 and Erica Buettner '21, Kazoo Club aims to be a relaxed environment for both amateur and practiced kazoo players to come together and perform.
The concept of the club originated when Kearney and Buettner were practicing with the Trojan Marching Band. They saw a student wearing a t-shirt decked out in kazoos and thought the idea was too interesting to pass up.
"We were spitballing ideas earlier in the year and thought, 'Hey, it'd be pretty cool if we started a club based on [kazoos],'" Buettner said.
"We thought that the shirt was really strange and funny," Kearney said. "We'd had the idea of starting a club in our minds for a while."
Although initially apprehensive about the eccentric nature of the club, the girls eventually decided to put their plans into action.
"Eventually I just decided to get the paperwork and go for it," Kearney said.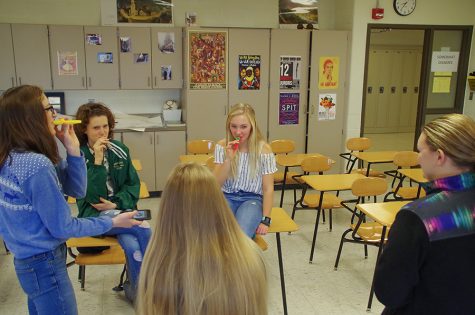 After the Kazoo Club was made official the girls went about recruiting members, beginning with their friends. While many were happy to become members, Kearney and Buettner did face some skepticism.
"There were two reactions we got," Buettner said. "Either they were really enthusiastic about it and wanted to join or they looked at us like we were crazy."
Club member Maddy Negley '21 was among those optimistic about the club's success.
"All my friends were in the club and it really seemed like a fun, positive atmosphere," Negley said.
The club currently consists of only seven members, but Kearney and Buettner hope to increase membership in the coming months.
"We hope once people actually come to a meeting they'll realize how much fun and how low key it is," Buettner said.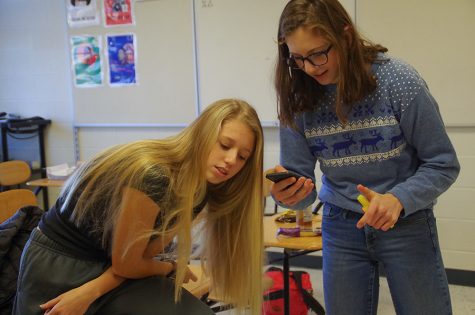 An average Kazoo Club meeting consists of a short warm-up on the kazoo followed by 30 minutes of song practice. The club is currently preparing a series of carols for their first gig, a performance at the Stead Family Children's Hospital.
Buettner hopes the club's performance can help hospital patients find joy despite their day-to-day hardships.
"After we perform we're going to give [the children] kazoos and all play a holiday song," she said. "We want to give them a chance to let loose and have fun."
In essence, the mission of the Kazoo Club is just that: to let loose and have fun.
"We try not to take ourselves too seriously," Buettner said. "We know [the club] is a funny idea and people will either laugh with us or at us."
Kazoo Club meets on Wednesday mornings at 8:15 a.m. in room 230. They are open to new members at any time.