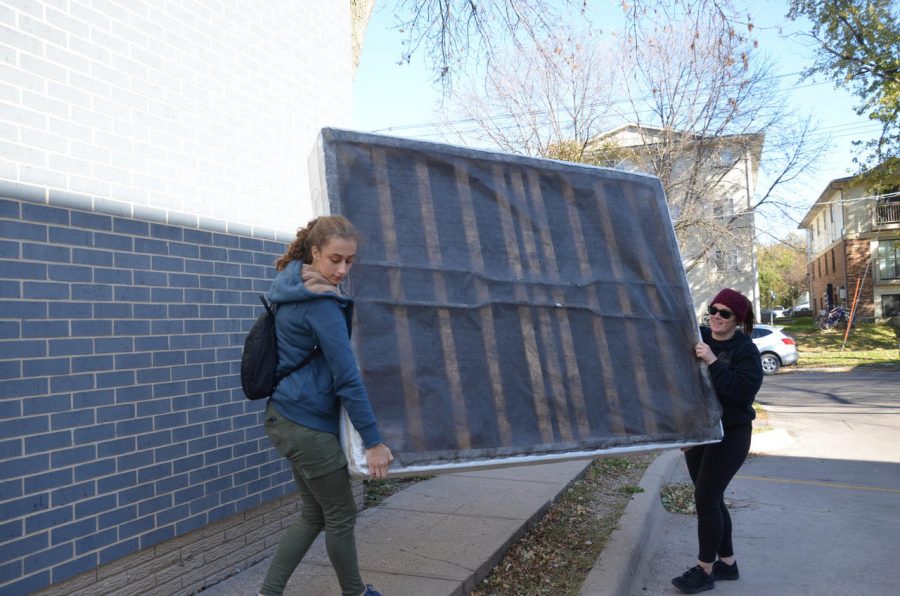 Houses into Homes
A shag rug with a deep coffee stain. A leather couch with holes worn into the fabric. A once fuzzy blanket with a fraying hem. These everyday furnishings aren't remarkable, but they're what make our houses more than merely places we go to eat and sleep.
For underprivileged families in our school community and beyond, burdensome financial situations can make purchasing even the most basic home furnishings a struggle. This is where Houses into Homes (HIH) comes in. The organization, co-founded by Lucy Barker and Salina McCarty in 2017, helps individuals in need to furnish their homes with donated items.
The idea for the organization stemmed from Lucy and McCarty's personal experiences with Iowa City Community School District (ICCSD) families in need.
"Salina and I had worked together for a couple years on community-building and equity projects at Horn Elementary, and had volunteered in several district schools for years," Lucy said. "We knew from those experiences that there are children in the Iowa City community sleeping on the floor and struggling in school because of it."
Curious if anyone in the area was working towards a solution, Lucy and McCarty pursued the issue by meeting with representatives from across the community.
"We met with the school district, the shelters and the city of Iowa City, and heard from them that there was no single organization in the area that provided beds, furniture and other items to people in need," Lucy said. "We knew there was a need in our community that we couldn't let go unaddressed and we decided we could do it."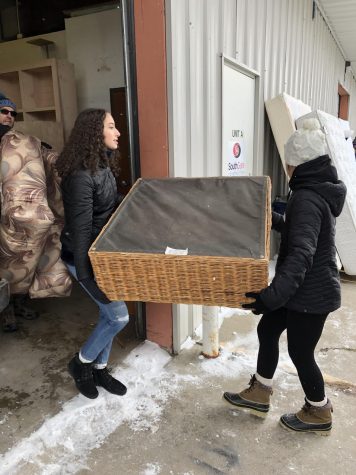 Although, HIH has now helped furnish over 35 homes, the organization had humble beginnings.
"When [HIH] first started out it was really small and there weren't many volunteers or donations coming in," Lucy's daughter Caroline Barker '22 said. "At first, it was just my mom and a couple of her friends and their husbands just out there delivering this furniture."
Since then, the program has grown rapidly. The organization now has a solid volunteer base and is receiving a steady flow of furniture donations, all of which come directly from the community. They now deliver an average of 20 mattresses to nine households per each weekly delivery day.
"All the furniture comes to Houses into Homes through donations from people in the community. We publicize a lot on Facebook and through word of mouth," Olivia Barker '20 said. "They get donations all the time and people are constantly calling wanting to help out and needing to get rid of stuff."
For Olivia and Caroline, involvement in the organization has had a strong impact on their lives. Being a part of HIH has allowed them to forge connections across the community.
"It's nice to be able to help people who're living really close to me but that I'm not meeting at school," Olivia said. "The reactions of the people we help out vary. Sometimes they are a bit reserved but most of the time they're very excited."
The sisters' duties range from lending a hand on delivery days to thinking through any obstacles the organization may face.
"One example [of how the girls help] is that we needed a way to prioritize the requests we were getting. We often have 10 to 15 families or individuals on our waiting list, and we needed an objective way to decide who is next in line," Lucy said. "Olivia, Caroline and I talked through the factors we need to weigh and came up with a points system that is fair and makes sense."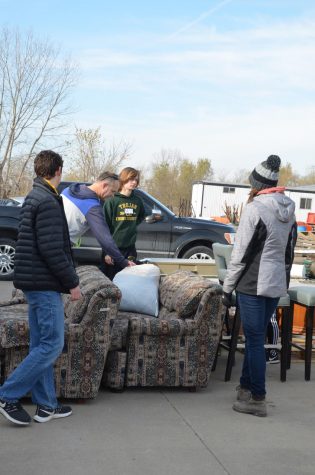 Working with HIH has also helped Olivia and Caroline gain a deeper appreciation for the simple luxuries that many of the houses they work at lack.
"It's really shocking to see the kids coming home from school or the people coming home from work to an unfurnished home with no tables or couches," Caroline said.
"I think about [our work] a lot when someone's really tired at school or having a difficult time," Olivia said. "Their situation at home could be really bad. It definitely gives us more empathy."
In the future, HIH hopes to grow their operation to be as efficient as possible. Part of this plan includes expanding their storage space, acquiring their own truck, and paying salaries to at least two staff members.
"Our hope is to be able to provide beds, furniture, and household items to as many households as we can in as short a time as possible," Lucy said.
No matter your physical abilities, volunteering with the organization is a fun and meaningful way to get involved in the Iowa City community.
"Everyone we work with is really nice and it's good to get to know these people in the community," Olivia said. "Volunteering is actually super fun, and it's a perfect way to spend your Sunday."