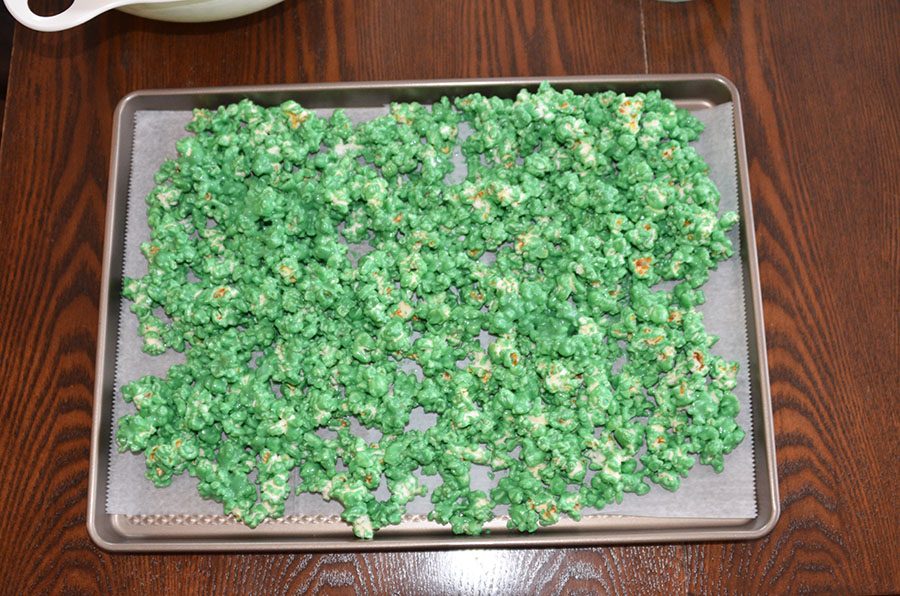 Popcorn
One recipe to make this St. Patrick's Day is sweetened green popcorn.
March 17, 2019
Although this popcorn recipe is not quite as easy as the St. Patrick's Day lemonade, it does not require any cooking and only takes about 10-20 minutes to make. It is perfect for a quick snack to munch on during your favorite movie or TV show.
Ingredients:
One bag of your favorite plain popcorn (we chose salted Skinny Pop)

One bag of green candy melts

Two tablespoons of coconut oil
Directions:
Pour green candy melts and coconut oil into a microwave safe bowl.

Microwave for 1-2 minutes or until the mixture melts.

Stir the coconut oil and candy melts together until smooth.

Pour half the bag of popcorn into a bowl and then mix together with the candy melt/coconut oil mixture.

Once the majority of popcorn is covered with the green mix, add in the rest of the popcorn to create a white and green contrast.