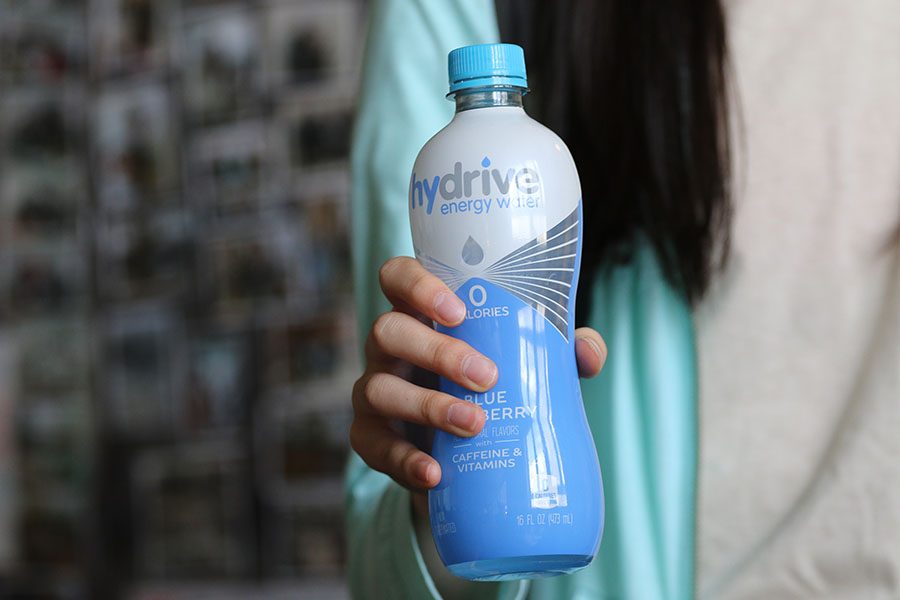 Kara Wagenknecht
We've all been there. Finals week. The two treacherous weeks when your teachers schedule loads of finals and projects. You pull an all-nighter to finish, but you can't complete that daunting task without a sidekick: caffeine.
Caffeine is a stimulant drug that speeds up thoughts and actions. It works by stimulating the central nervous system, which consists of the heart, muscles and the centers that control blood pressure. Some people drink caffeine to improve their endurance while playing sports, some use it to adjust to odd work hours and some just enjoy the taste of caffeinated beverages like coffee and tea. But West High students most often use caffeine to improve their mental alertness, whether it's studying late at night or getting through a long school day.
Elisa Nisly '19 started drinking caffeine because she felt tired most of the time.
"[Caffeine] didn't really help, because it made me more tired overall, because I got less sleep. I think it helped in the short run, but it was also kind of detrimental because I couldn't really concentrate very well," Nisly said.
Nisly obtained most of her caffeine through 5-hour energy drinks, which contain 242 milligrams of caffeine per bottle. She would sip them over a couple of days and would consume about one bottle every three days. She decided to drink this beverage specifically because it was an easy way to have energy.
Although coffee, tea and some energy drinks are the first beverages that pop into mind when associated with the word caffeine, students at West have been consuming other beverages to stay awake in class. Among these is the energy drink Rip It. Rip It, marketed as "energy fuel at a price you can swallow," contains about 80 milligrams of caffeine. According to Healthline, one cup of brewed coffee contains about 95 milligrams of caffeine, on average.
Emily Hill '20 consumes Rip It to obtain caffeine. She started drinking caffeine because she is involved in Theatre West as a stage manager, a time consuming position that requires her to be at school for 13 hours.
"I'm the one that's looking over everything backstage and making sure that everything runs smoothly and dealing with any problems that come up," Hill said. "It's kind of just a really stressful position to be put in, and it requires a lot of focus and problem-solving. I need to be as alert and awake as possible to deal with the problems that come along."
Although Nisly was moderately reliant on caffeine during her junior year, she stopped drinking caffeine regularly at the end of last school year. She made this decision because of the negative health effects that caffeine has.
"[Drinking caffeine] was not very good for my health, and it started to make me feel kind of sick sometimes, and I was always really tired," Nisly said. "I increasingly got less sleep and it just felt bad while using caffeine. I always feel not good, just jittery and uncomfortable [while using caffeine.]"
Hill is also trying to cut back on her caffeine consumption, because it made her increasingly anxious.
"I take ADHD medication, which is a stimulant, and I found that sometimes if I drink too much caffeine, it's detrimental for me," Hill said. "It makes me more anxious, and so I've been trying to cut back on it because I realized, 'Oh, this is why I'm so anxious; it's because I've been drinking caffeine, along with taking the medication.'"
Hill also noticed that if she hasn't consumed caffeine for a period of time, her mood is affected.
"There was one time I noticed, 'Why am I in such a bad mood today? Oh, it's because it's a long day and I'm tired. I didn't have any caffeine today. That's why I'm in such an awful mood,'" Hill said.
Although there are negative health effects when consuming caffeine, such as agitation, irritability and sleep problems, it has benefits like helping increase attention and focus, which is why Hill drinks it.
It can be easy to become reliant on caffeine, but there are ways to stay awake without consuming it. Nisly has changed some of her eating habits after stopping regular consumption of caffeine.
"I find that drinking water and getting enough sleep both help with energy. Also eating fruit," Nisly said. "I eat a lot of apples, because they have enough sugar that, especially if I have to stay awake at night, they give you a very short amount of energy, but not enough to keep you up for the whole night."
Nisly is happy about this lifestyle change.
"I feel better. I'm satisfied with the amount of energy I have on a daily basis, but I also don't feel terrible all the time," Nisly said.
Although there are positive effects of caffeine, Nisly believes the disadvantages outweigh the benefits.
"It's an easy way to get extra energy to do things, but it has a lot of side effects that are not really worth it," Nisly said.
Infographic by Alex Carlon